Painting furniture isn't something I do very often.  Maybe in a few years, when my kids are in school, I'll have time to meander through flea markets in gauzy skirts, spotting the treasure hidden underneath layers of dust and scratches on an old sideboard.  At this point in my life, though, I can't make it though Target without hearing the sound of broken glass at least once, so I will avoid antiquing with my preschoolers for the near future.
This week, I did have a chance to load up my brush when we converted Grant's train table into a desk, though.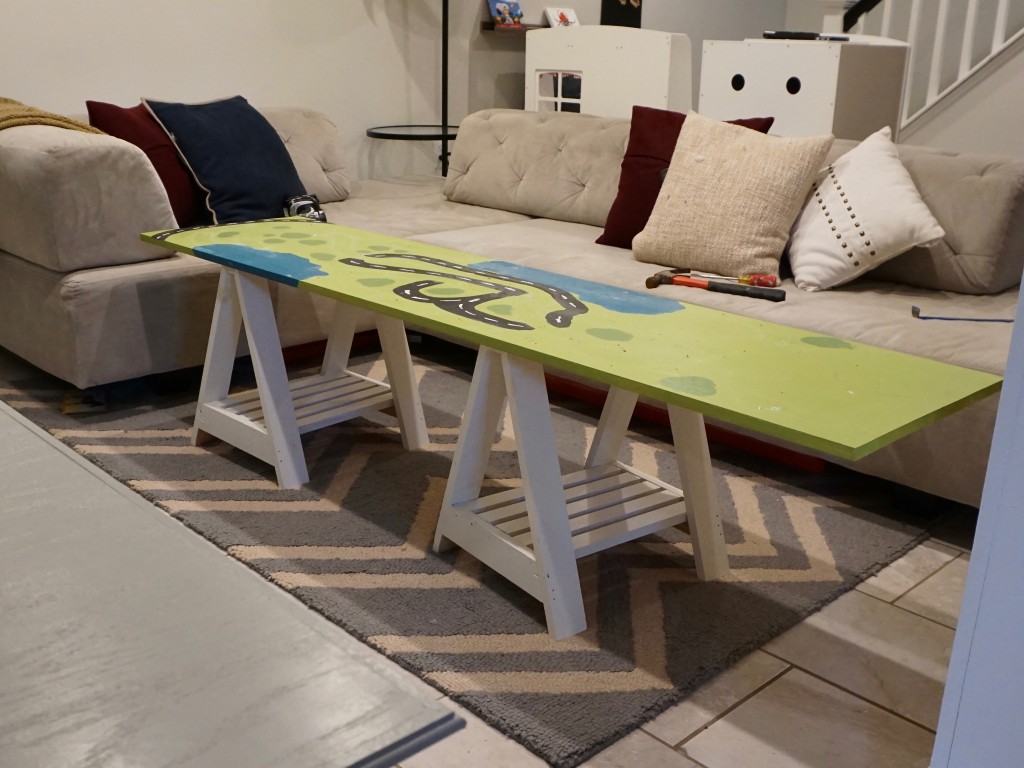 I always paint furniture and cabinetry with Ben Moore's Aura paint.  It's pricey as paint goes, but it doesn't require a primer, and the finish is amazing.  In the long run, not having to repaint in a year makes it worth $60 a gallon.  It never chips or scratches, and you can recoat after 30 minutes.  When you're working with toddlers, time is of the essence, so being able to finish a project and clean my brush during nap time is a must.  We also stick to using the same shade of white for everything in our house (trim, cabinets, etc.), so a gallon goes a long way.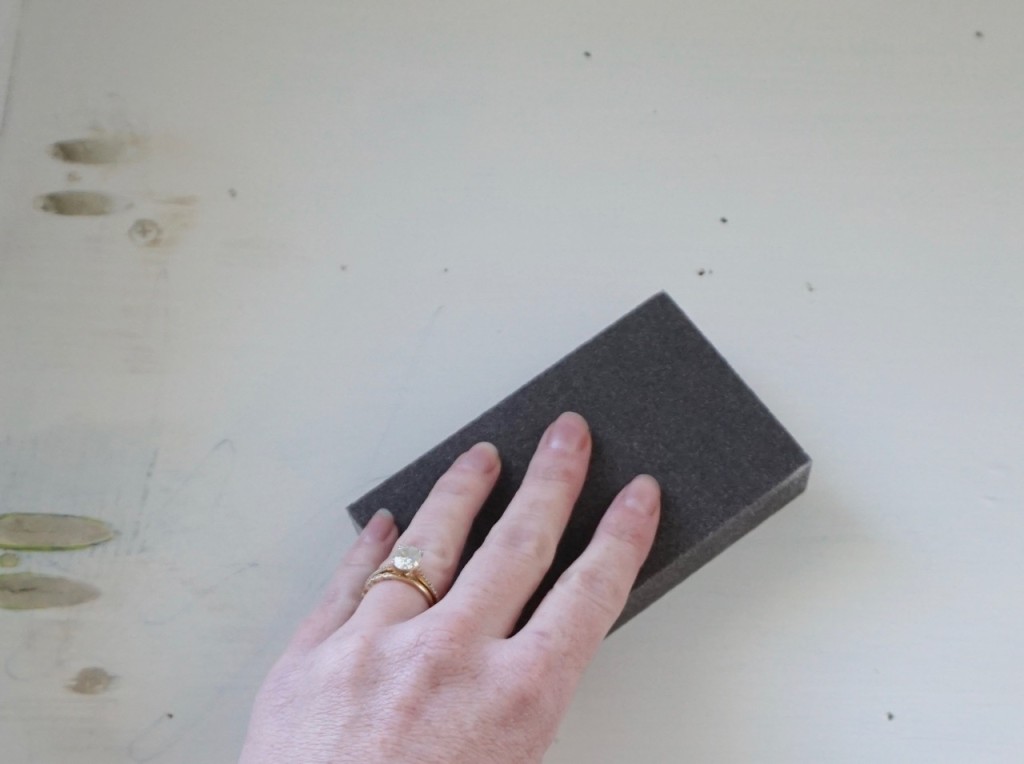 The most important step in painting furniture is prep work.  You don't have to sand the life out of things, but scuffing up the finish and removing any oils from the surface will help the paint adhere.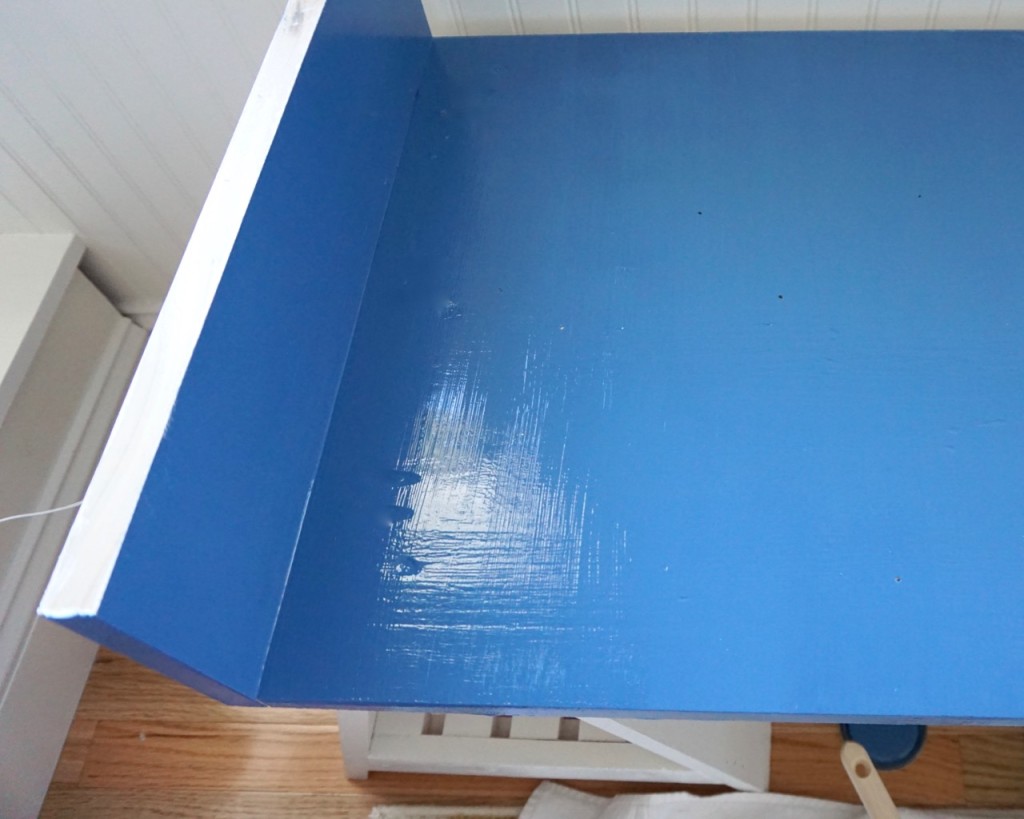 After two coats of Aura in White Dove on Grant's desk, I used a sample can in Bellbottom Blues to paint the interior and add racing stripes to the top.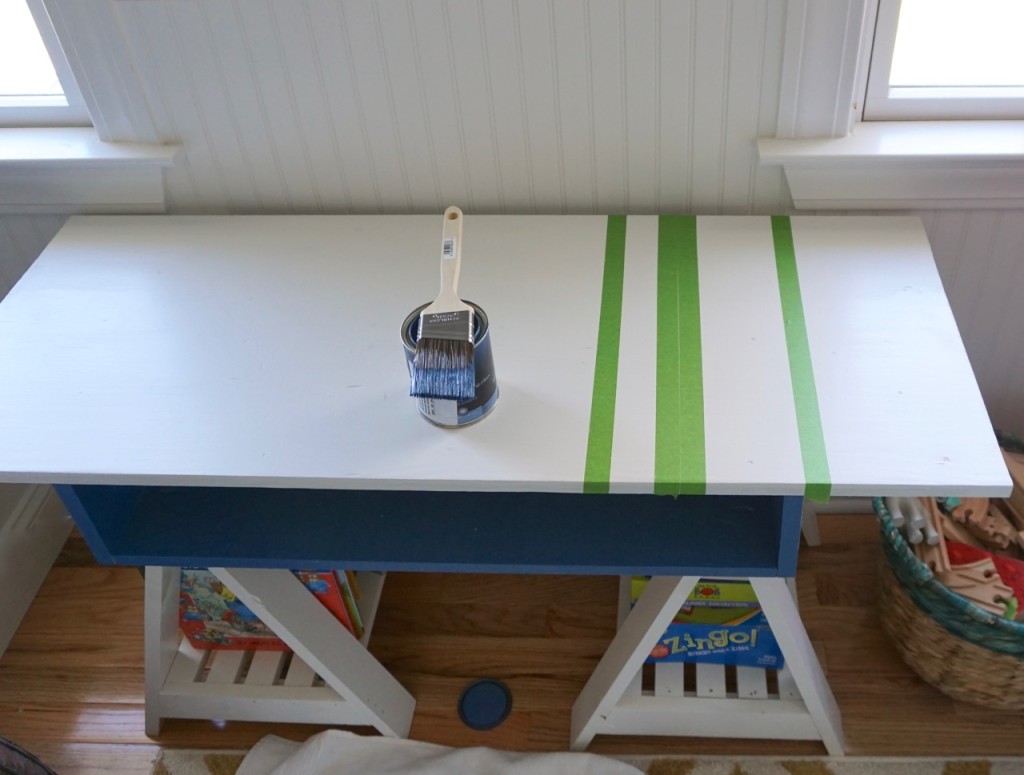 It's best to work quickly with this paint, it dries incredibly fast, so I always paint a single coat and then do everything possible not to touch it again for 30 minutes (which is definitely the hardest part!).   If you make a mistake, it's better to let it dry and dab at it with the sanding block before the next coat, because the more the paintbrush touches it, the worse the problem will become.
Using Frog Tape, I created two thick lines on the desk top.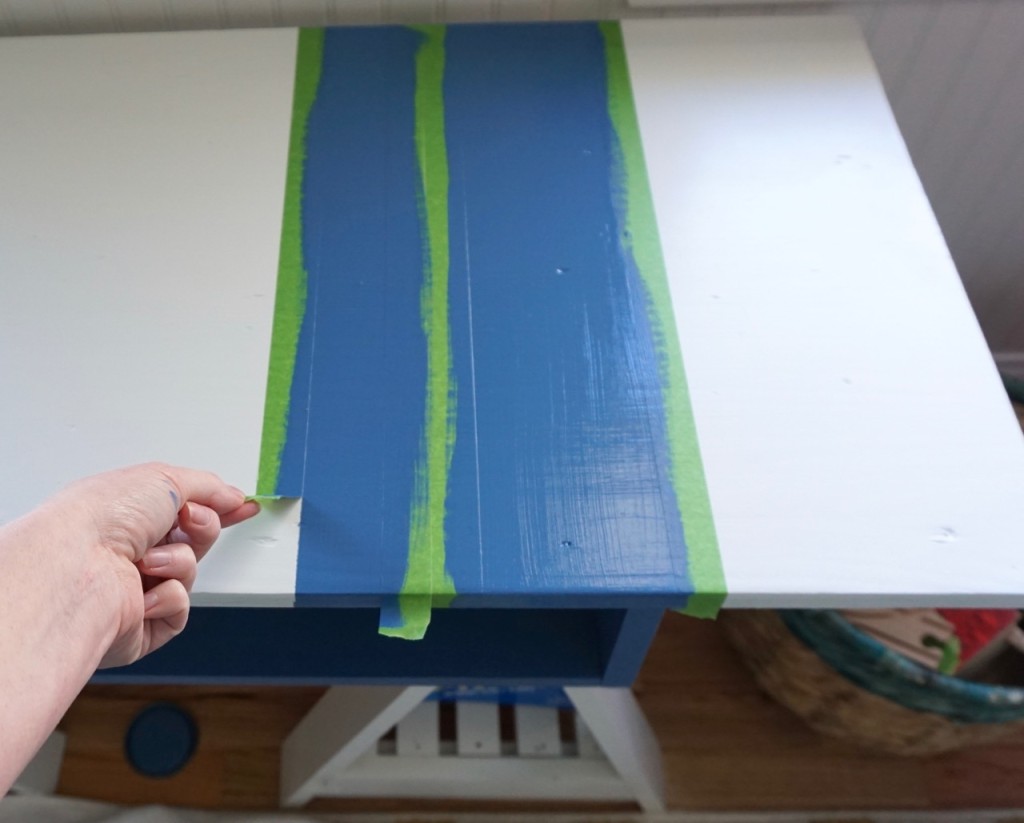 The stripes only needed a single coat for full coverage, so after 2-3 minutes, I removed the tape.  Pulling it off while the paint is still wet allows me to easily touch up anything that may have bled.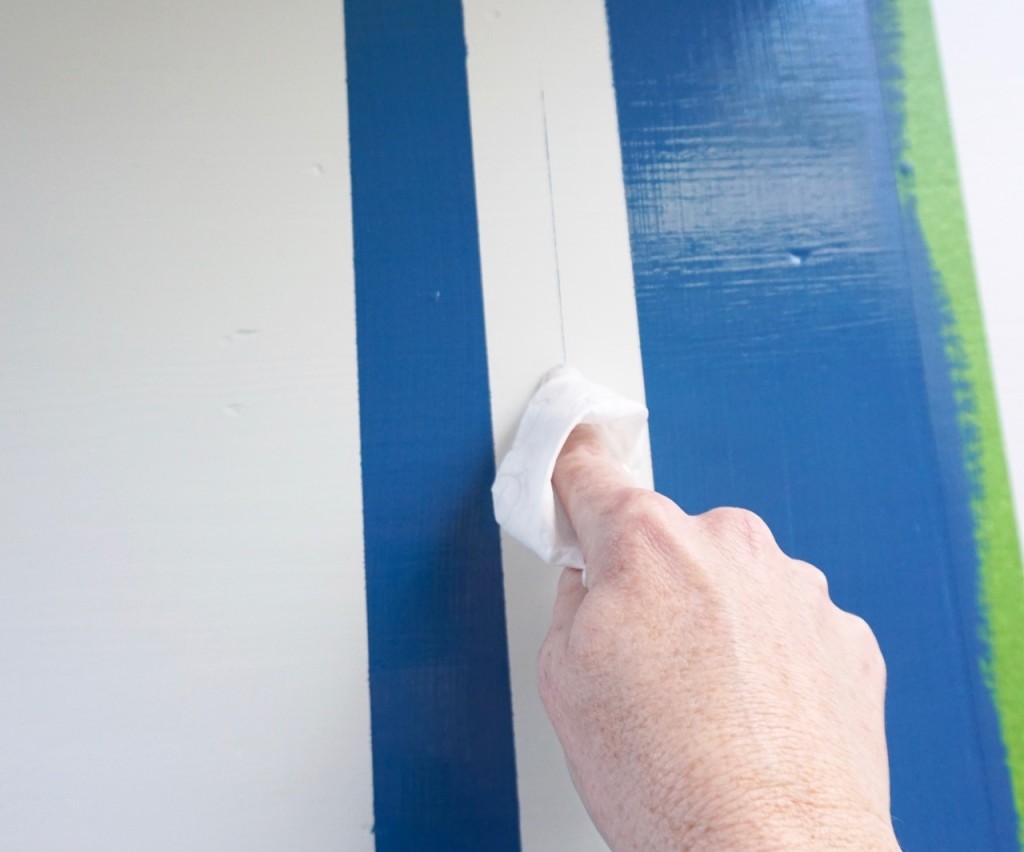 A baby wipe with a little pressure can cure most evils.
After drying overnight, we finally let the little guy accessorize.  That robot looks good on anything, and Grant's new desk is exactly what we were going for: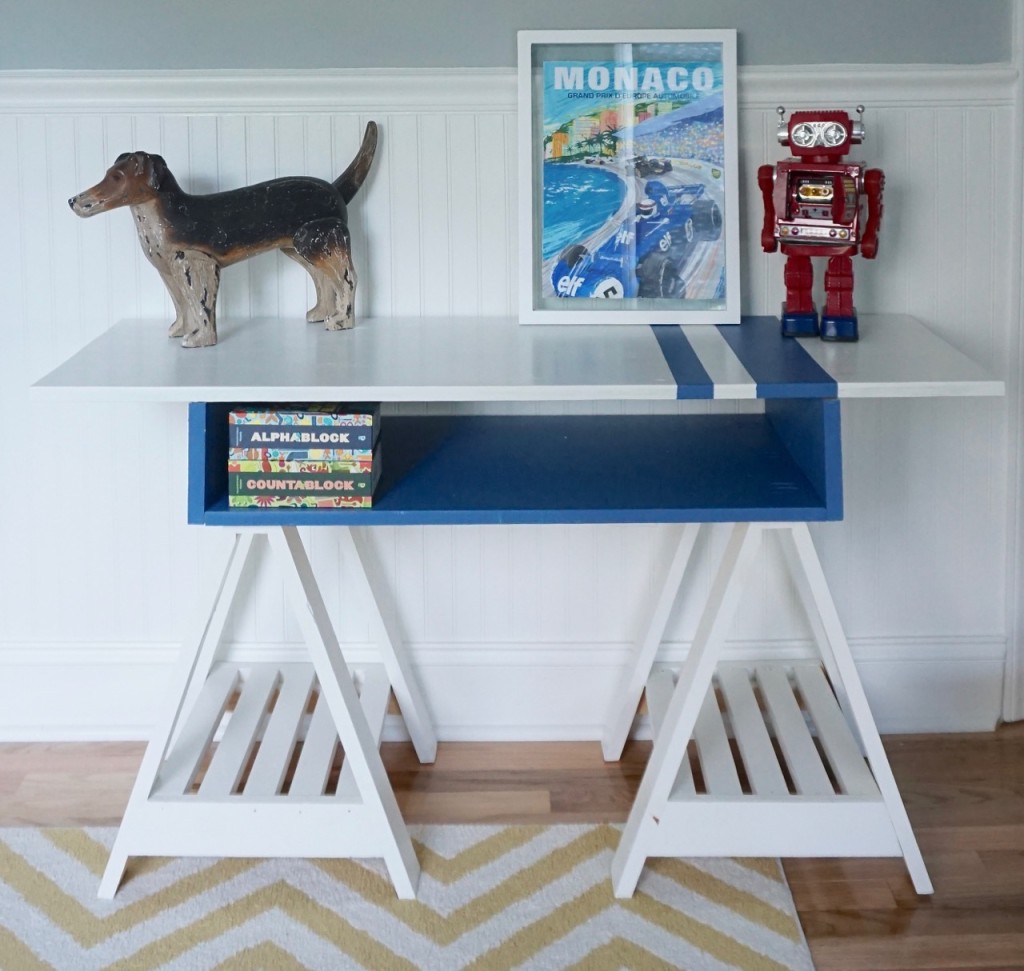 There's extra storage for books and puzzles, and the surface is the perfect height for our almost 4 year old.  Although I'm going to miss my chubby toddler at his train table, we are all loving the new space for family game time before bed.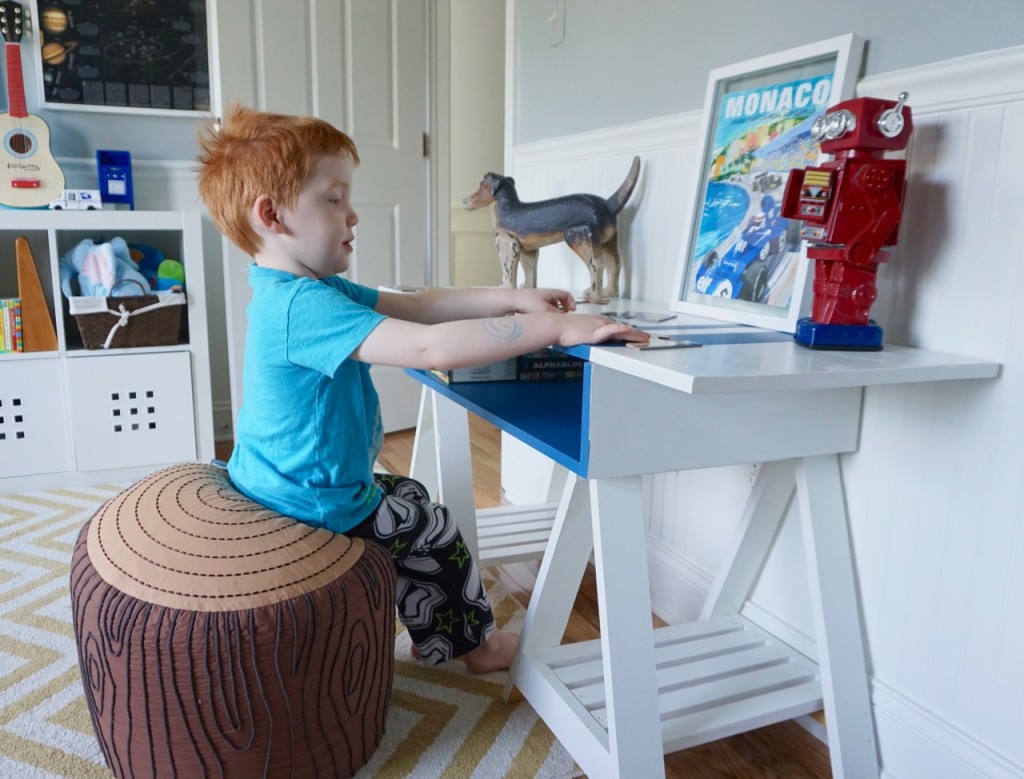 And this preschooler sitting at his desk is still plenty of cuteness, if you ask me.