Nothing spices up moving a family of five like a pandemic. Thankfully, we are all healthy and safe, and getting so much family time. So much. Like, more than I ever realized I wanted. Seriously. Please, send help.
Luckily, we're safe, healthy, and have a wonderful place to live, and endless potential for projects in our new house.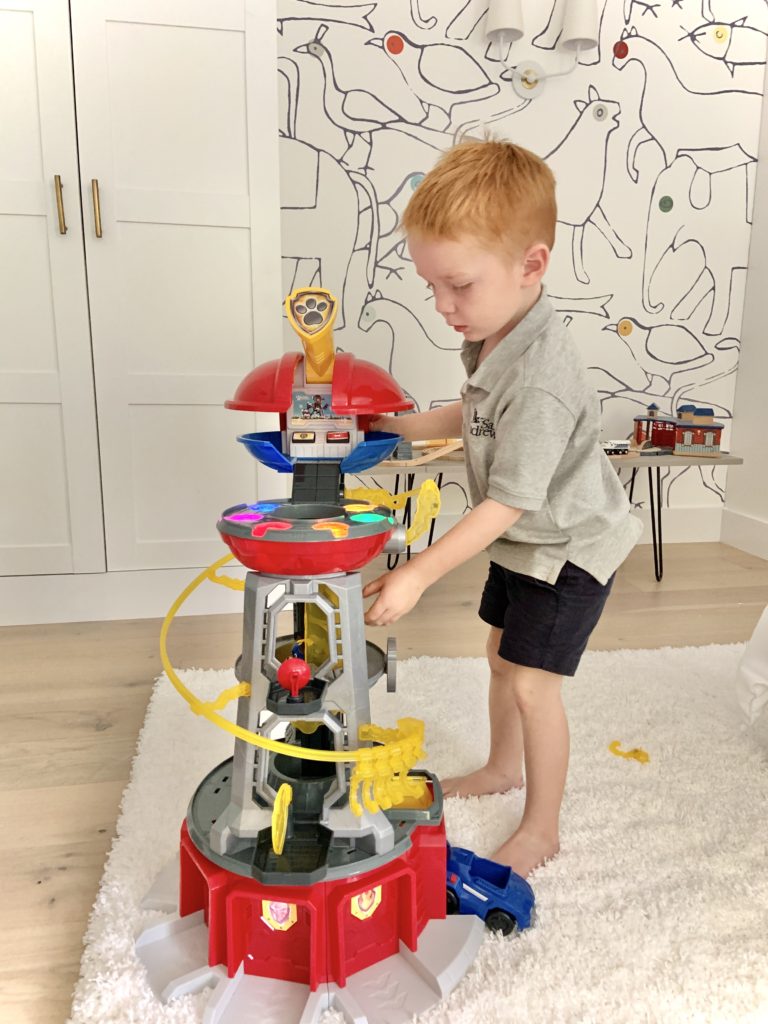 The first room we decided to tackle was Rex's, which came complete with some decidedly 90's office furniture.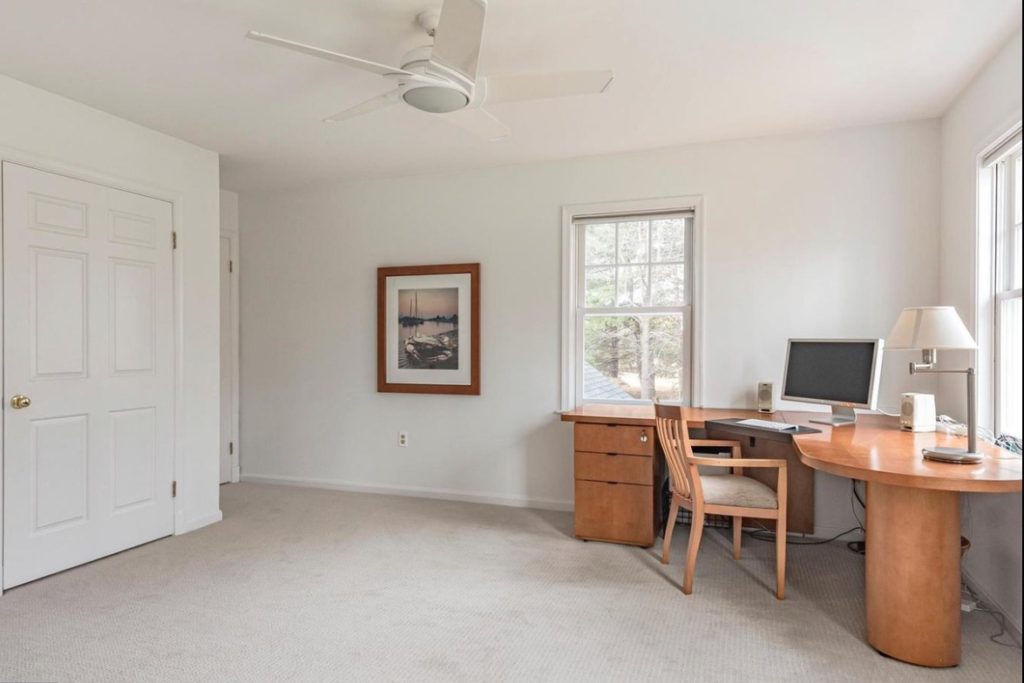 It didn't really fit his style-he's more of a Paw Patrol type than L.A. Law, so we ditched that along with the carpet and the bulky closet doors. After some demo and wall patching, we got to the fun stuff.
New Mohawk Coastal Collection floors from Riverwoods Flooring warm up the space a ton, I've never ordered flooring online before, but Riverwoods was recommended by a friend and they had the best prices for the floors I wanted, and they were able to ship them in a couple of days.
The paint color is Benjamin Moore's Silver Mist, my favorite color of the moment. It really has a silvery sheen rather than a typical grey.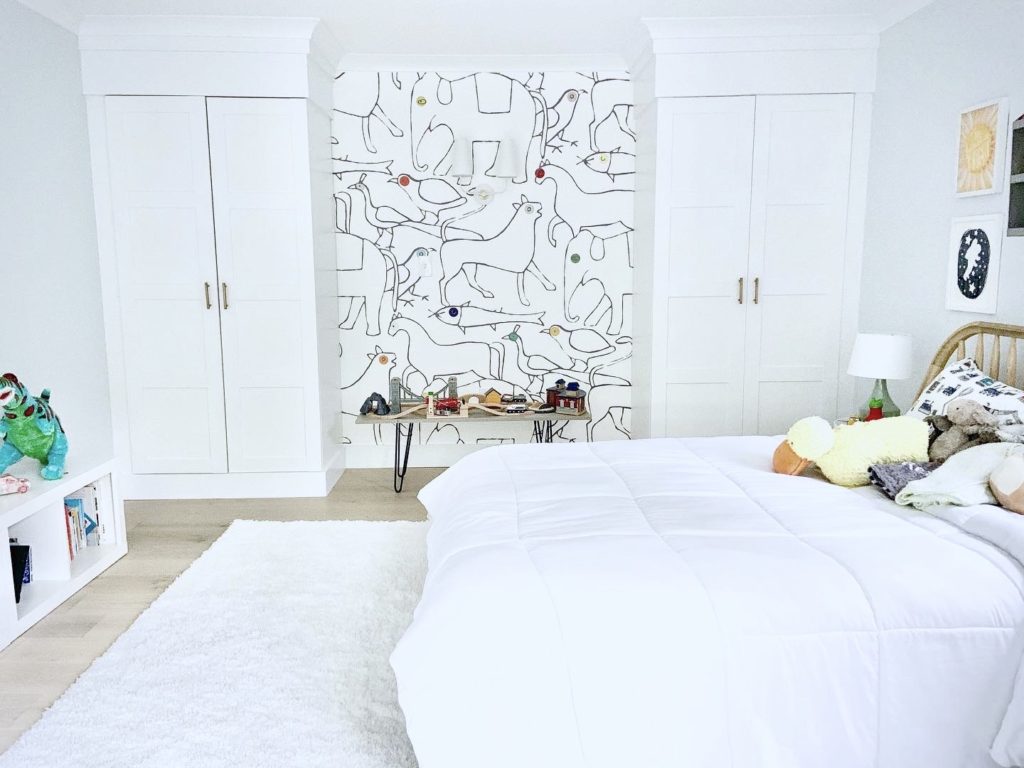 The existing closet footprint took up a lot of space, so I framed in Ikea Pax closets one either side of the room. We used these in every closet of our old house, and plan to do the same thing here.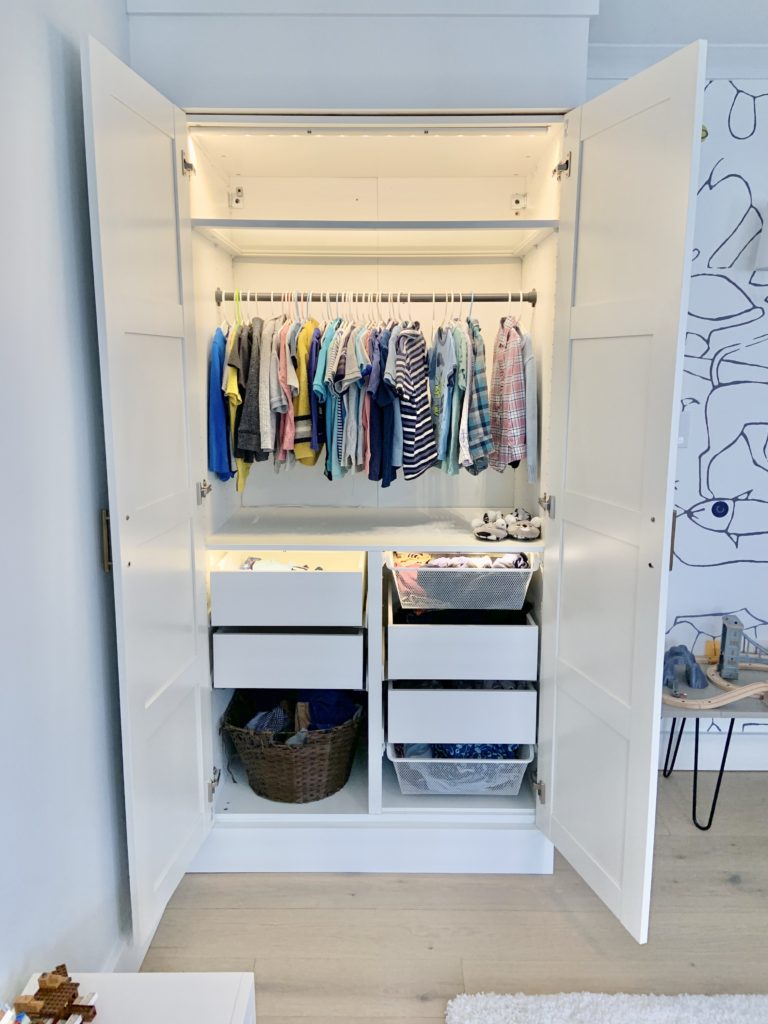 They are incredibly customizable have limitless storage options-and the lighting (swoon)!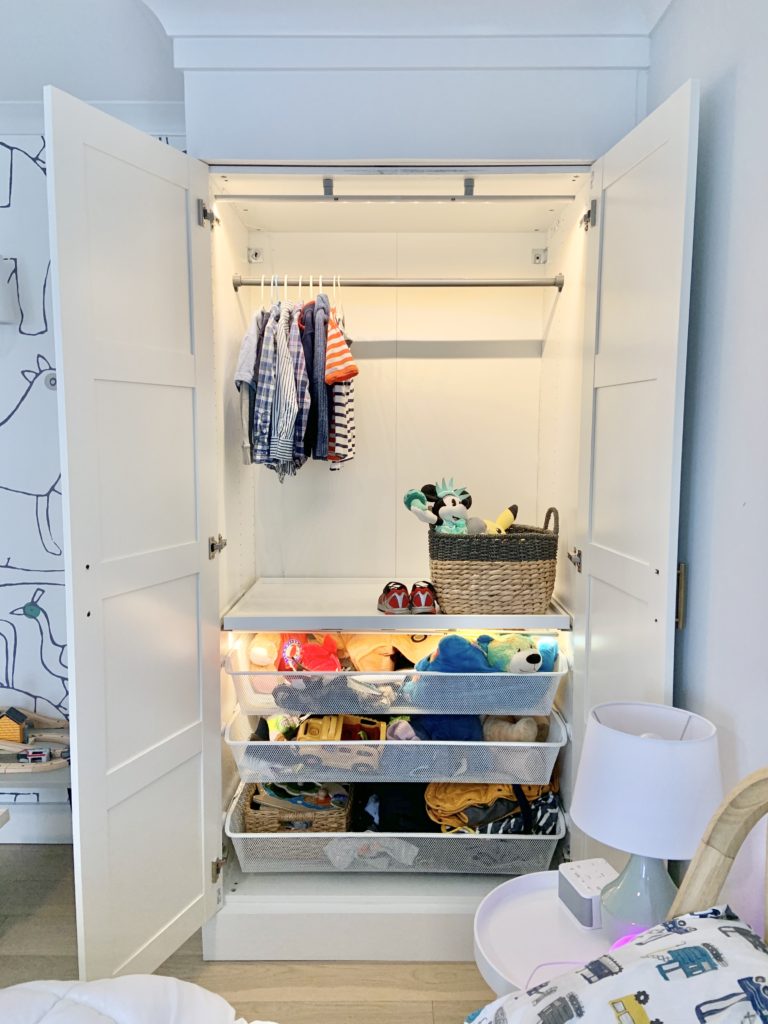 The real piéce de résistance is the Bien Fait wallpaper that has been on my wishlist ever since I saw it on Emily Henderson's blog. It would be really expensive to do a large space with it, so I pretty much designed the entire room around only having to buy one roll, hence the spacing of the closets. It's fun and bright, and not too juvenile, so I think it will stand the test of time.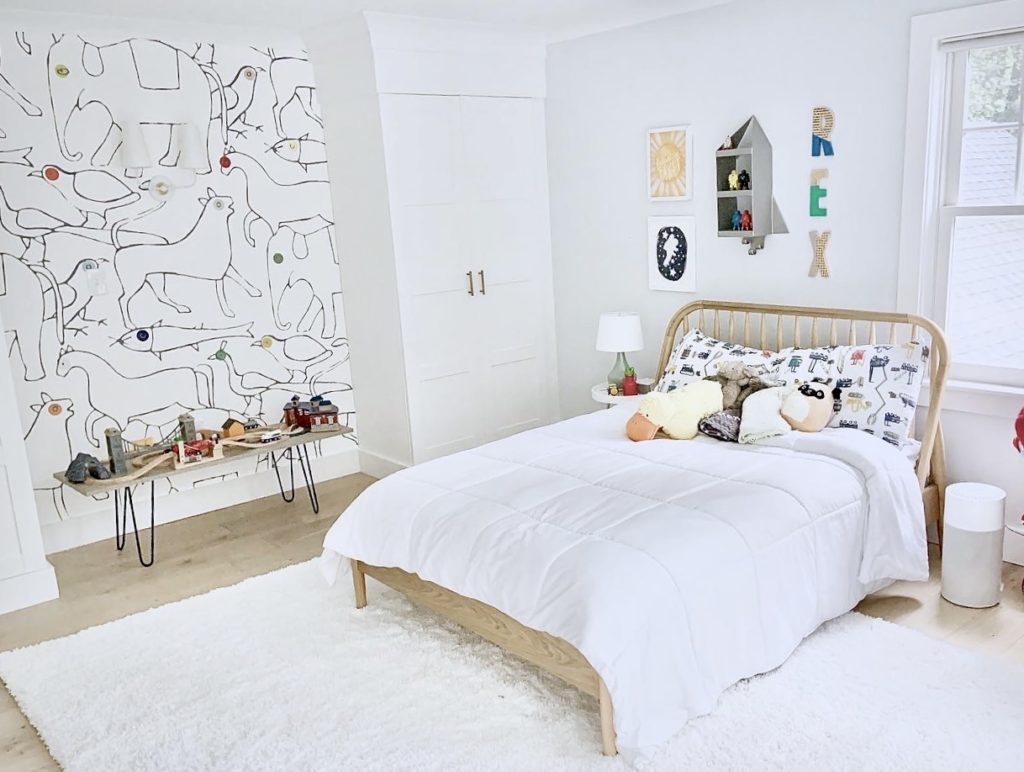 All of Rex's existing furniture fit perfectly, so the only things we had to buy were the extra fluffy white rug from Overstock, to fit the new space, and the light we added above his train table. Rex's bed and spaceship shelf are also from our last house, the bed can be found here. Most of Rex's artwork is from Minted, like the solar system print.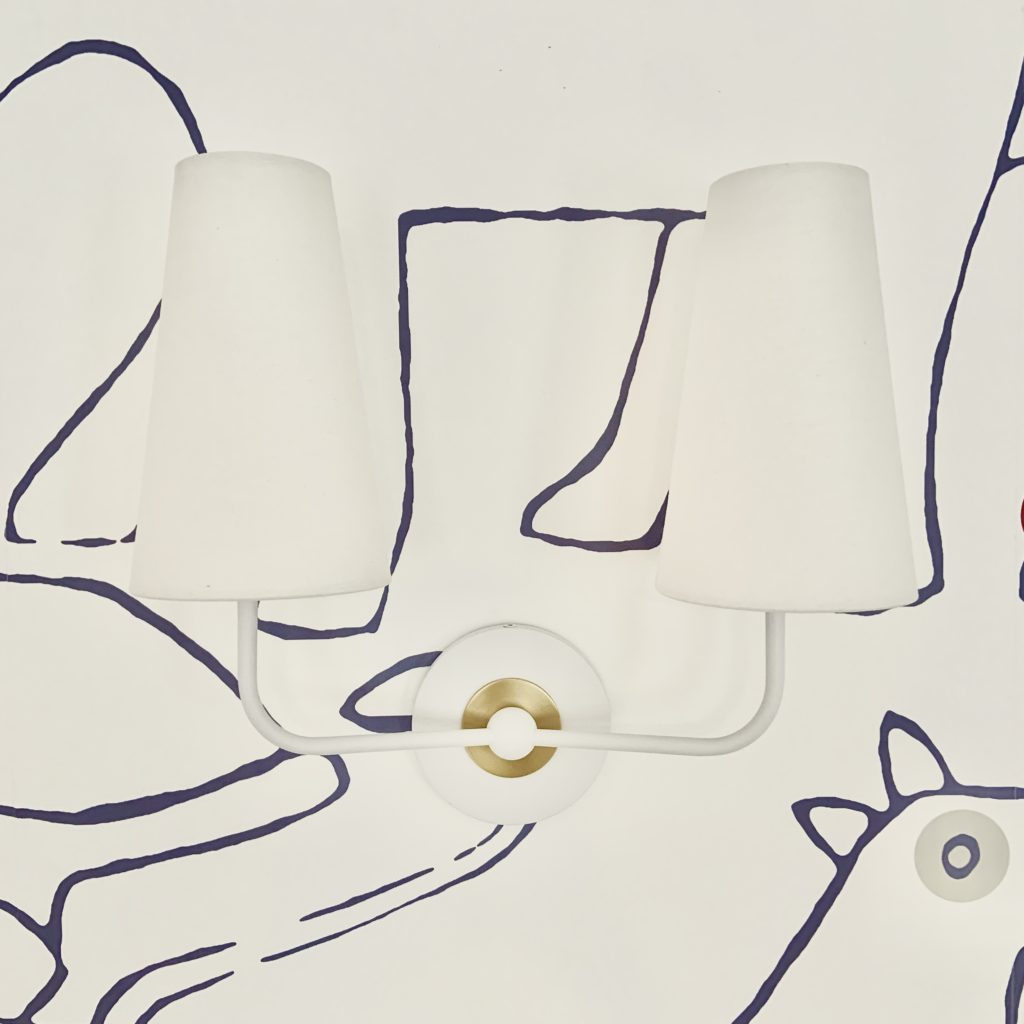 The final touch was new plantation shutters, which I measured 5 times and prayed would fit, because measuring and installing your own shutters can be dicey. Luckily these were super easy to install, Jason did each one himself in less than 20 minutes.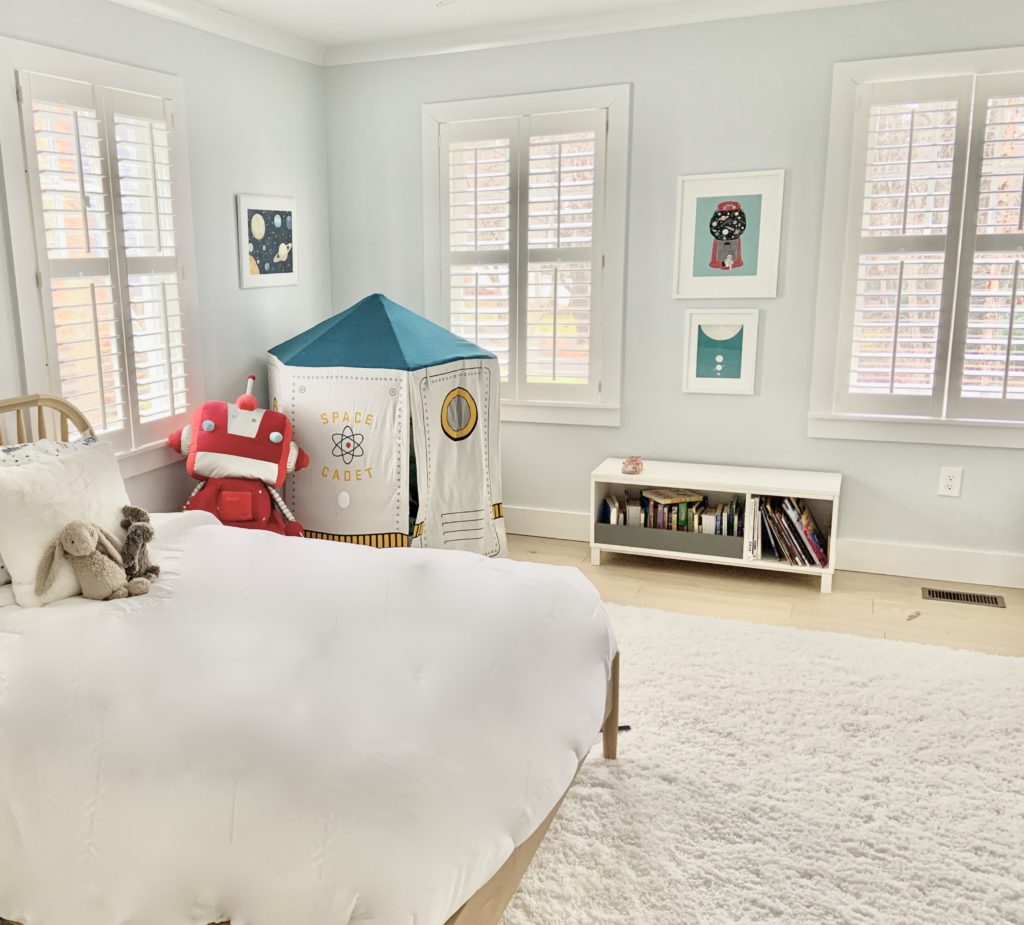 I think everything turned out great, and seeing as we're spending a lot of time at home these days, it's nice to have a space that feels a little more like us.