Yesterday I shared our new basement bar that we built out of Ikea cabinet frames and custom doors from Semihandmade, which was the first half of our basement cabinetry.  The bar sits adjacent to our media wall, where I was hoping to create built-ins to make total use of the 10′ long space.  In our first house, Ikea Besta cabinets completed our basement media room: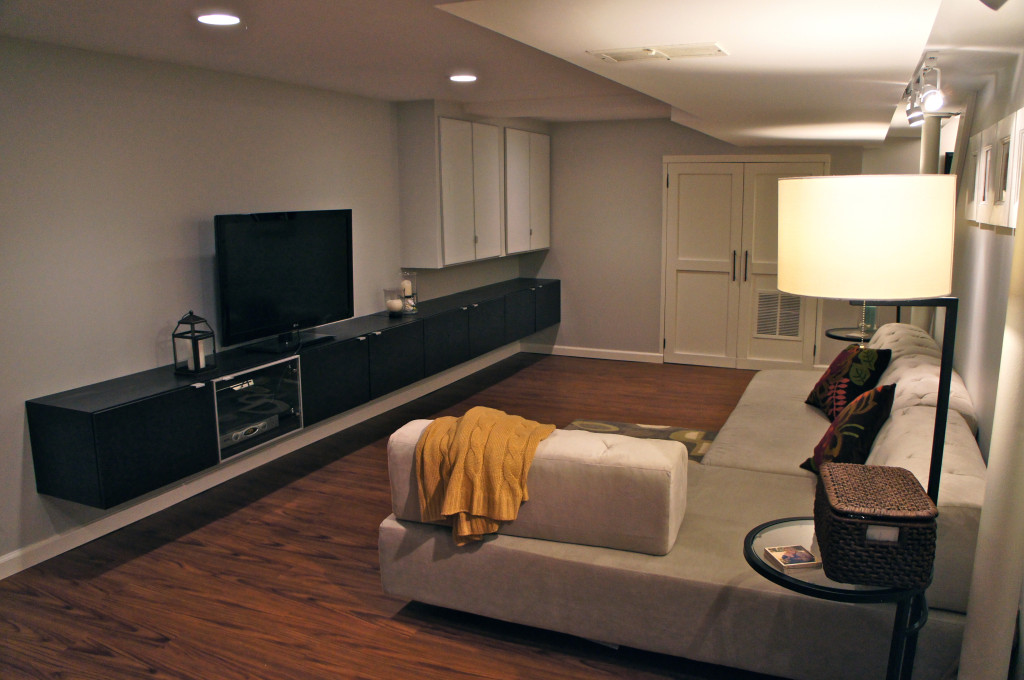 Looking back, they were a little modern and maybe more "bachelor-pad" than I would go for now.  We had a funky set up to work with, though, and they were within our limited budget.  Our current house is considerably more traditional, so while I liked the idea of the Besta, it would require modification.  Luckily, I know a very handsome engineer who accepts beer and compliments as payment for his services.  My inspiration came from this photo:
I liked the low profile, but wanted my media center to flow with the bar cabinetry and couldn't achieve that with in-stock Besta doors.
The California based company, Semihandmade, provided the perfect solution for accomplishing my goal.  Their handmade wood doors are cut to fit Ikea frames.  Cost wise, the paint-grade doors were priced similarly to the high end Ikea doors, and as the reigning Queen of Cabinet-Painting, I couldn't resist the endless color options bare wood afforded me. The hardest part of the process was waiting for my order to arrive in the mail.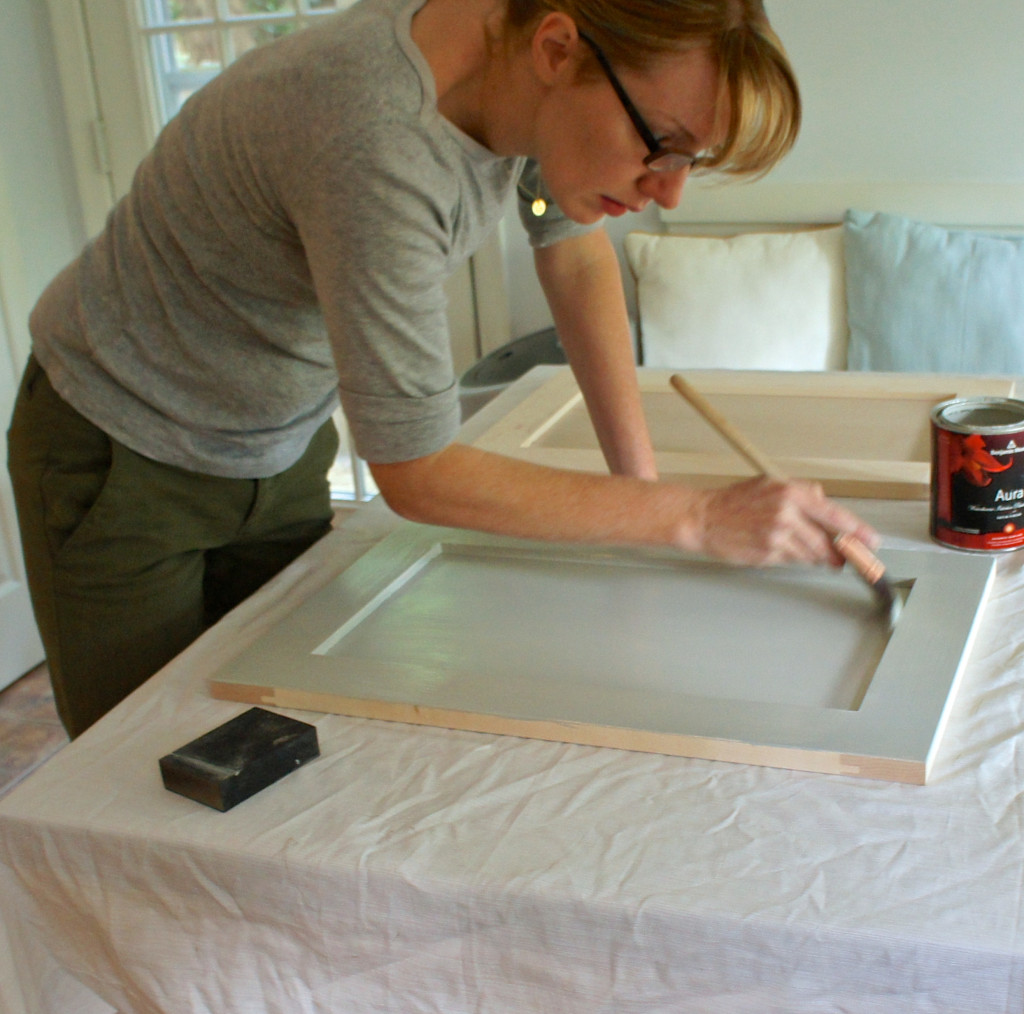 The doors arrived with pre-drilled holes for the hinges, so my only job was assembling the cabinet frames.  Three coats of Benjamin Moore Aura in Fieldstone (sanding between) and the they were perfect.  Benjamin Moore recommends their Advance paint for cabinetry, but I find that it dries too quickly.  Aura creates a smooth, washable finish without the need for priming.  The trick is to give it one coat without going back over anything you've painted.  Let it dry completely (30-60 minutes), then sand it lightly with a sanding block to remove any imperfections before coating again.
The center cabinet houses our cable box, so I ordered one of the doors to come "glass panel ready", although I actually fitted it with a decorative metal sheet to allow airflow and prevent the electronic components from overheating.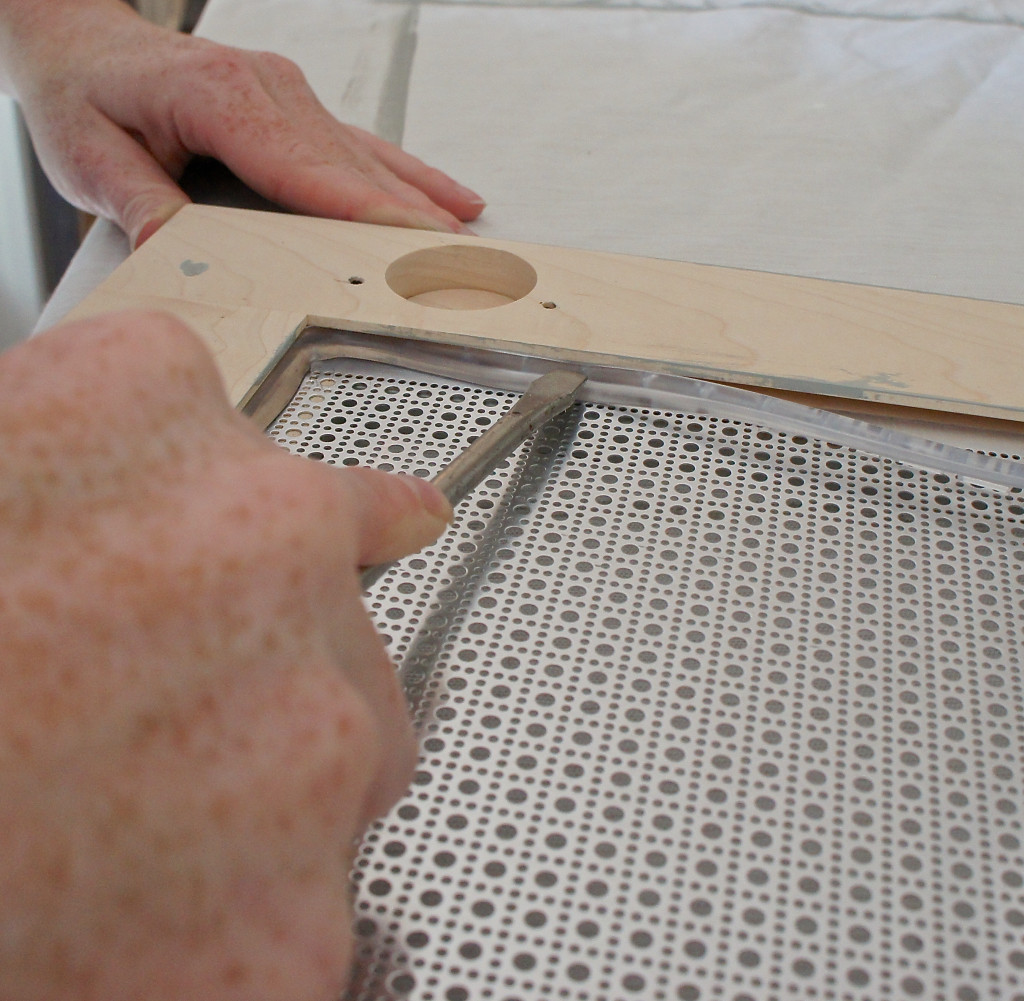 Semihandmade provided a silicon fitting to hold the panel in place.  Once the cabinet doors were painted, Jason got to work.  I wanted the countertop and lower ledge to hang out about 3/4″ further than the doors, so J attached 2×2 boards underneath the cabinet for attaching the base molding.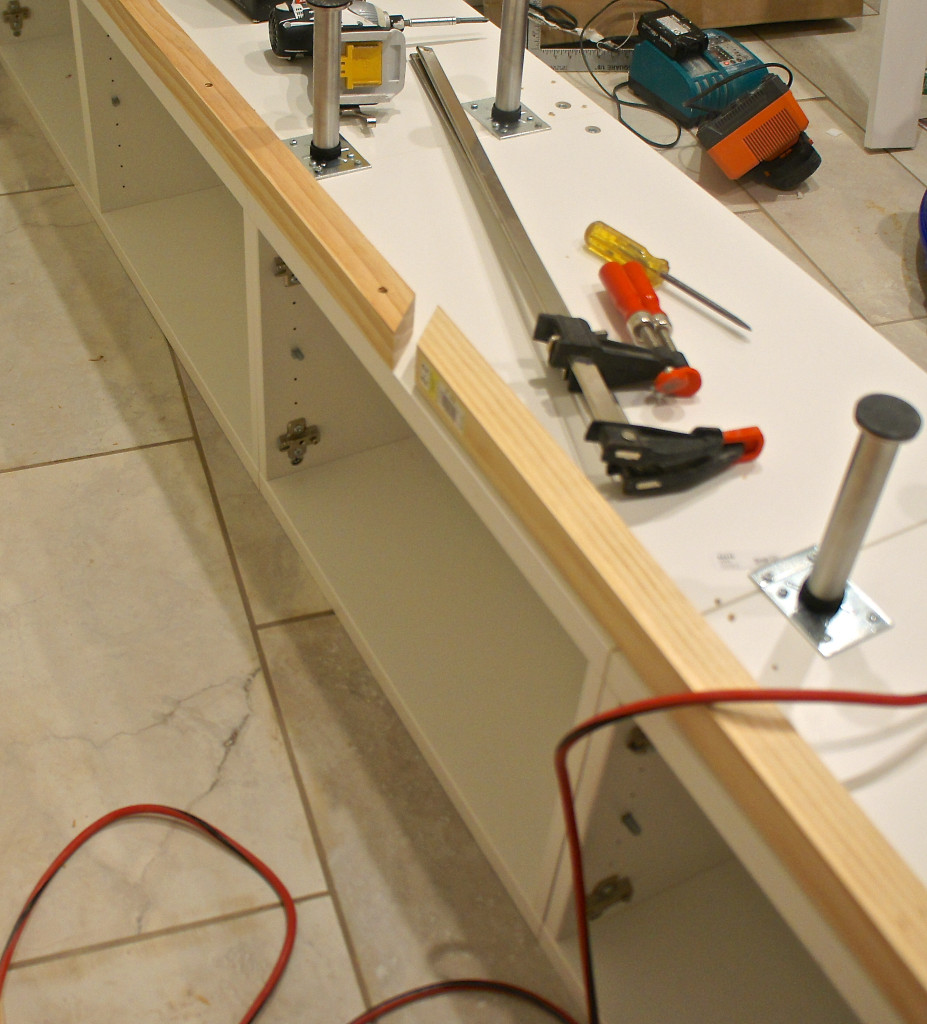 Then he trimmed it out: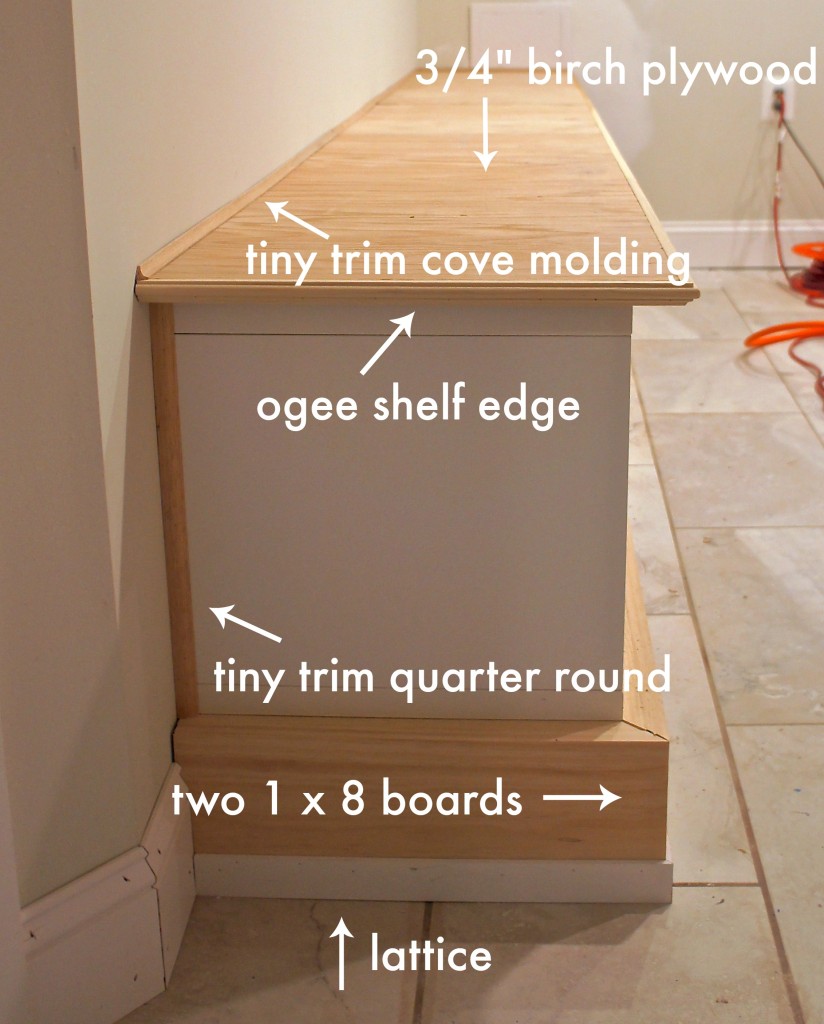 To allow the doors clearance to open, he added a layer of lattice between the plywood top and the Besta frame: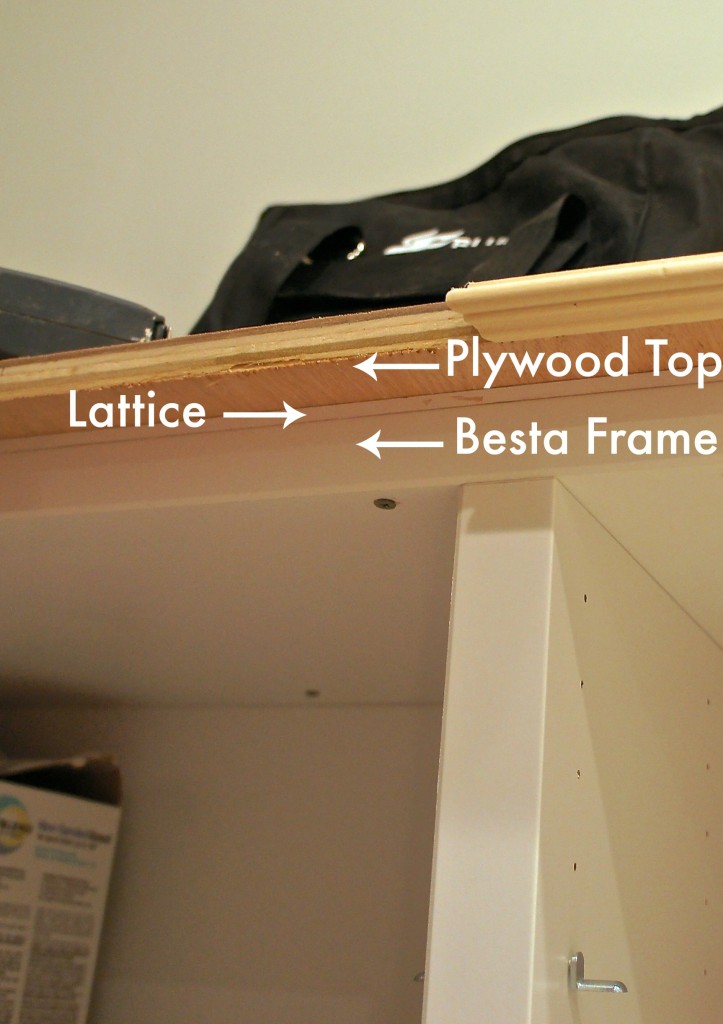 After a good sanding, plenty of caulk, and three coats of Aura in Fieldstone, we were ready to attach the doors.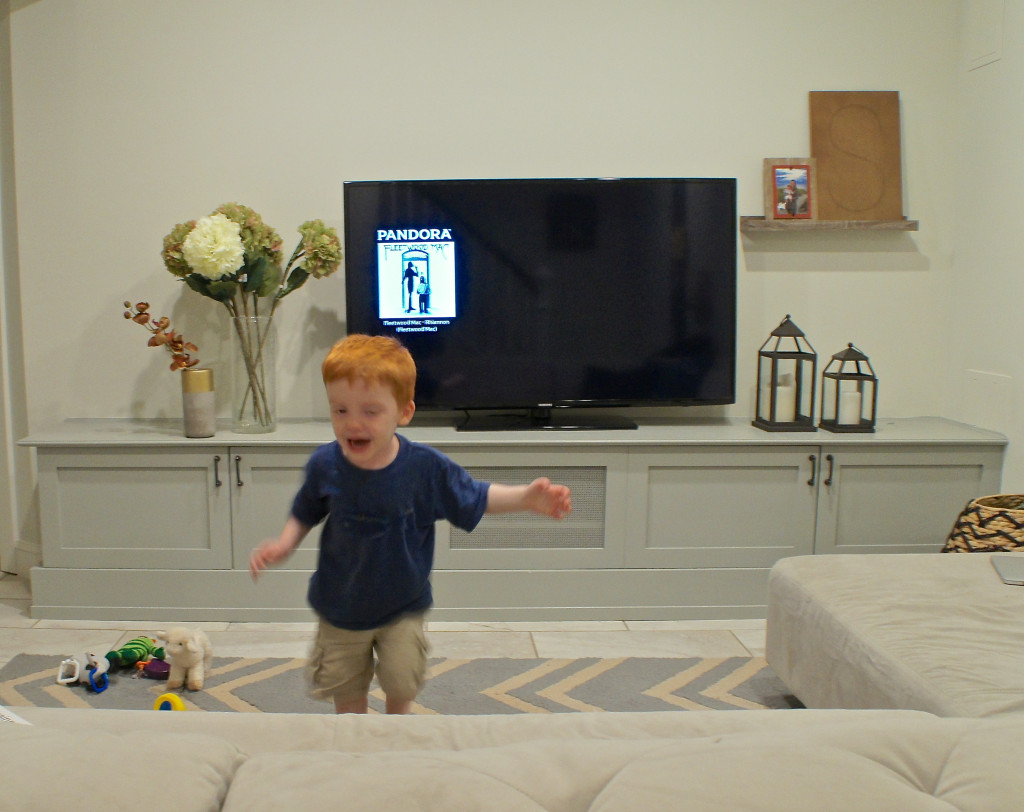 The end product is exactly what we had pictured, a built in Besta media center that flows seamlessly from the bar: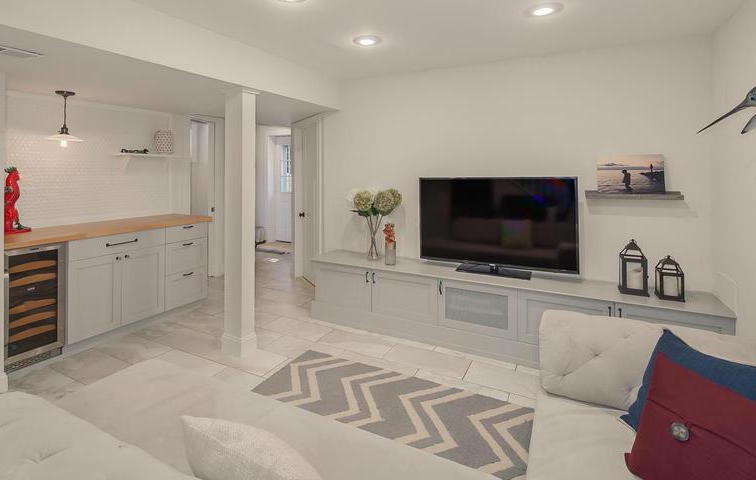 I think it's a nice improvement on the original Besta.  The look is a little more "family room", with the added plus that it's painted, so I can easily touch up when my kids take their art supplies to it.