It has been a fabulous week of working until 1 AM every night, and Jason and I are absolutely beat.  Having all the furniture out of the room to finish the floors made it easier to paint and decorate a little, though, so we decided to knock all that stuff off the list while we're at it.  Our bedroom was the very last to get flooring, so for the seven months and two weeks we've lived in this house we have gotten used to having an extra mattress, broken down crib, and the odd dresser or desk smashed up against the walls.  This is how things looked after sending all the furniture overflow to its final resting place: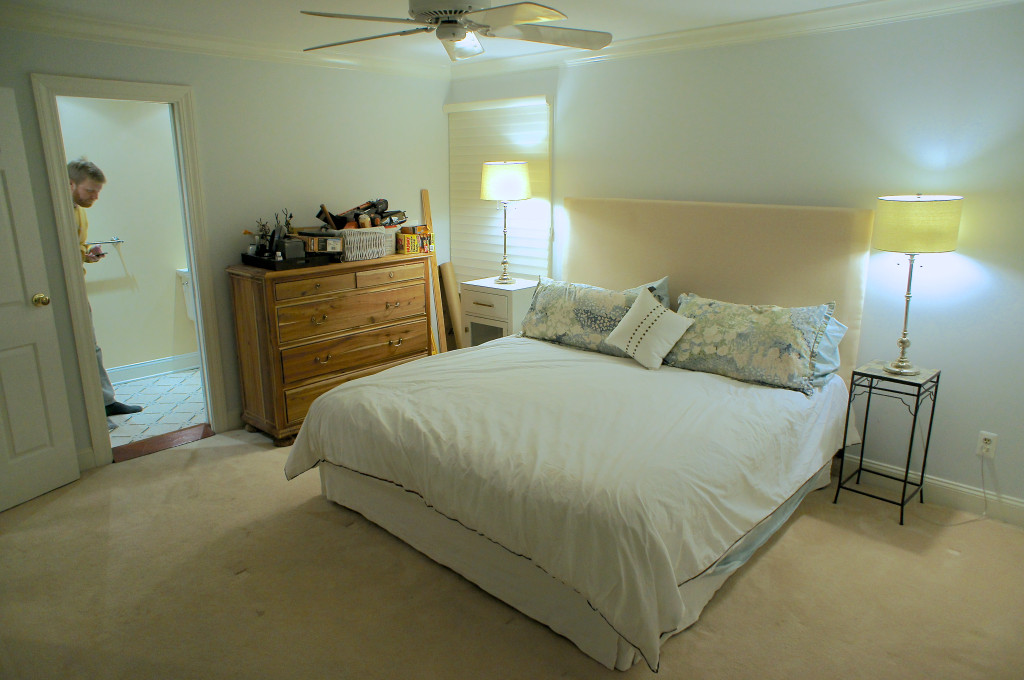 Blah.  About as boring as things can get.  The master bedroom in our last house was tiny.  It fit our King sized bed (a must have when you're sharing said bed with a pit-bull) with about a foot of space on either side.  We didn't really do much besides building a makeshift headboard.  When it came time to sell the house, we sold all of our old bedroom furniture that barely fit into the room anyway, painted it beige, and added a few pictures to the wall.  The goal was the make the room look as large as possible, so what moved with us to this house was decidedly vanilla.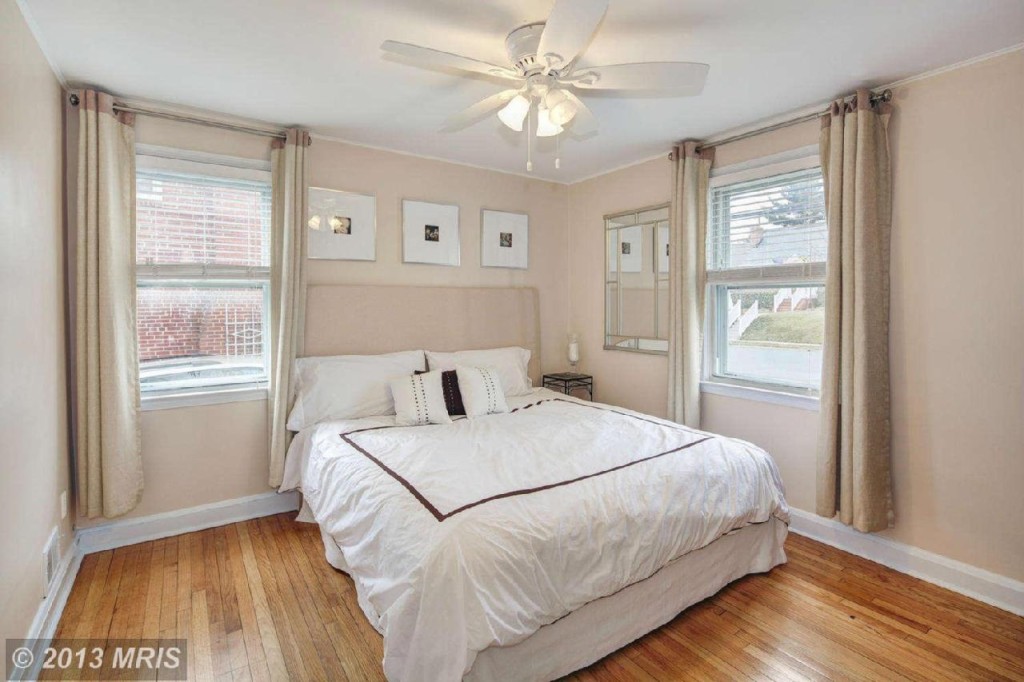 I hadn't planned on doing much with this bedroom for the time being, but having so much room to fill and a new family member who will be stealing what used to be our office, I got a little carried away.  Plus, it's cyber week at Target, so using my Cartwheel app in addition to the sales they had going on I found few deals that were too good to pass up.
As far as furniture goes we were in need of a chair and bedside tables.  I generally try to avoid mixed use spaces, but when you're short on square footage, sometimes they're a must.  We used to have a guest room/office, however Baby G will be using that as her nursery.  The only place left to put a desk is in our bedroom.  There's plenty of space, but we don't want to give the room a "we-had-nowhere-to-put-this-so-we-crammed-it-in-the-corner" feel.  Using an upholstered chair helps keep the look of the desk soft and bedroom-y, so it doesn't look out of place.  This is what I went with: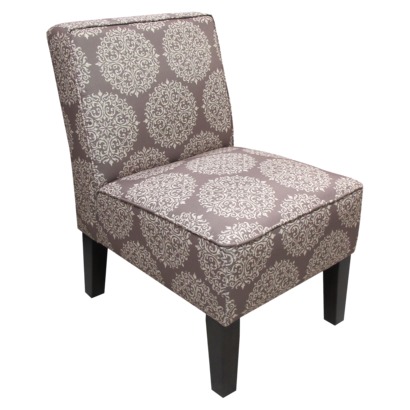 It was on clearance for $95, plus another 5% off with my Target card and free shipping to the house.  Our new headboard has a strong geometric print to it, and the colors of our room are now a lot darker than they used to be, so I tried to keep the pattern of the chair pretty neutral.
Our current bedside tables are a bathroom cabinet and a plant stand.  Classy, I know.  They work, but as long as we are making changes I decided it was time to get something matching.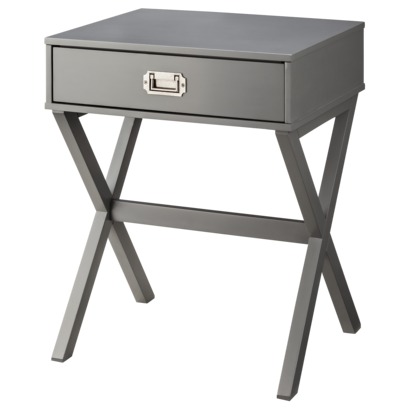 These Threshold Campaign Side Tables, originally $79, are on sale at Target for $63.99, plus another 10% off with the Cartwheel ap, and another 5% for using my Target card, grand total of $54 each.  They're nothing special, but the price is hard to beat.
I let Jason pick the fabric we used on our headboard, and he went with something pretty bold.  It's Premier Prints Tower Village in Blue/Natural from Fabric.com: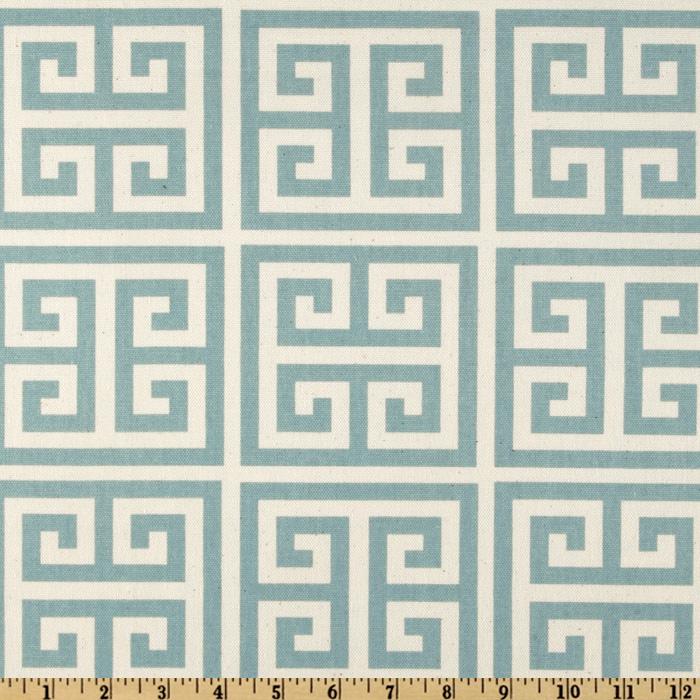 In choosing a paint color I wanted to do something in the same tone that didn't exactly match the fabric color, and ended up choosing Benjamin Moore's Beach Glass, in their zero VOC Natura paint (my favorite, safe-for-babies-pregnant-women-and-everything-in-between-paint).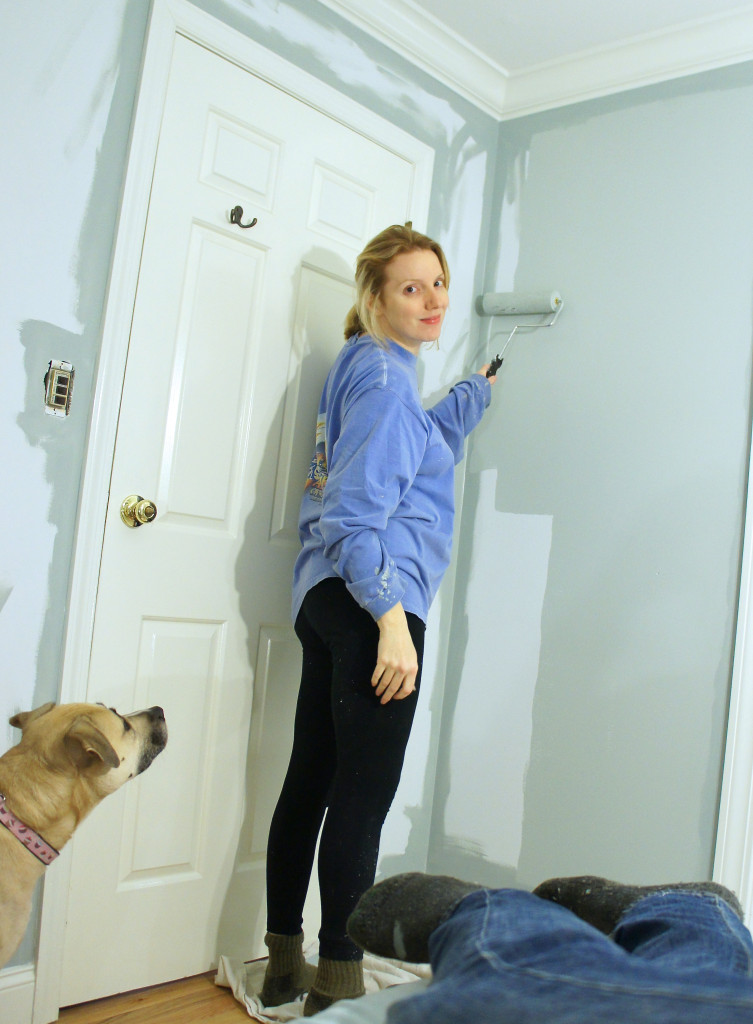 I think it accomplished toning down the bold print of the headboard without making it totally fade into the wall: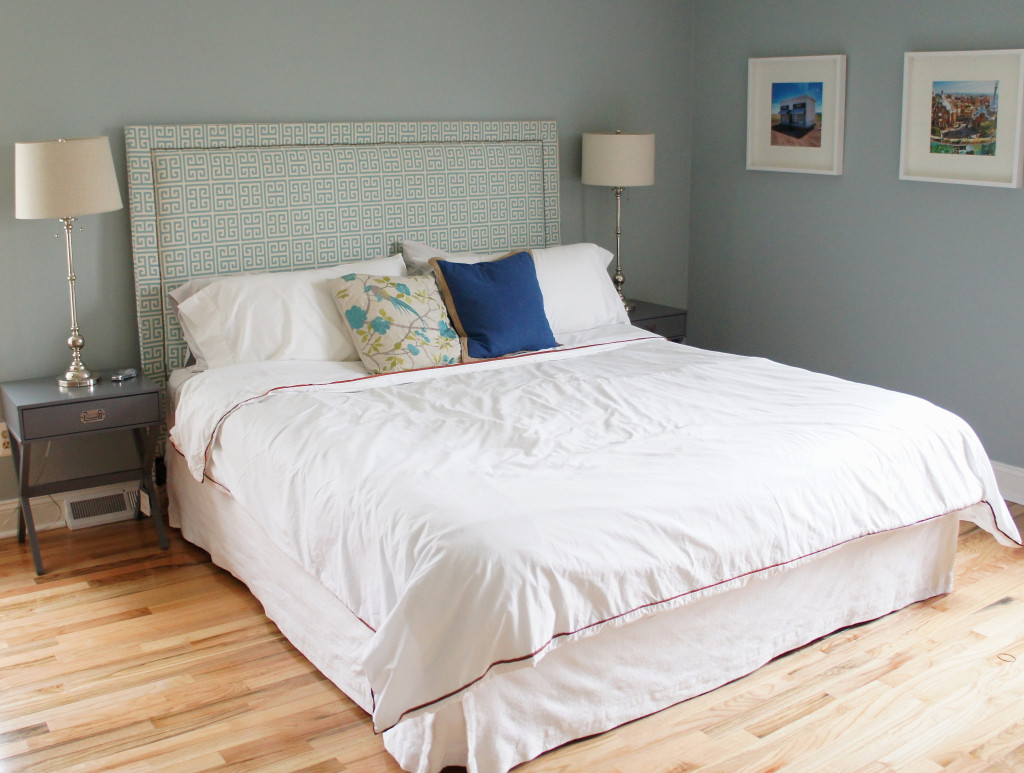 For artwork, I bought a couple Ribba frames 20% off at Ikea's Black Friday sale and printed two pictures from Flickr at Costco where 12 x 12's are $3.  Flickr is a photo sharing site, so people upload their work and can choose whether or not to allow downloading.  My two pieces of artwork were a total of $19 each, including their frames.  One is a photo of Prada Marfa, an incredible sculpture, with the West Texas backdrop I grew up surrounded by.
The other is a photo from Barcelona, where we honeymooned.  The pictures pop really nicely in the big white frames.
We still need to find a rug, but I usually buy rugs in January when Crate & Barrel has their floor model sale and marks stuff as much as 90% off, so I have my fingers crossed that they'll have a nice selection this year.  The windows are also begging for some treatments, but that isn't in the budget for now.  We're almost done in here, so I should have some final pictures to share soon!