I've come the decision that a rug is the make-or-break item in a room.  The colors and shapes on the floor completely transform the look and feel of a space.  Everything else flows from there, so I take a lot of time in choosing rugs.  And I've certainly made mistakes.  Like this thing I bought on sale for the basement in our last house: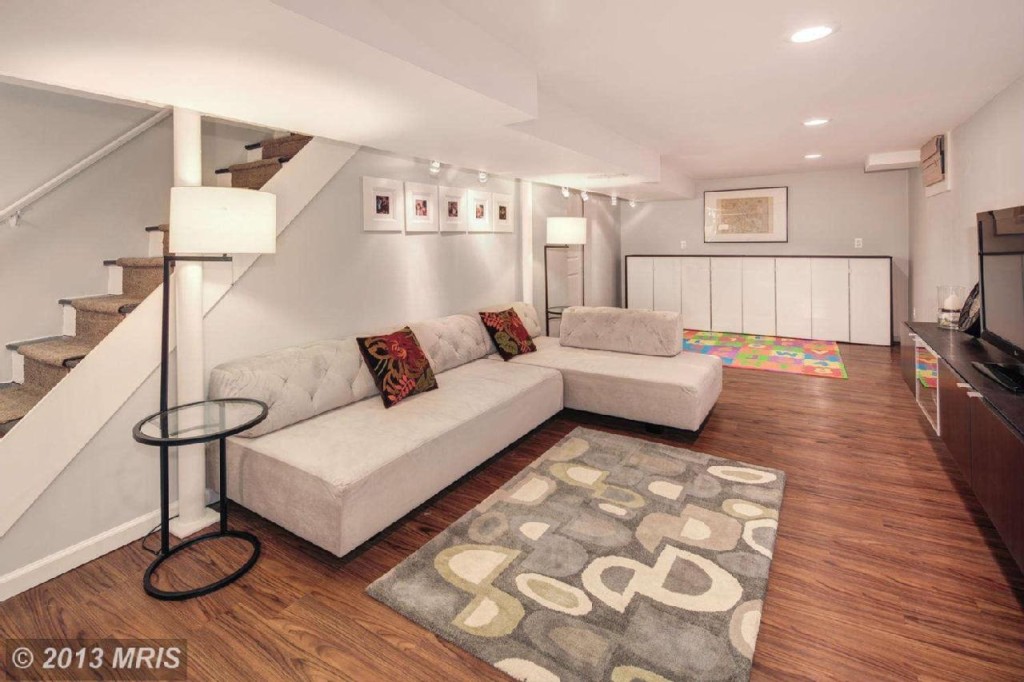 Weird, right?  Sometimes things are on clearance for a reason.  It is now rolled up in the basement of our current house, probably never to be heard from again.
Jason and I got the crib up this weekend, so the nursery is finally starting to take shape and it's rug shopping time.  This is how the room looked after finishing the hardwood floors and painting the walls in Benjamin Moore's Bride to Be: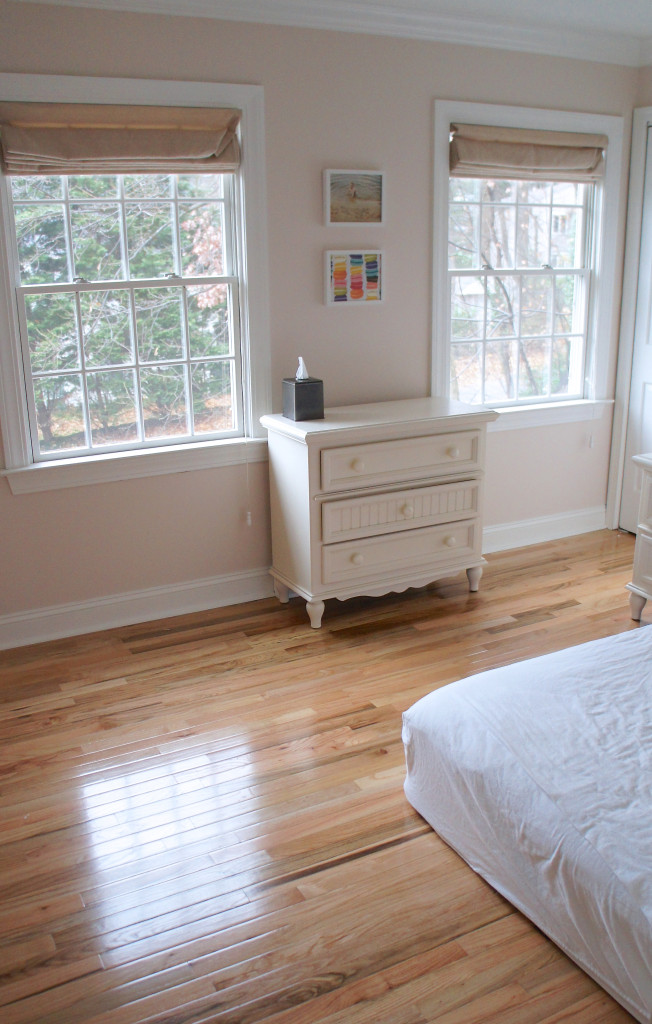 We need something soft for the baby to crawl around on, and with all the holiday sales going on it's a great time to find a bargain.  The nice thing is I wanted to cool off the pink room, so we weren't trying to match any colors and could order online.  The way the pixels work on a computer screen, a lot of times rugs will be totally different shades in person than they are in a photo, so online shopping isn't the best option if you're trying to pull in a specific color.  Overstock has a huge selection, and I have been really happy with the rug we ordered for Grant's room: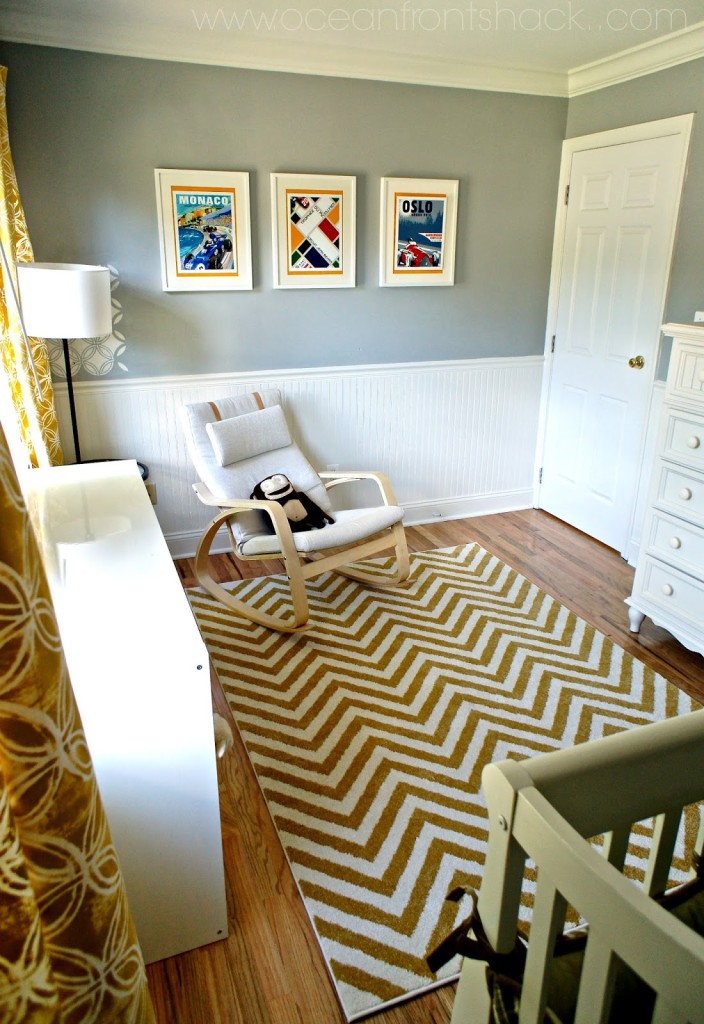 It's actually a lot more yellow than in that photo.  Anyway, I was going to buy the same one and needed to choose between blue and green for the nursery.  I took a couple screen shots side by side with a picture of the room colors to help: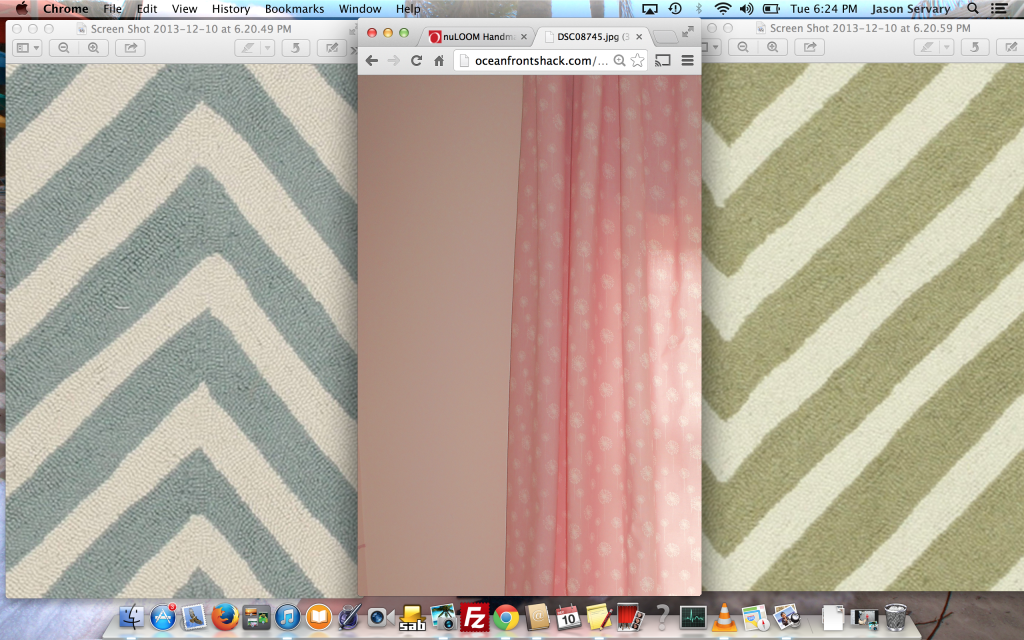 The blue and pink together screamed "baby" a bit too loudly, so green it was.  The Chevron pattern wasn't working for me, though.   After searching Overstock for a couple hours, I found a green and white geometric patterned 5 x 8 Safavieh rug for about $150.  The price was right, and I was impressed by the quality of the Safavieh rugs I bought for our hallway this summer.  I placed the order Saturday, and was shocked to see the UPS guy dragging a rug up my driveway as I was heading out the door for Grant's flu shot this morning.  I guess they're doing rapid shipping for the holidays!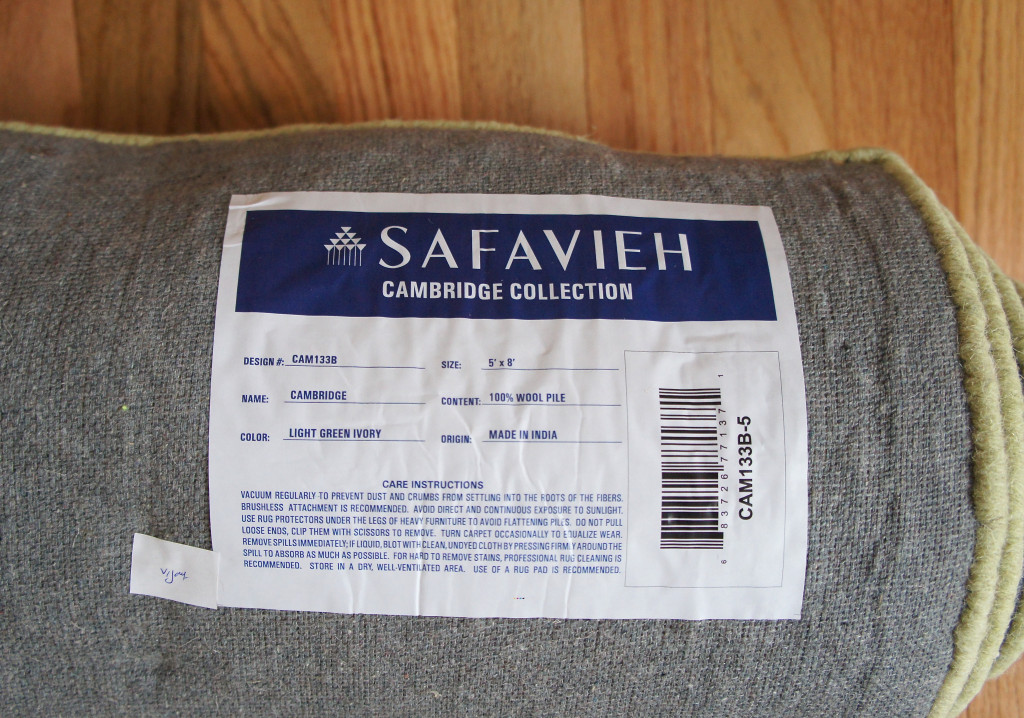 Here's a look at the room after putting up the crib and adding our no-sew curtains: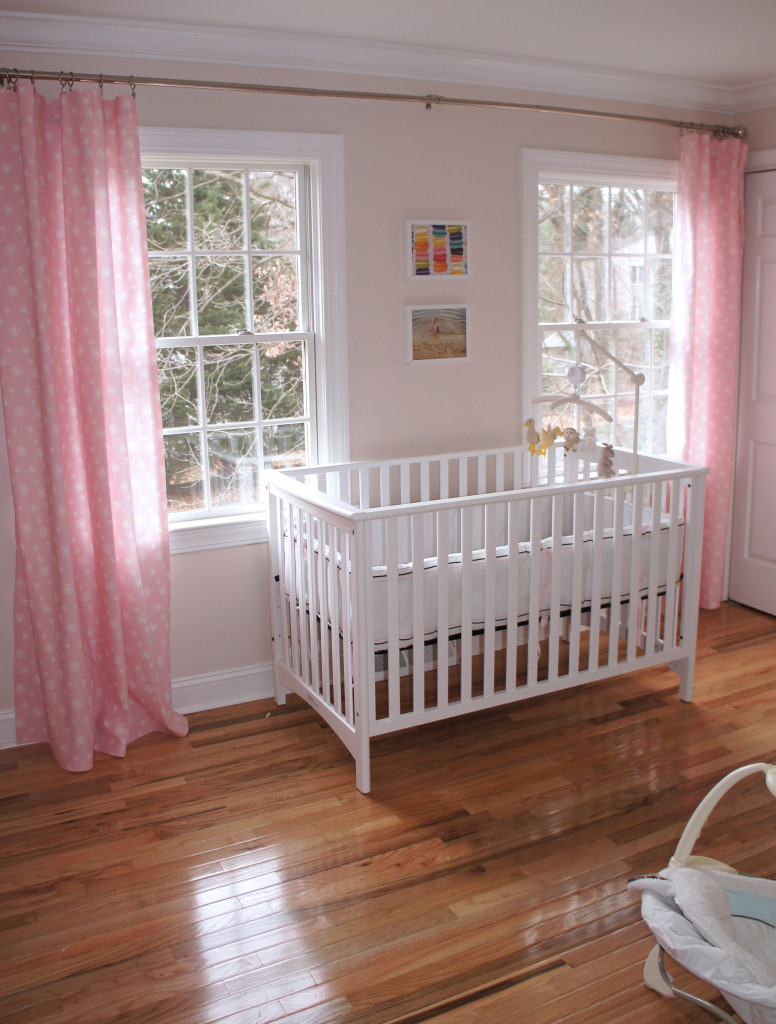 And here it is with the new rug: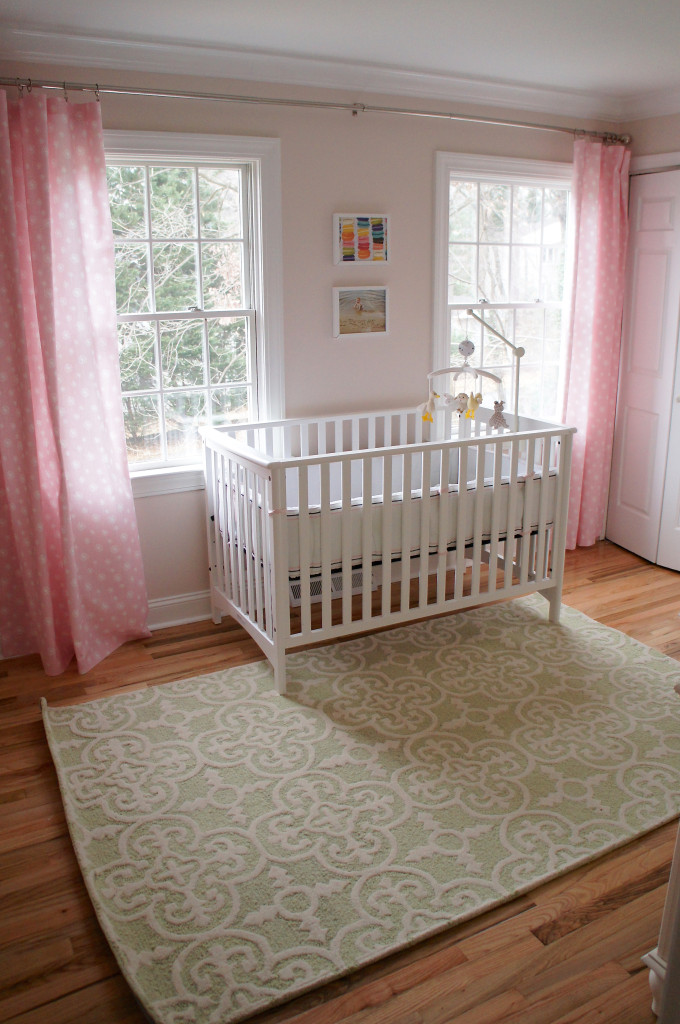 It still needs to flatten out around the edges, but the rug itself is very soft with a thick pile and seems to be great quality.  The colors also do exactly what I was hoping by cooling off the room, too.  Things are really coming along now!  We still need a changing table, but otherwise we're basically furnished in here.  There are few more decorating items to check off the list, but it's feeling like a little girl's room.  Grant is having a lot of fun playing with all the baby toys I dragged up from the basement: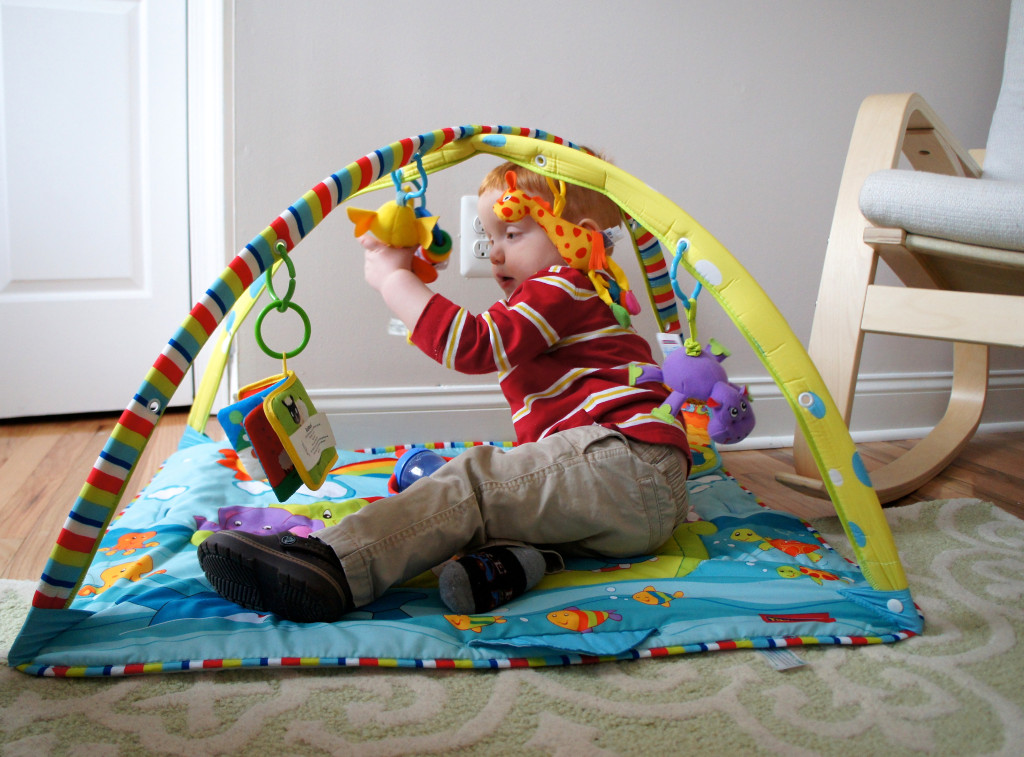 Hopefully that's a good sign and it's going to be a smooth transition once his sister arrives!