When Grant and I got home from our weekly museum trip yesterday (this week was the Air & Space, always a favorite!) we found a fun package waiting on the front porch.  Even after adding artwork to the walls, one corner of the nursery was feeling a little bland: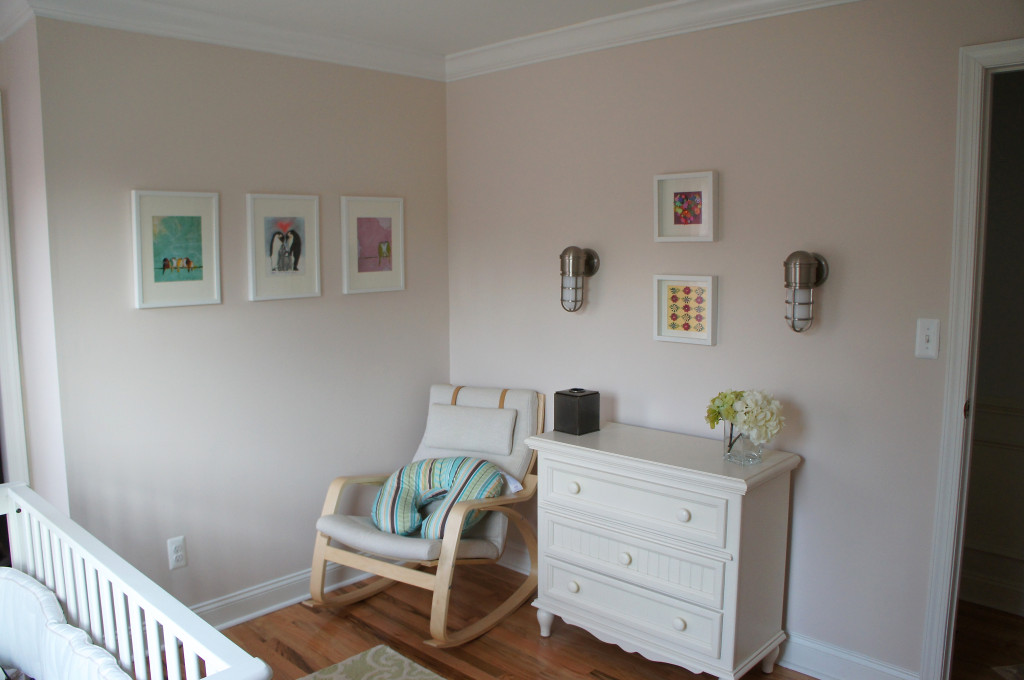 G graciously donated his old rocker to the new baby (ok, maybe we just took it from him…) and while looking for a big boy chair to replace it, I happened across these felt butterflies at Land of Nod: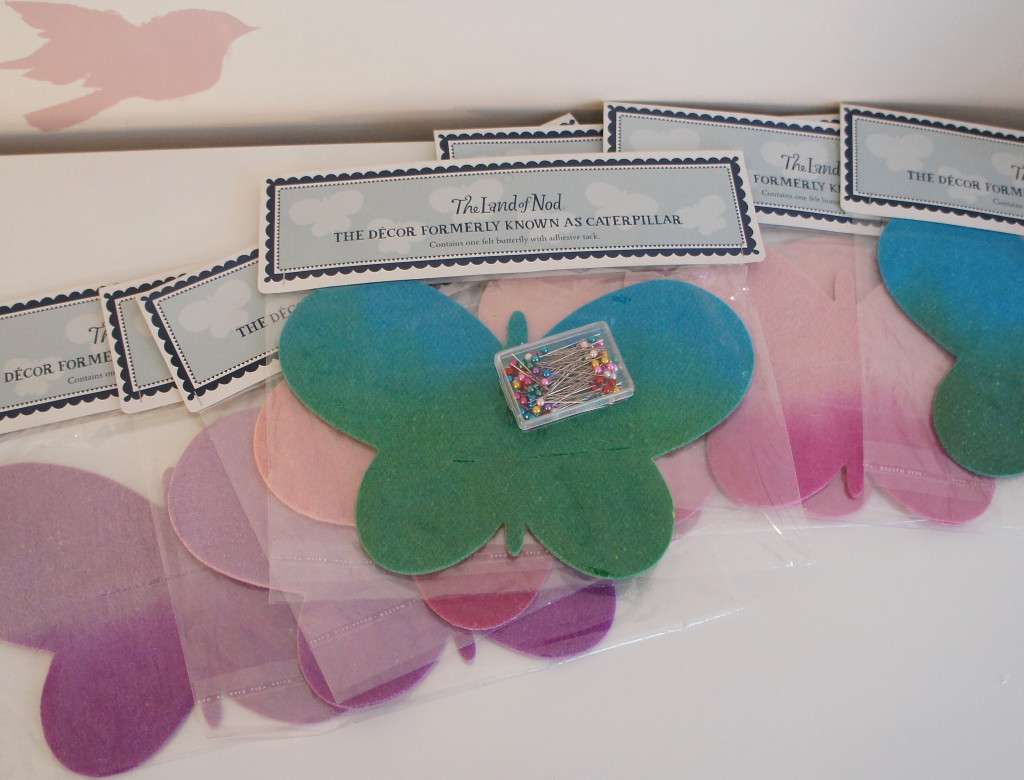 They were on clearance for $1.95 each.  Most of the reviews said the adhesive stickers on the back didn't do anything to hold them onto the wall, but that's an easy problem to fix, so I ordered seven.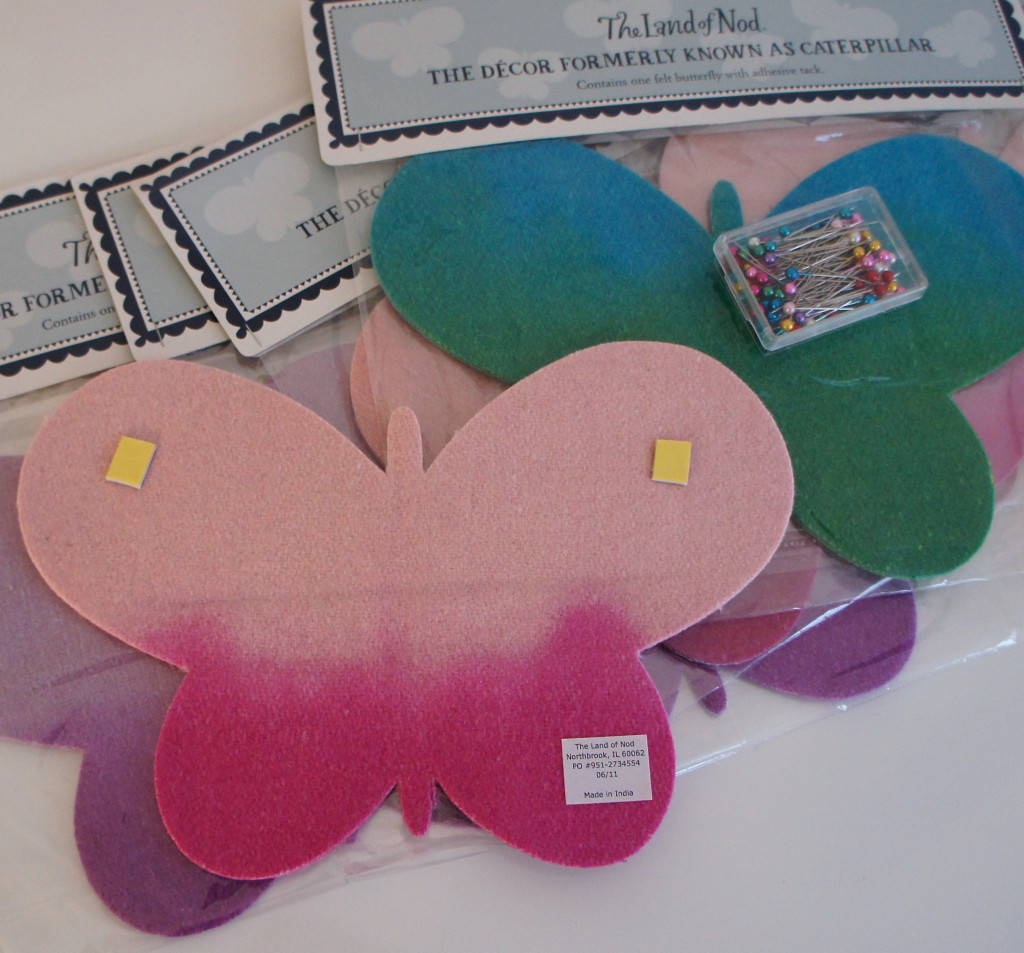 My solution involved a box of jewel toned straight pins, hammered into the corners of the butterflies to hold the wings in place.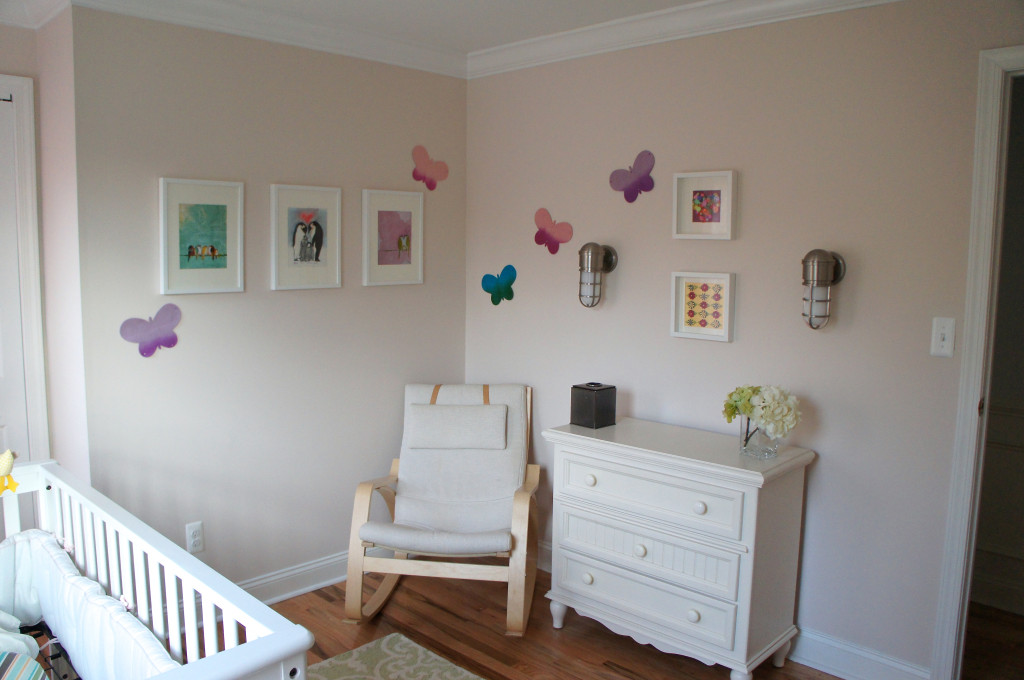 The vibrant insects definitely help break up the monochrome, and a brightly colored chair pillow will do wonders.  G loves the new look.  He has been a big fan ever since we saw the butterfly exhibit at the Natural History Museum a few weeks ago.  This picture is a little blurry, he was busy singing his new favorite song, "A, B, C, 4, 5, 6":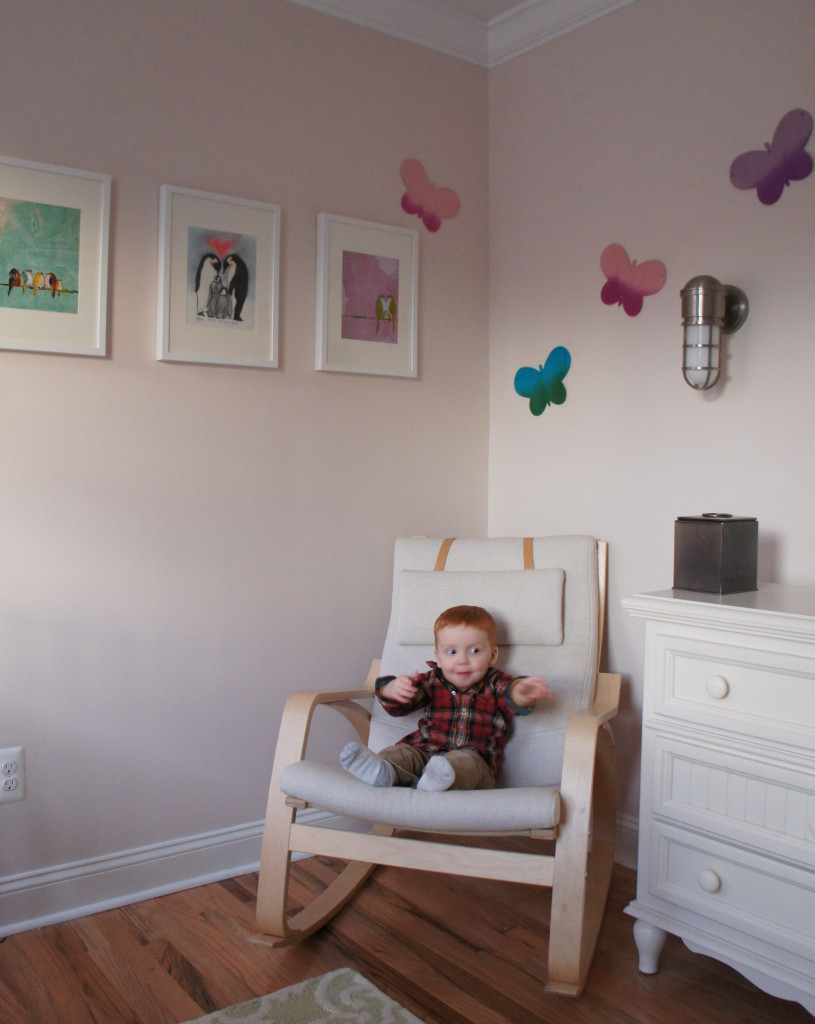 I put the last two over the crib to give the new baby something fun to look at: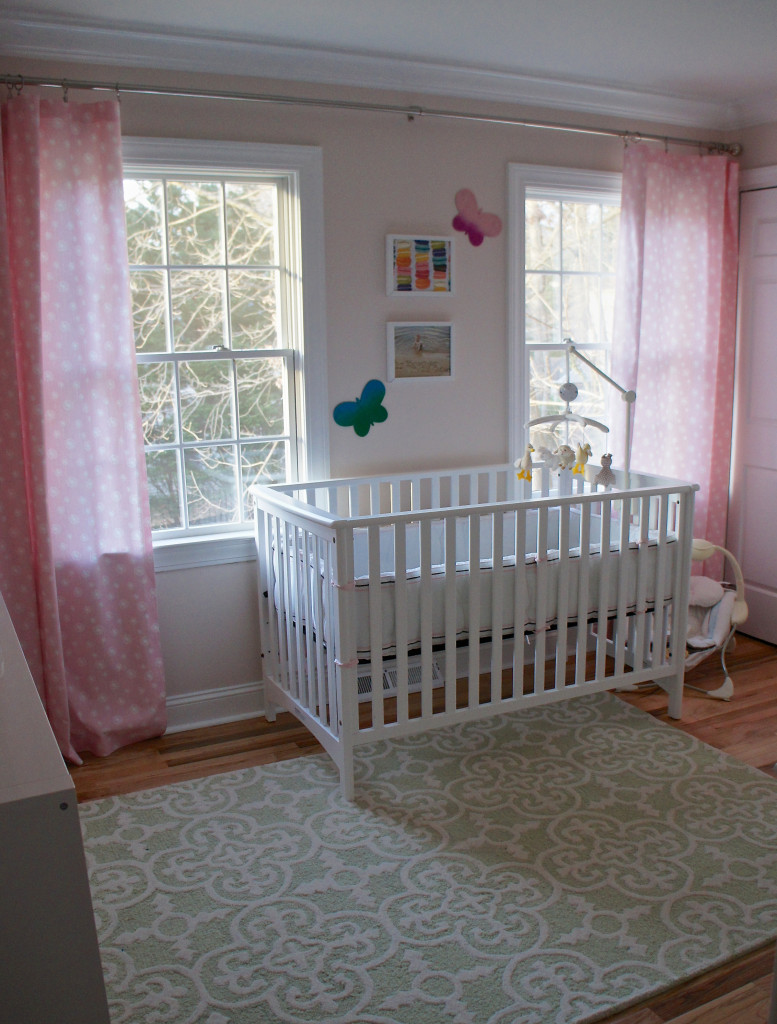 And as for the little guy, he likes his new Sherpa Round-A-Bout chair from Pottery Barn Teen even more than his old rocker.  It kind of feels like you're being hugged by a giant stuffed animal.  He keeps saying, "Sit, sit!"  and hugging the fabric while we read stories.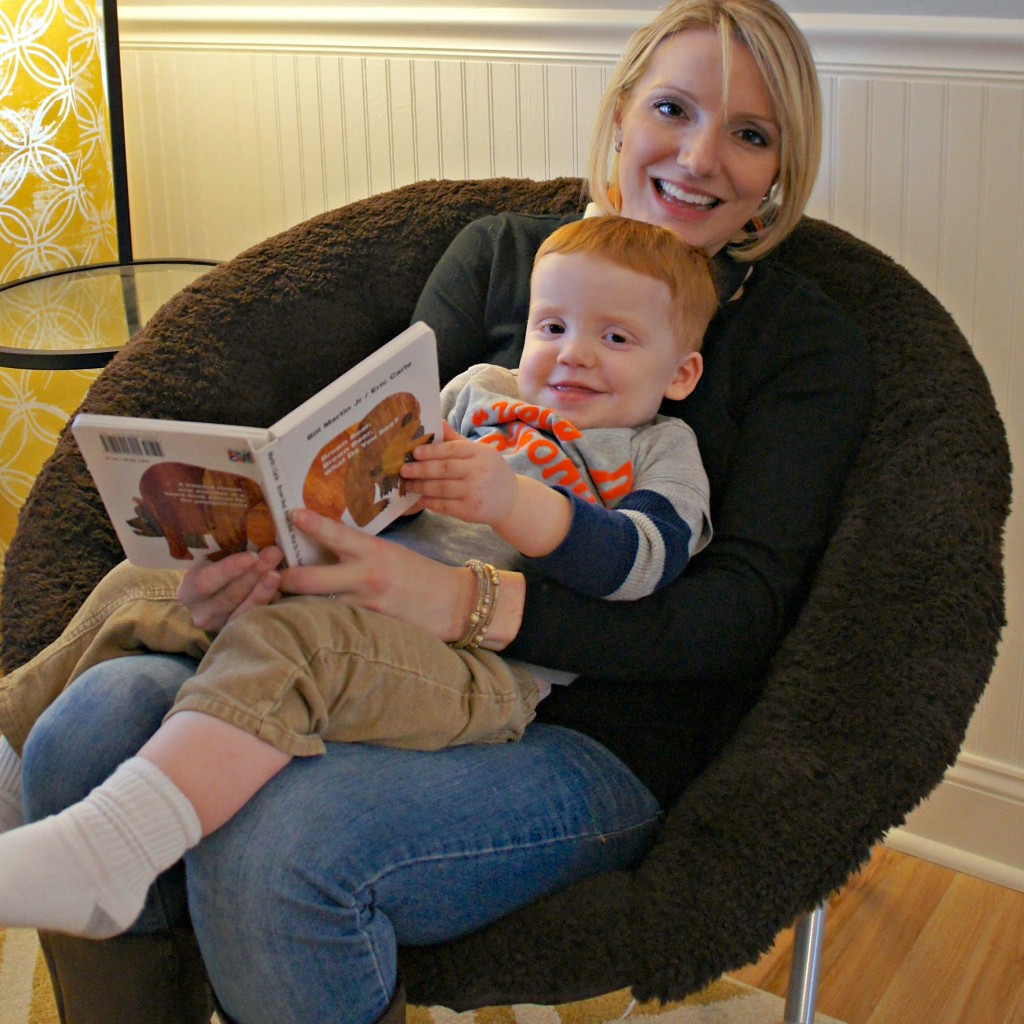 Jason helped put together the new Expedit shelf we're using as a changing table a couple nights ago (with relative ease thanks to an Allen wrench attachment for the drill):
One more Target order of odds and ends like a crib mattress and changing pad, and the nursery will be done!  Grant has been very involved in all of the decorating.  He loves playing with his old baby toys while I work, which I'm hoping will help him adjust to having a little sister in the house.  For now, he loves going in her room, and I figure the positive associations can't be a bad thing.
Happy last shopping weekend before Christmas!  Thanks to Amazon we have successfully avoided the malls, so we're looking forward to a low stress Saturday brunch and hopefully a good football Sunday.  Go Ravens!