I've been in the market for a 6 x 9 rug for the dining room.  That's kind of an odd size, but it's large enough that when we pull the dining chairs out they'll still be on the rug, without the ends hanging out of the doorway.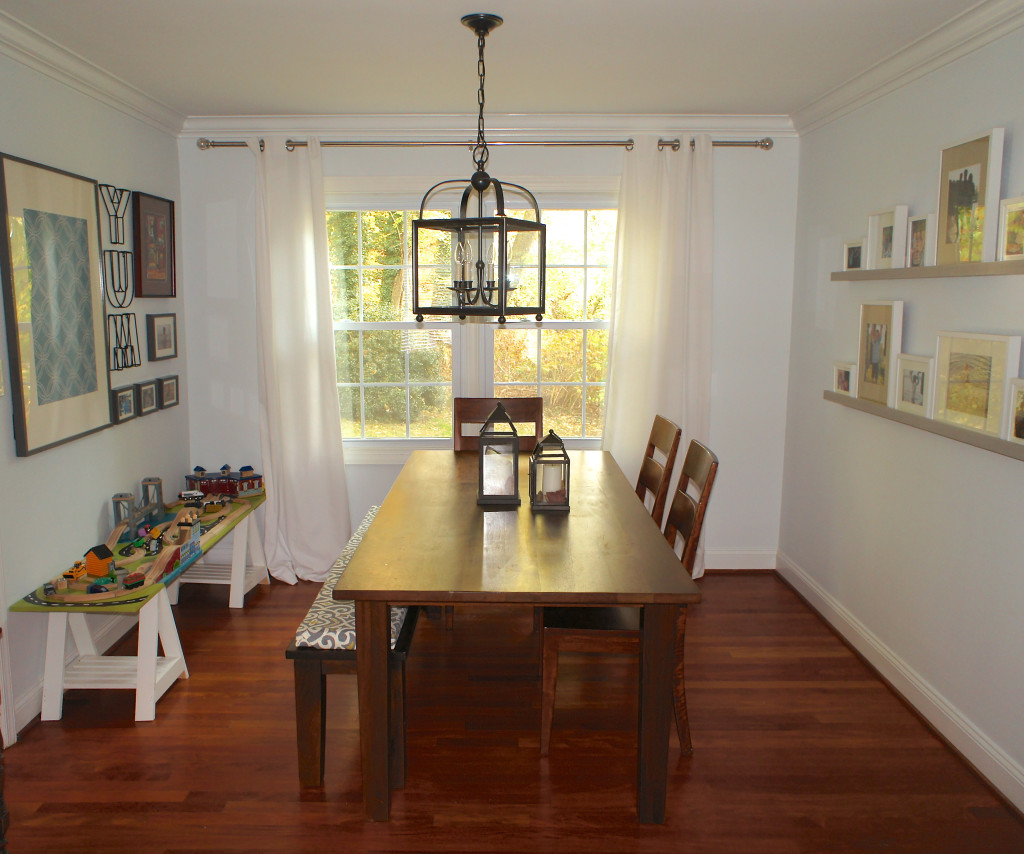 The hardwoods on the main floor of our house are mahogany.  We don't exactly love them, but I don't think my husband is going to be convinced to take on anymore hardwood flooring projects anytime soon.  It has been six months and we're only 50% finished in replacing all of the carpet in the upstairs of our house with oak.  That project has been a pain in the butt, and we've been able to go room by room, so it has in no way interrupted our daily lives.  Having the entire downstairs of our house demolished with a toddler and a baby on the way sounds like a recipe for divorce court.  I'm very happy in my marriage, so I guess I'm going to have to find a way to live with these floors.   The mahogany is pretty monochromatic next to our dining room furniture, though, so an area rug is a good solution to break up the colors without doing any demo.
The 6 x 9 in our living room came from the Crate and Barrel season clearance a couple years ago.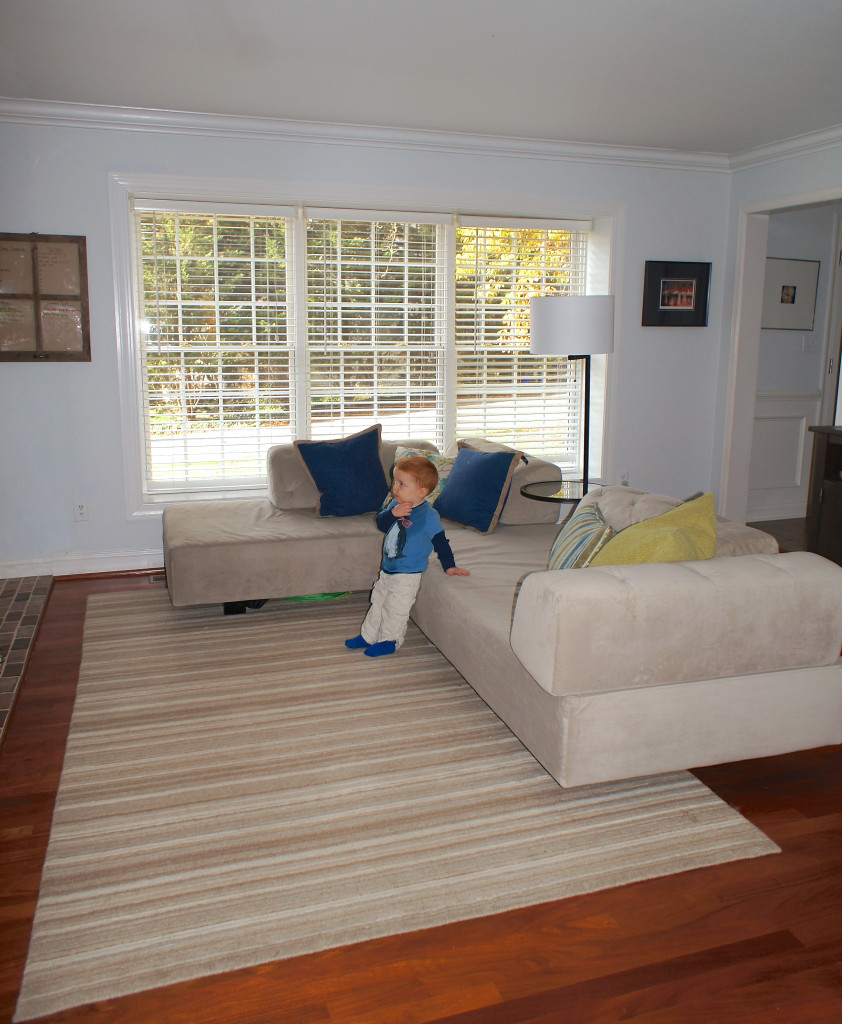 Originally $999, I got it for $98.  It had been a floor sample, so there were a few stains, but they easily came off with a steam cleaning.  It was in Grant's nursery in our first house: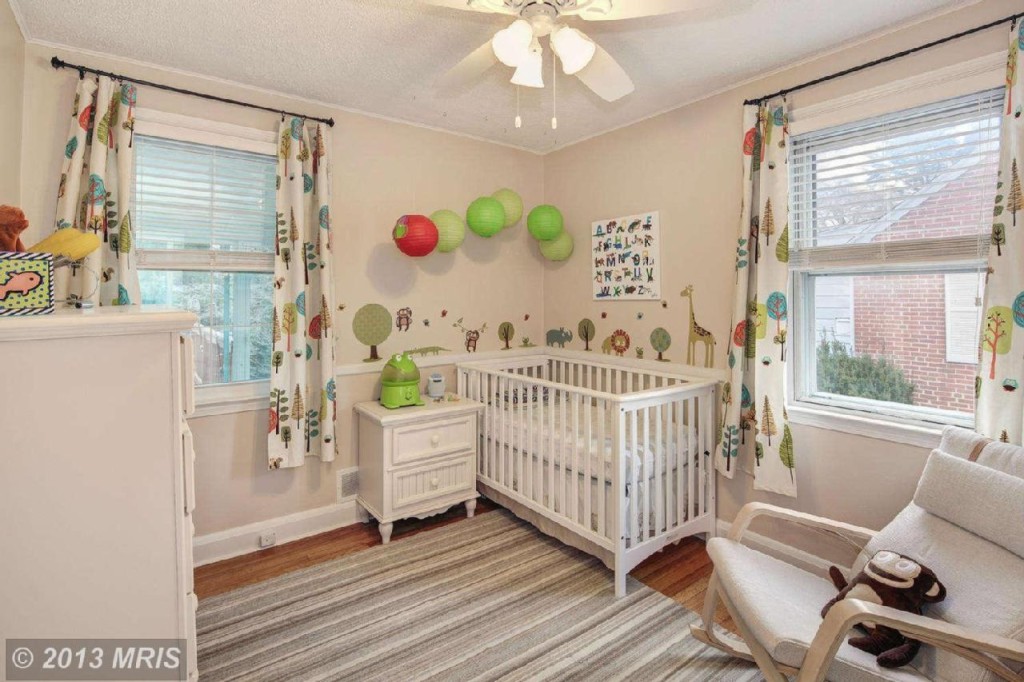 It's current resting place the highest traffic area in our house, though, and not an ideal place for a white rug.  Grant eats all of his snacks in the living room, and Izzy doesn't help any when she comes in from her walks, so I'm constantly cleaning.  I came across this at Target today, and figured it was worth a shot: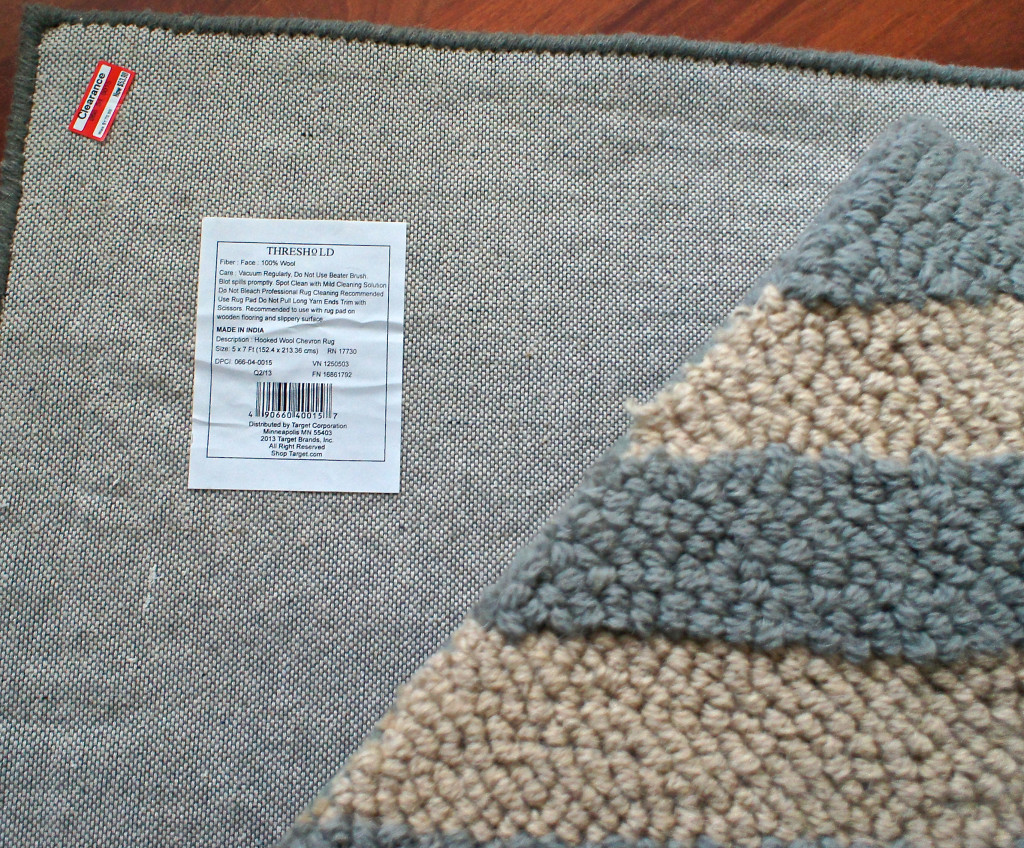 It's a 5 x 7, originally $179,  marked down to $53. Not bad.  It wasn't going to fit in the dining room, but would probably work in the living.  So, Grant and I got home and after he the second of two PB & J's (Izzy grabbed the first one off his plate), along with a handful of grapes, he chilled out and watched Arthur Christmas while I rearranged furniture.  Our end result: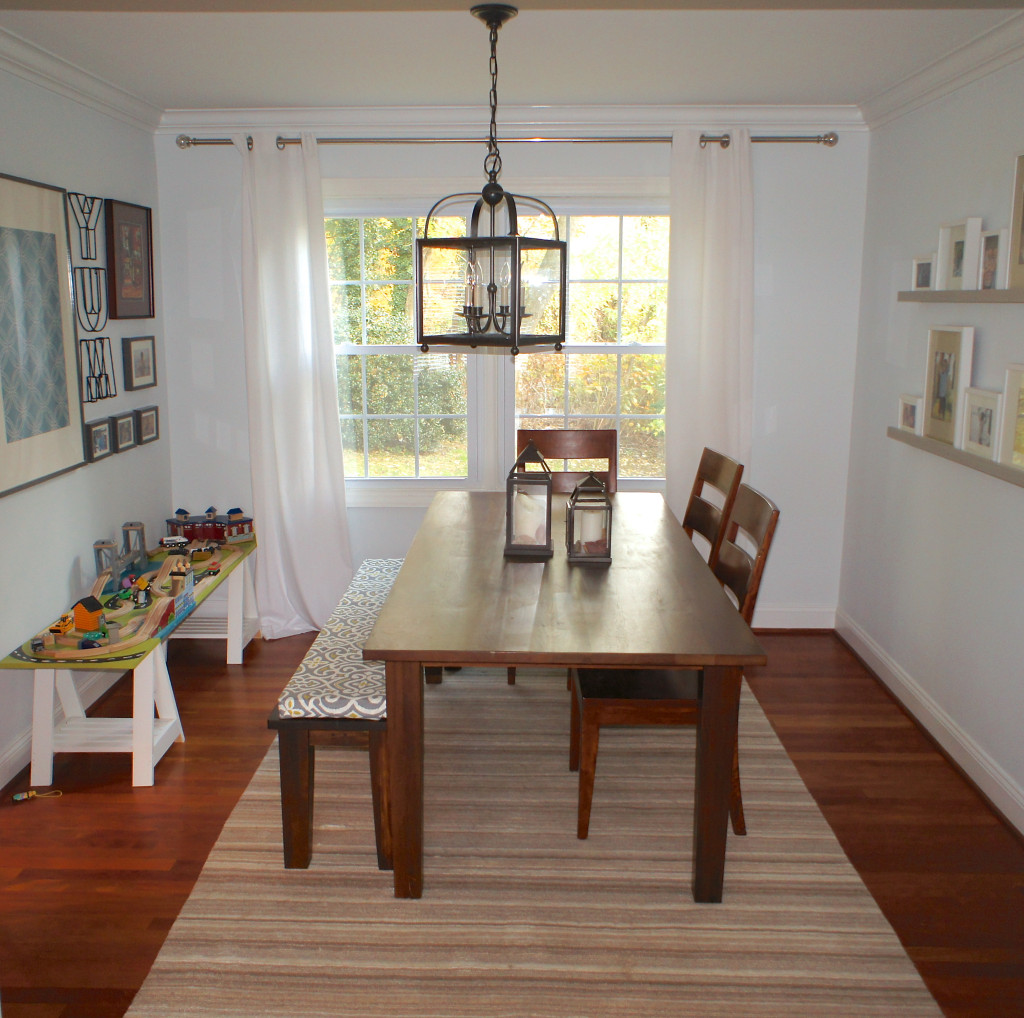 I think it works.  The rug could easily be a foot wider, but I haven't seen any 7 x 9 rugs, and if it were any longer it wouldn't fit in the room.
As for the living room, well, here's one more shot of our before: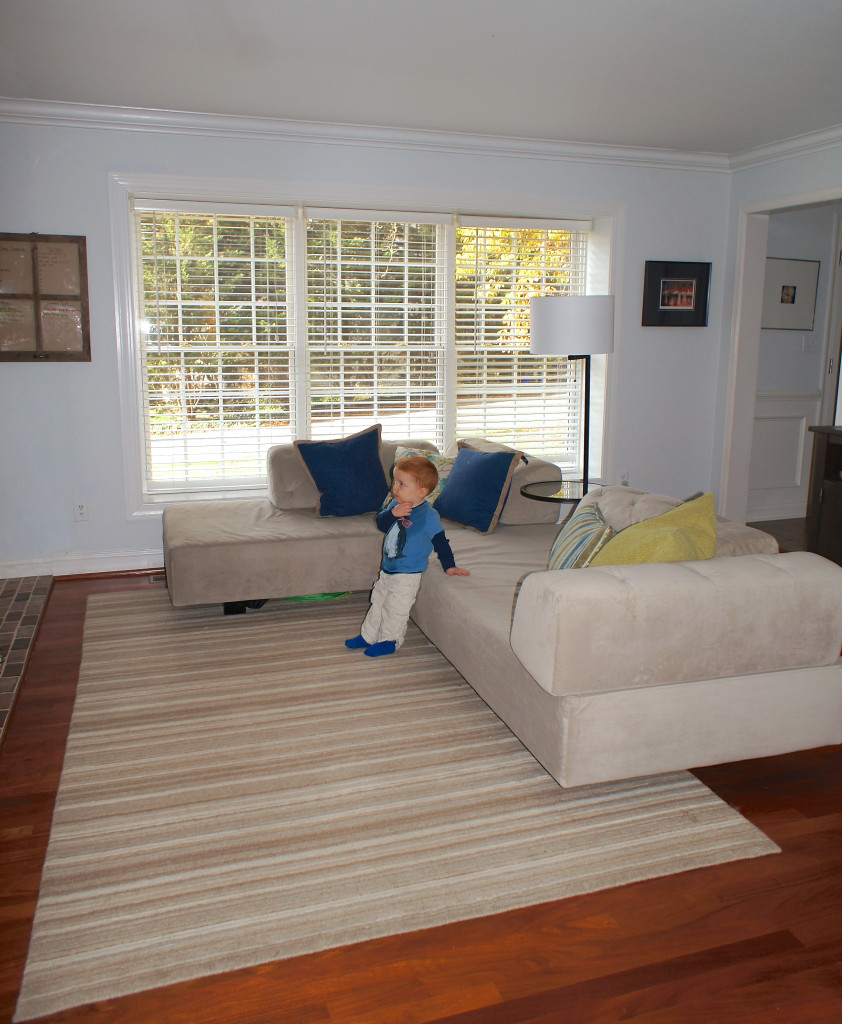 I'm not quite sure about the after: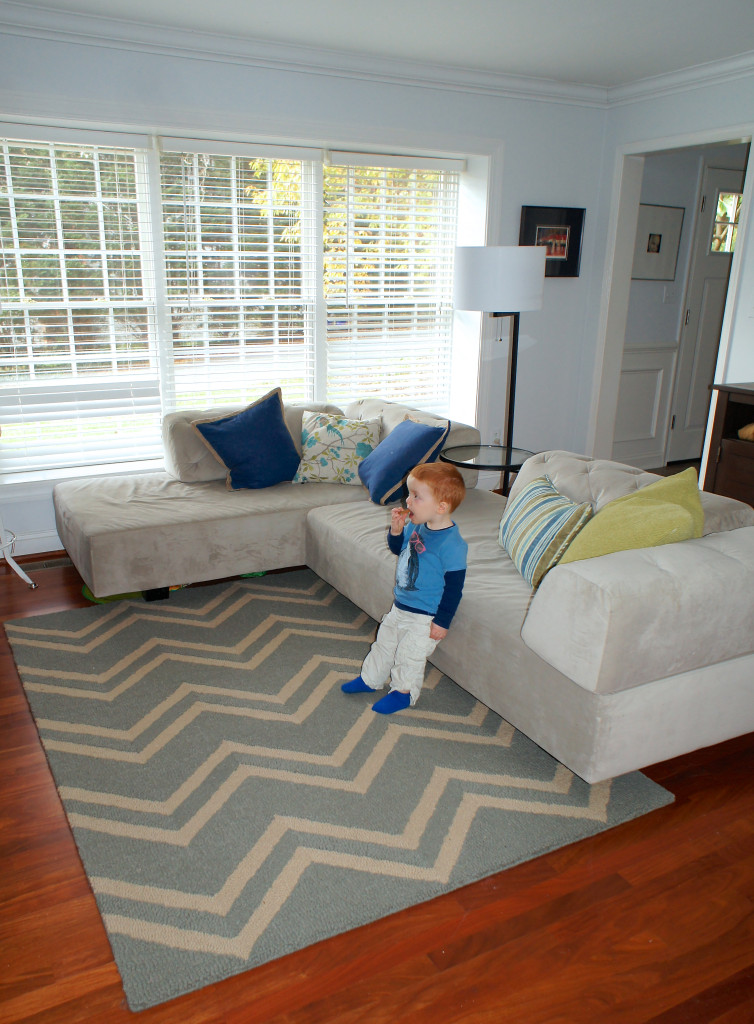 I actually really like the rug itself.  It's a little busy right now, especially in comparison to the before picture.  I think all the pattern next to the brightly colored throw pillows is throwing me off.  I still haven't put any drapes in here, and it's possible some white curtains and new pillow covers is all this room needs to make it work.  If not, Jason has almost finished the flooring in the new nursery, which will be in need of a soft rug for Baby T-Rex-ina to crawl around on.
I know, we need to come up with something besides Rex to name our daughter.  We're clueless about girl names.  I swear we will not put T-Rex on the birth certificate, though, although I have a feeling it may come down to filling out that paperwork before we're able to make a decision.  As for the rug-I'm leaving it where it is for the time being.