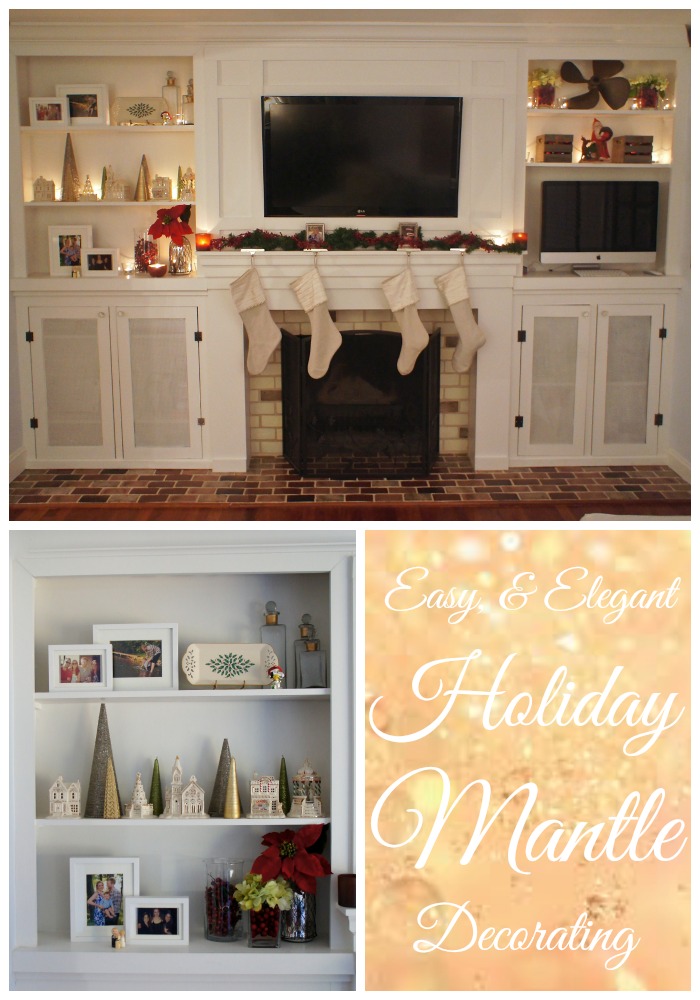 When it comes to holiday decorating, we take the "less-is-more" approach.  Typically, I buy things like ribbon and glass ornaments and try to incorporate them into what we already have, rather than taking down everything on our shelves and spending a fortune on decorations.  My husband's family is more of the "Christmas Vacation" type.  They love the inflatables and decorations that sing whenever you walk by, and after a childhood of spending the entire month of November putting a tree up in every room of the house, Jason is about as excited to hang lights as he is to have a root canal.  So, even though I would love to put out some of those light up reindeer, it's going to take several years of convincing before he will allow them in our yard.  This year I did manage to get a string of lights around the front door for the first time ever, so we're making progress.  I'm going to break up my Christmas stuff into a few posts, so I'll start with the mantle.  This is what it looked like decorated for Fall: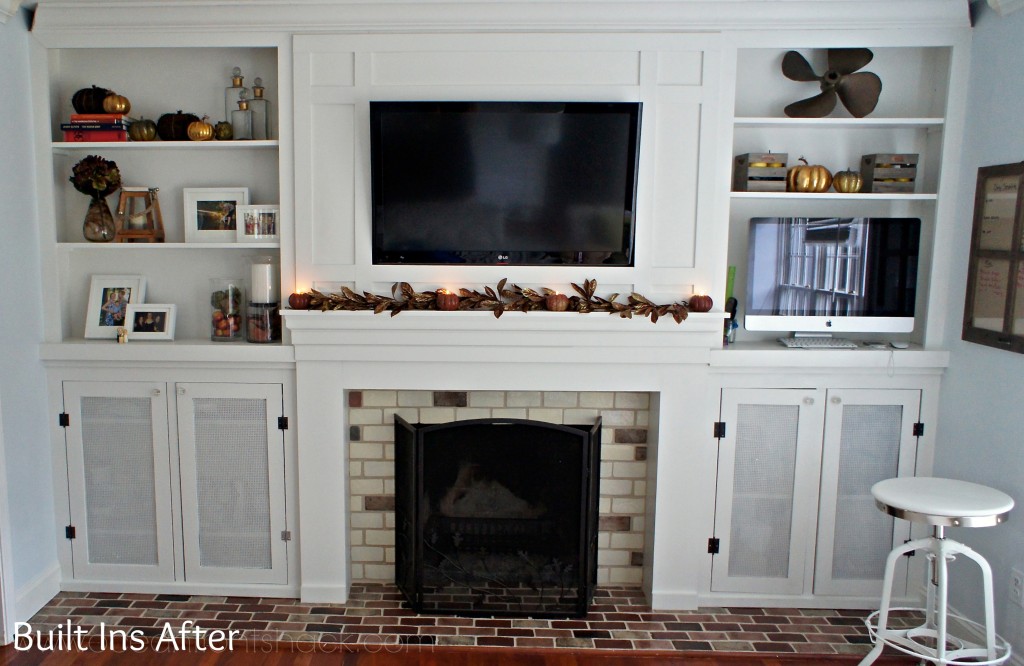 When I was a kid my favorite part of the holidays was playing with my Mom's Christmas Village.  Now that I have my own house, she buys me a Lenox Mistletoe Park piece every year.  I'm up to five, so while I used to scatter them throughout my built-ins, they get their own shelf this year.  When I first put them up they were fading into the background: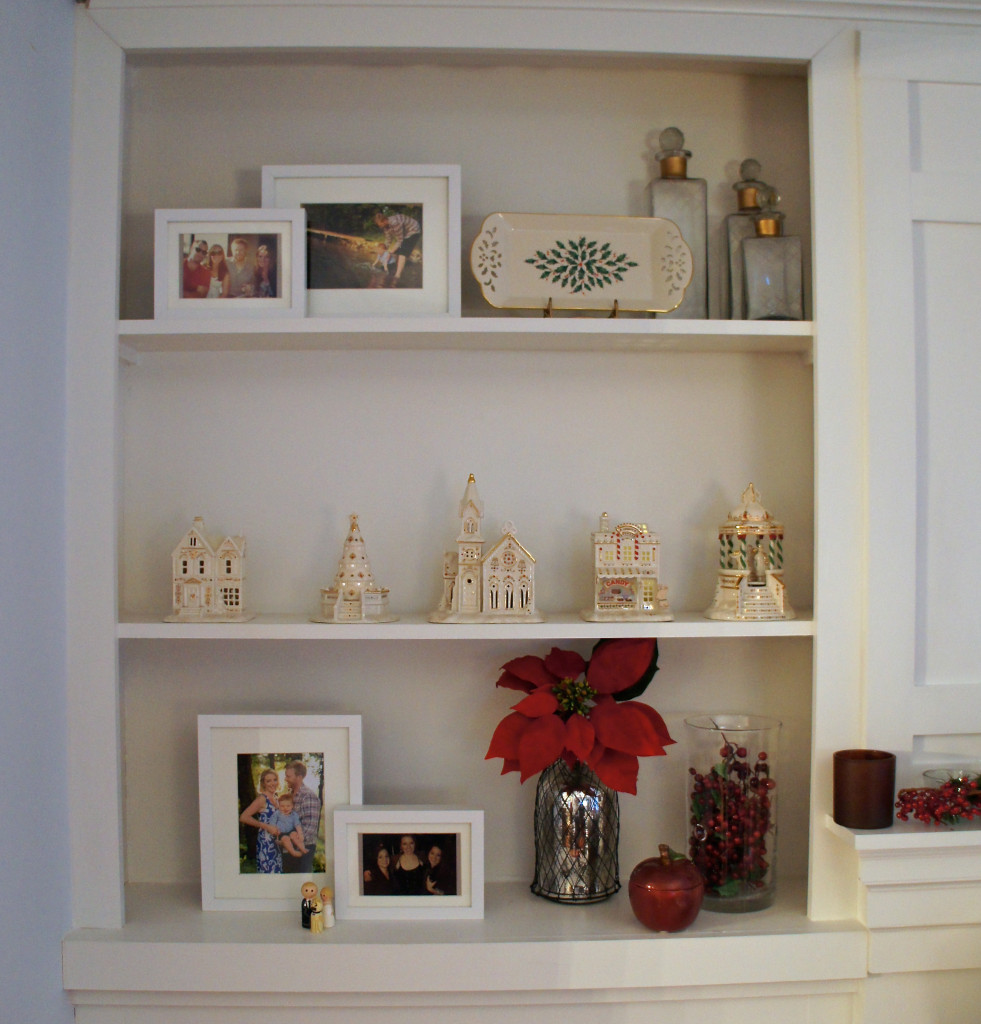 To make them pop, I used some beaded Christmas trees and candles that I bought for our dining table last year at Home Goods: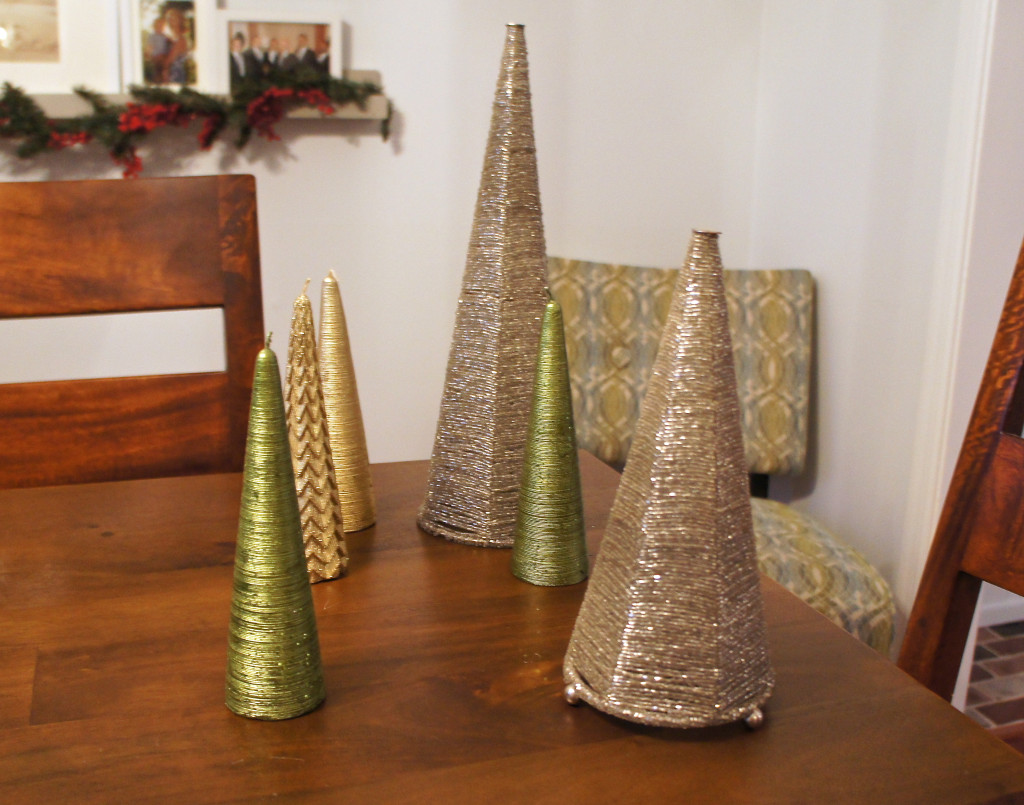 I spaced them throughout the village to add vertical dimension: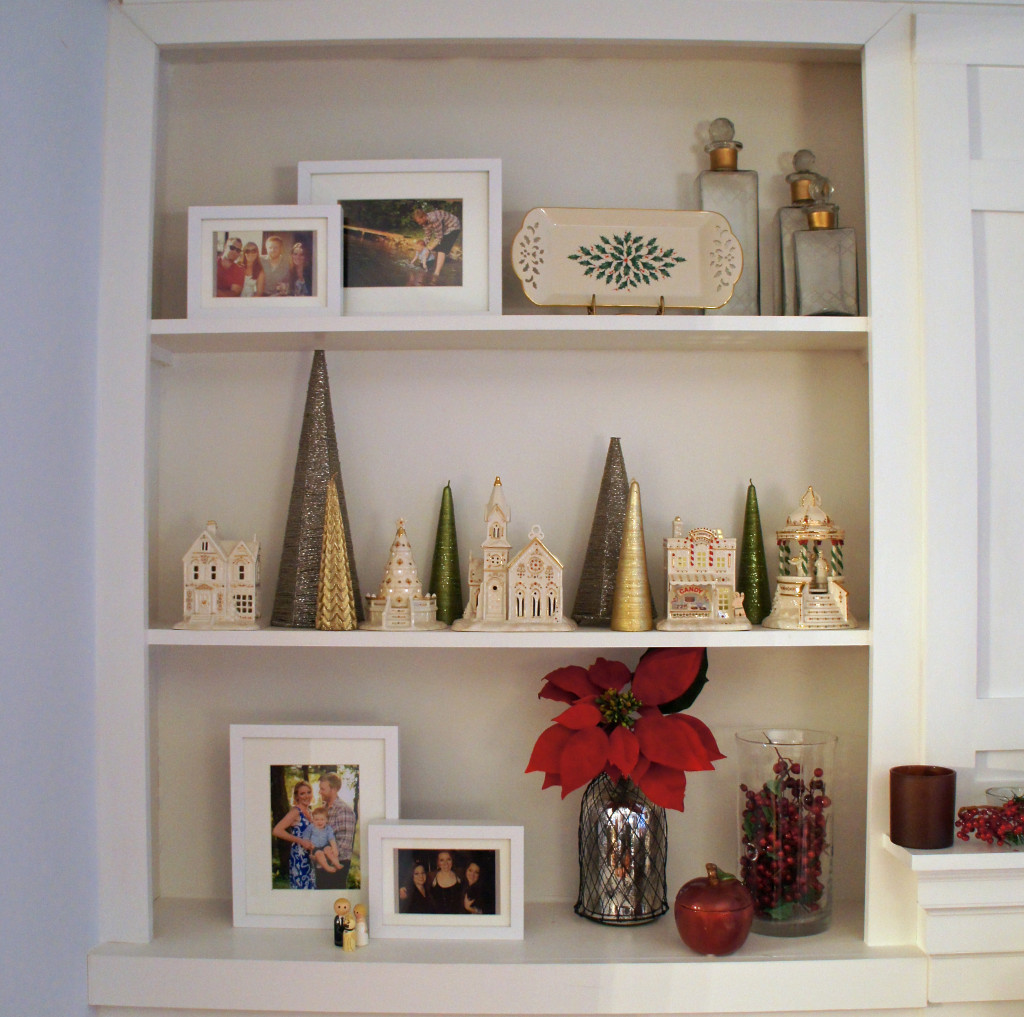 The village has a lot going on, so I kept the rest of the shelves simple.  I changed out my fall vase filler with faux cranberry sprigs from Target, and replaced the hydrangea with a poinsettia.  For the mantle, I took down the Fall leaves and used a 6′ piece of faux pine that I wrapped with a cranberry garland (also from Target, the cranberry was $9, the 6′ piece was $4).  Our stocking holder collection has grown over the years as our family has expanded, and I always buy them after Christmas when they're on clearance.  We have two picture frames that match, and the other two I removed the mismatching tops from and hid beneath the garland.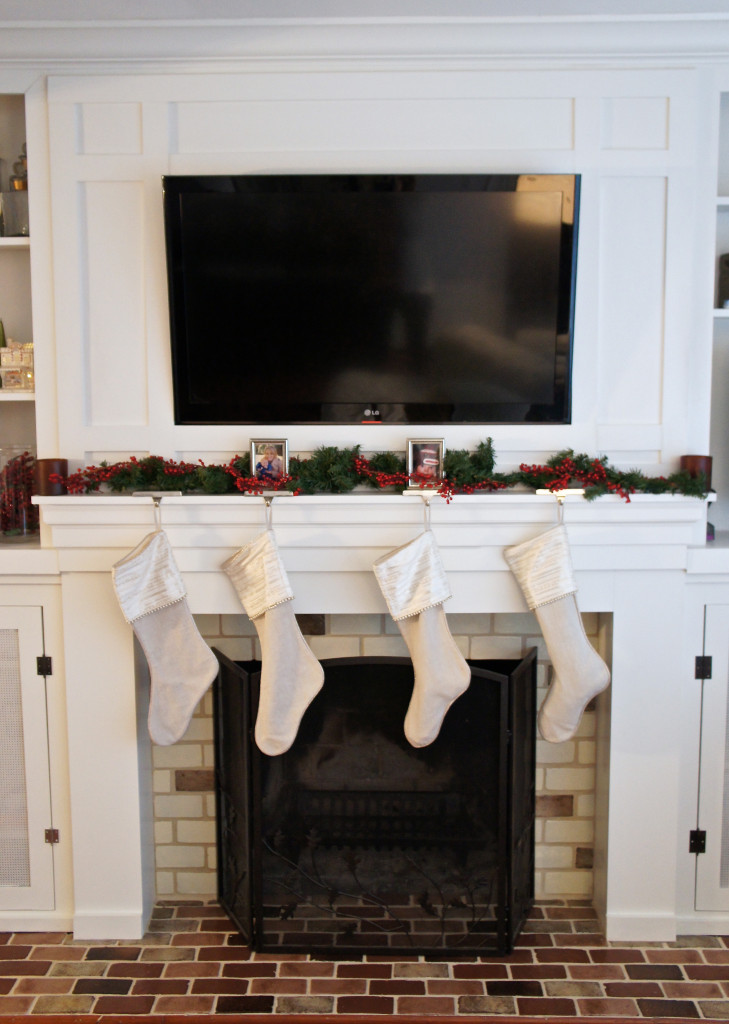 The right side of our bookshelves house a ceramic Santa Claus that my Nana painted, and the two cranberry centerpieces I made last week are on either side of our ship rudder.  Throw in a few tea lights, and this is our holiday display: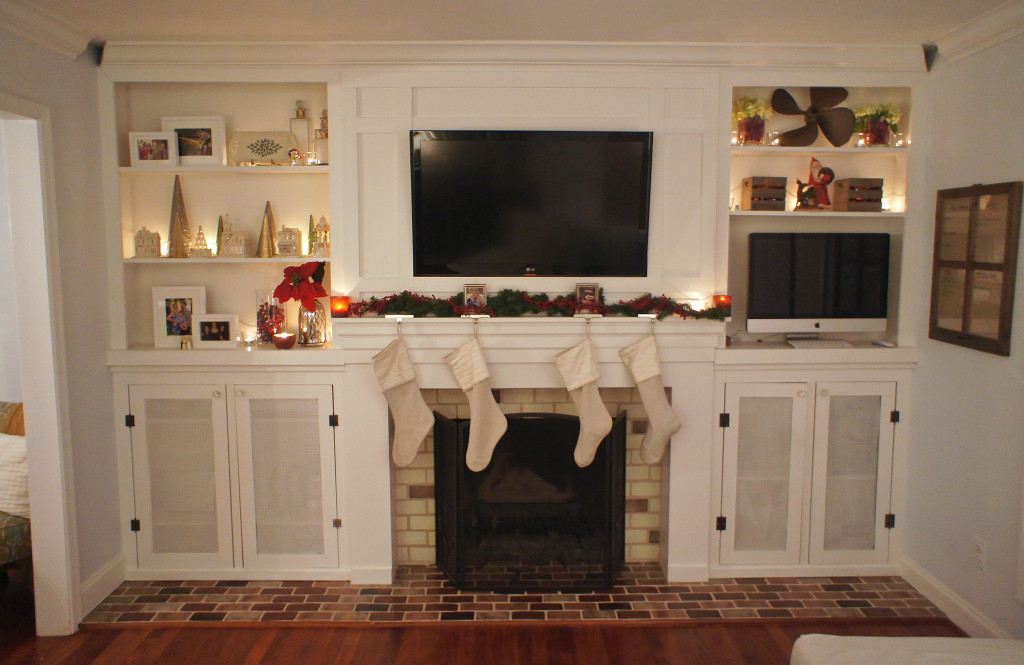 I think the end result is elegant and warm without going overboard.  The most important thing is balancing height and width on the shelves.  You don't want to put every tall piece on one shelf and have lots of open space on the one beneath it.  Spreading things out and playing around with placement takes awhile, but I'm happy with how it turned out.  Most importantly, there's plenty of room in front of the fireplace for Santa to fill with toys for the little guy.  He's hoping for lots of "gucks" this year (that's "trucks", if you don't speak baby), and I don't think he will be disappointed.
Tags : christmas