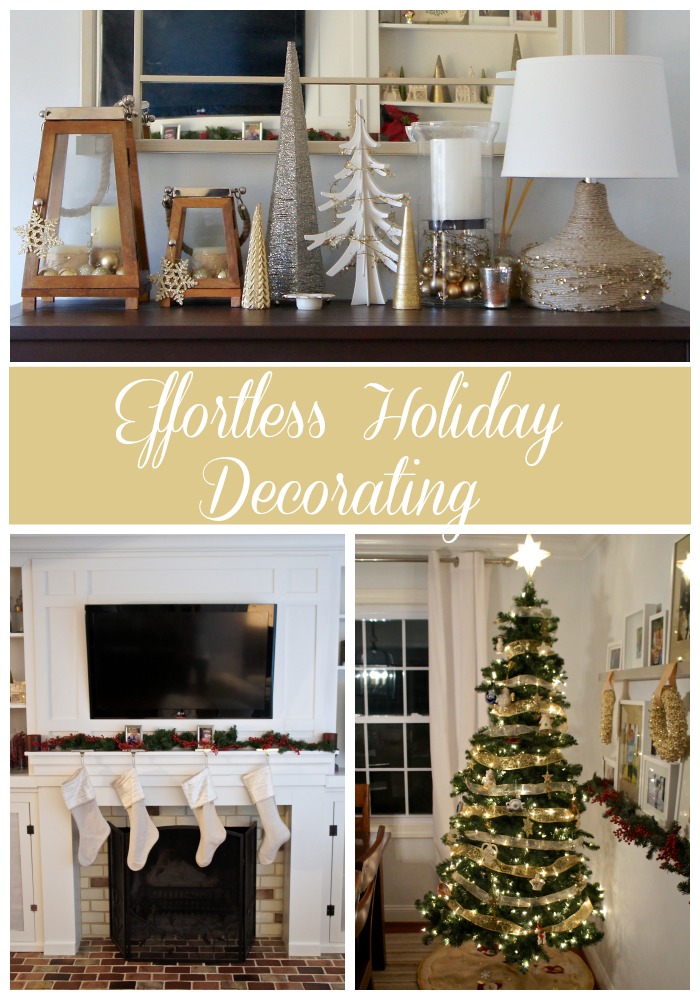 Now that I'm a parent, my Martha Stewart idea of Christmas has gone up in smoke.  Which is great.  The happiest moments in my life are filled with the sounds laughter from my husband and son, eating junk food, snuggling, and big, wet, open mouthed, baby kisses.  So while my husband still wears Hugo Boss to work, my wardrobe will continue to be from Target and Old Navy until Grant stops cleaning marinara sauce from his hands by wiping them on my shirt.  That doesn't mean we don't make an effort, though.  It just means there's a little less perfection in every part of our lives, because when G makes me a finger-painting of a reindeer on a paper plate, you'd better believe it's going on display.  
I think the secret to incorporating all the fun kids stuff into my "House Beautiful" idea of Christmas, is more.  More everything.  More glitter, more decoration, more tinsel, and more popsicle stick ornaments.  When it comes to the holidays, you can get away with clutter by keeping the colors under control.  That's why this works:
There's a lot going on in that picture, right?  The bold patterns on every surface don't overwhelm the space, though, because they keep the color scheme to one or two similar tones, in this case yellow and green.  In our house, we stick to silver and gold.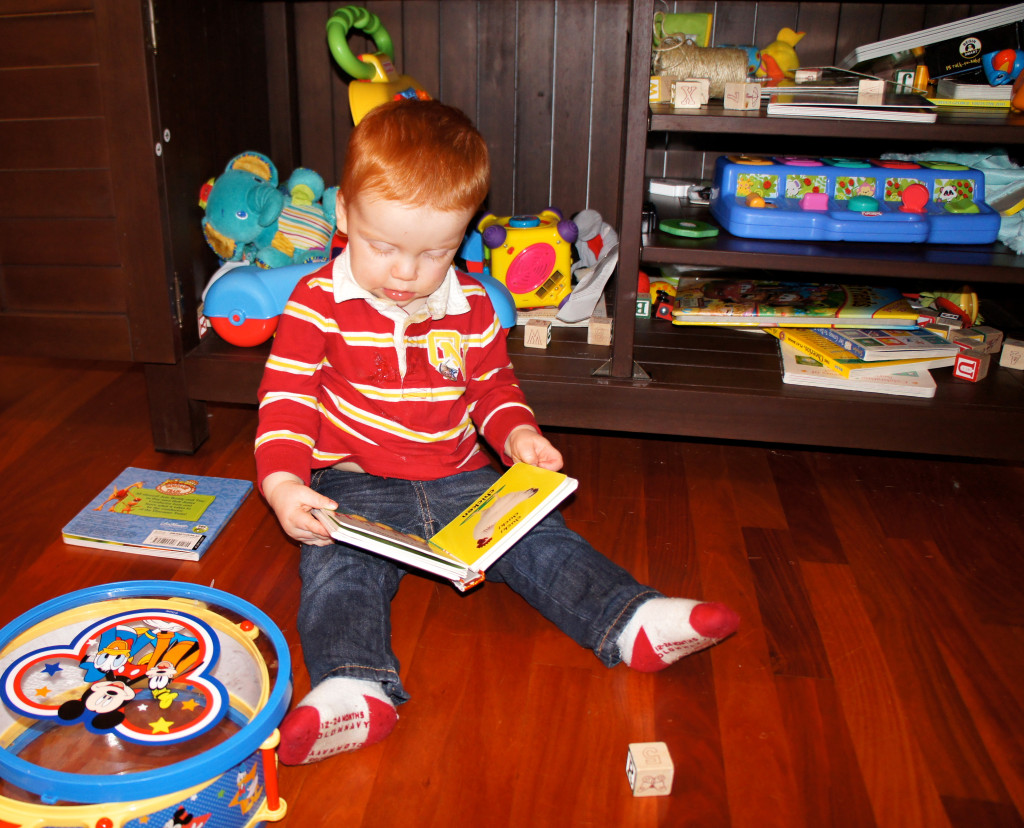 After I finished decorating our bookshelves and mantle, I started on the other spaces in our main living space.  This cabinet is one of my favorite things because the deep, adjustable shelves provide a ton of storage at my son's eye level to fit all the large toys that otherwise would be jammed in a closet or strewn across the floor.   He loves to sit in front of it and pull his toys and books out, and when he's done playing or we have people coming over, I just pop everything back inside and our house is immediately clean.   Every parent needs a piece of furniture like this.  We leave some lanterns on top for decoration throughout the year, and because it's front and center in our living room, it's a great place to add a little more holiday sparkle.  To decorate for Christmas, we adorned what was already there with glitter and gold, and filled in any bare spots with whatever we could find.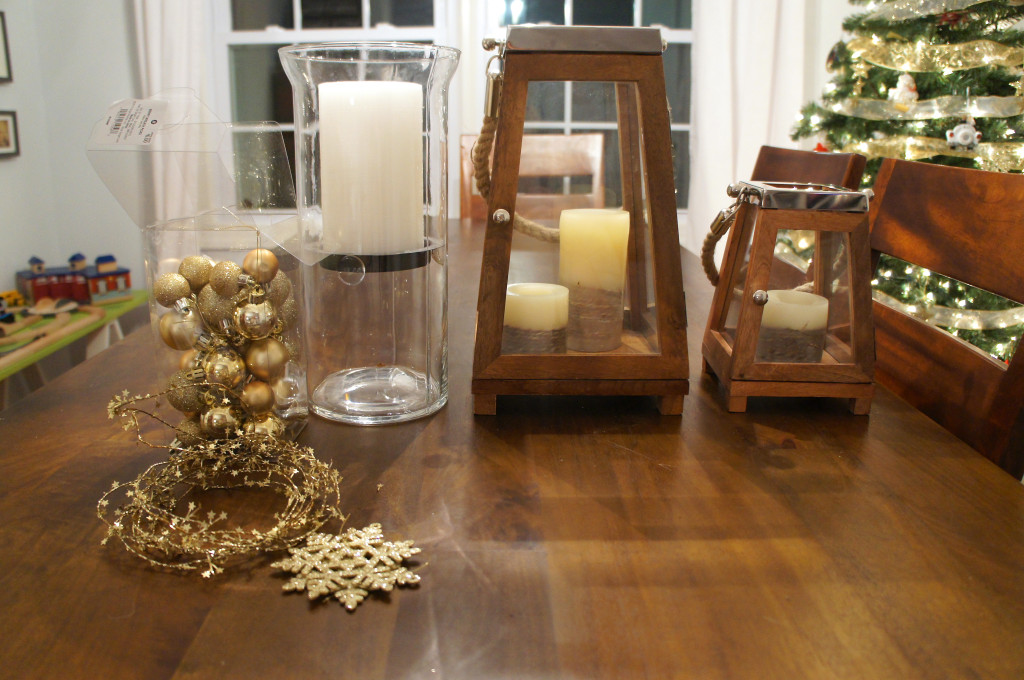 I bought these gold balls in the $1 section of Target, and the gold tinsel has been making it's rounds in various parts of our holiday decor for the last several years.  The first thing I did was wrap our candles in ribbon.  The ribbon is hot glued to itself to create a sleeve, not to the candle, so it will just slide off when the holidays are over.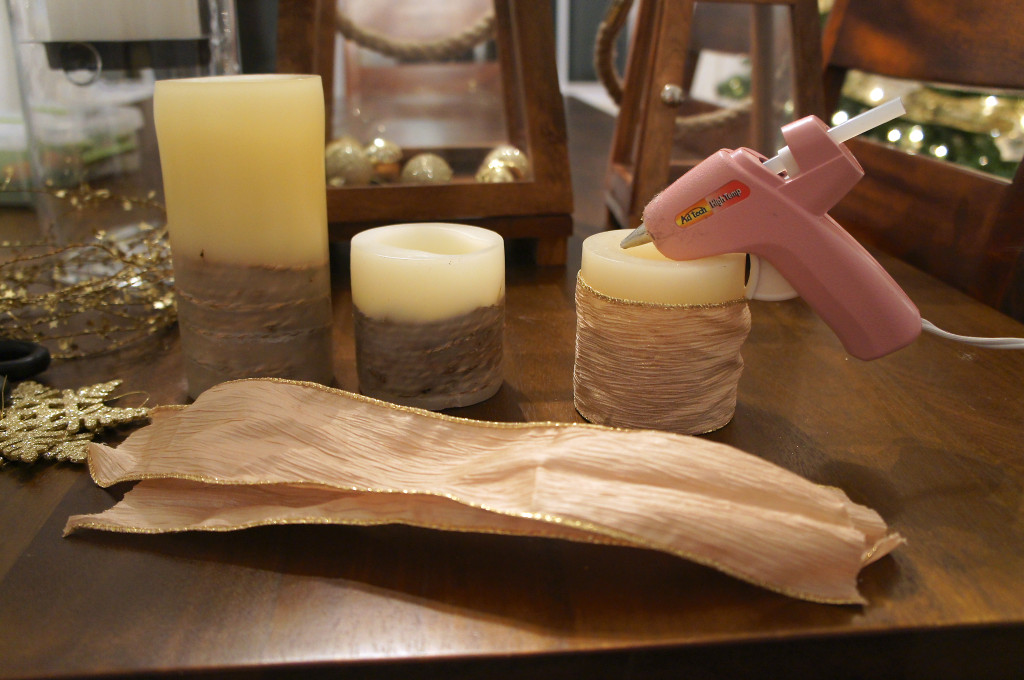 Then I spaced my gold balls in the bottoms of the lanterns.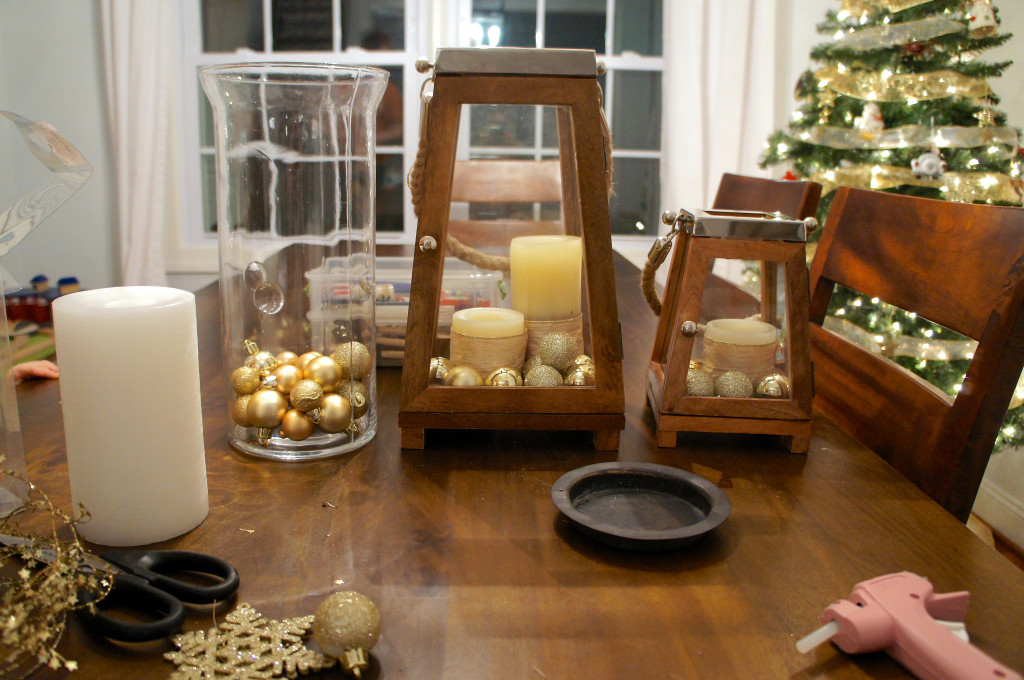 I ran out about halfway into the hurricane, so I cut a little of the tinsel garland to fill it to the top.  Add a couple snowflake ornaments to the lantern doors, and voila: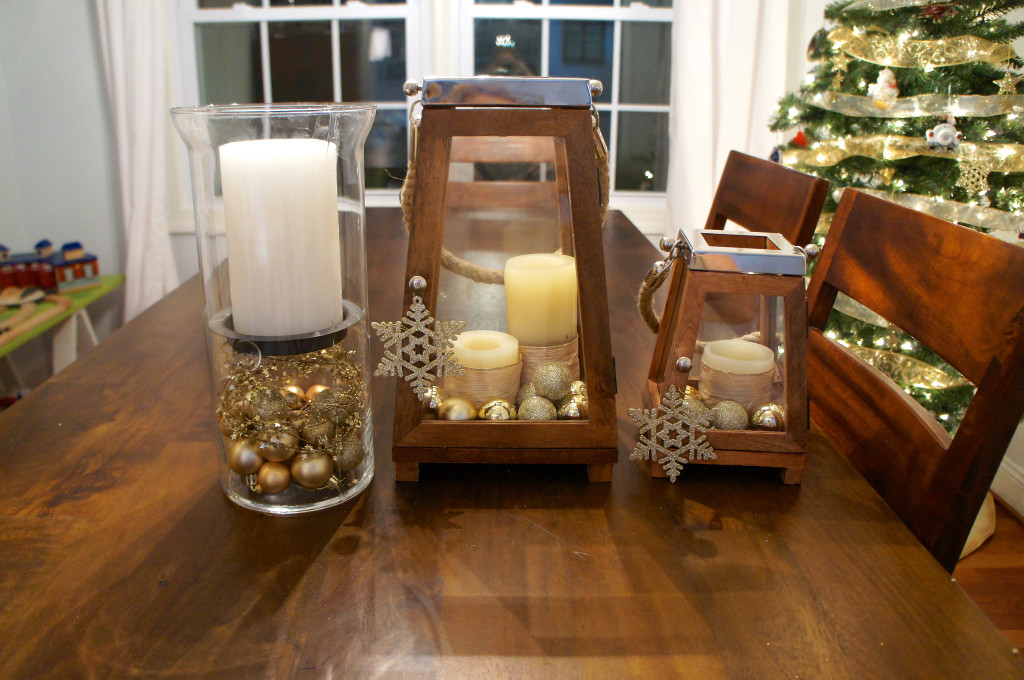 It doesn't really get easier than that.  Bright and festive for a total of $3 in gold ball ornaments.  Using the rest of the tinsel garland, I wrapped our DIY rope lamp and a cardboard tree to incorporate the entire display.  The beaded tree and gold tree candles are from Home Goods.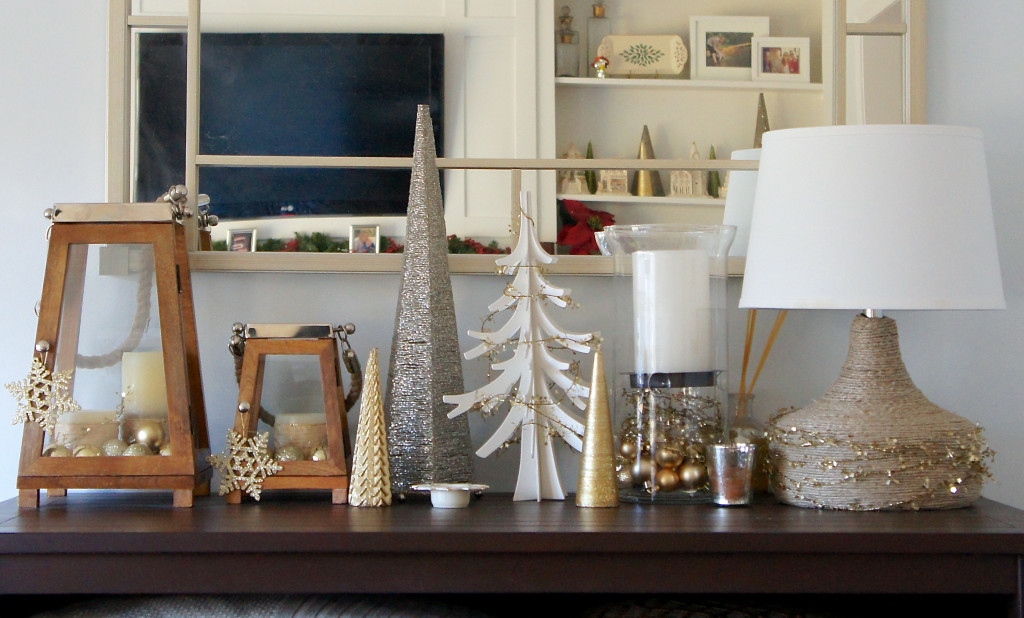 Even though there's a lot going on, it doesn't look cluttered because of the monochromatic color scheme.  My husband's family has collected a lot of ornaments and decorations for him over the years, so in order to incorporate the family heirlooms and still have an elegant and cohesive display, we use the other items as accent pieces.  A splash of red here and there really stands out and draws the eye to what we want to accentuate, whereas a whole wall of brightly colored decorations makes me dizzy.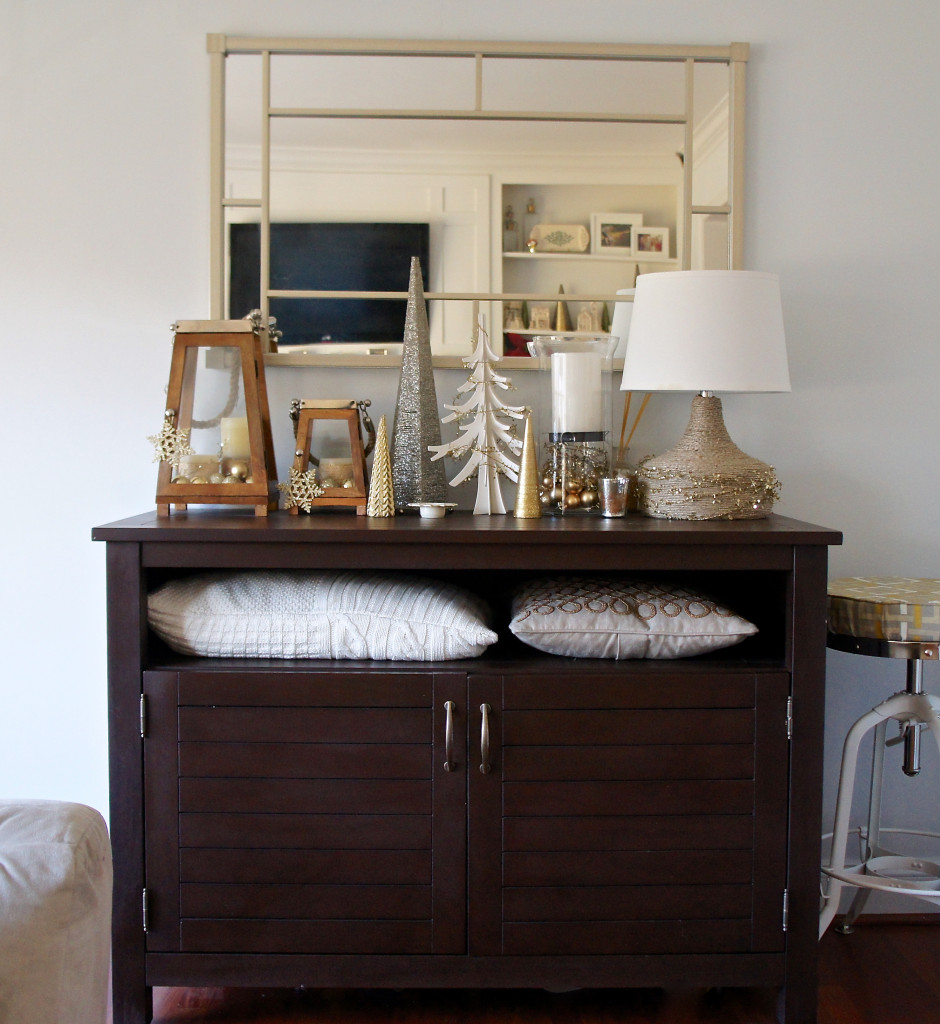 We are leaving town tomorrow for Thanksgiving, so if I don't manage to squeeze in a post next week, have a happy and safe holiday!
Tags : christmas