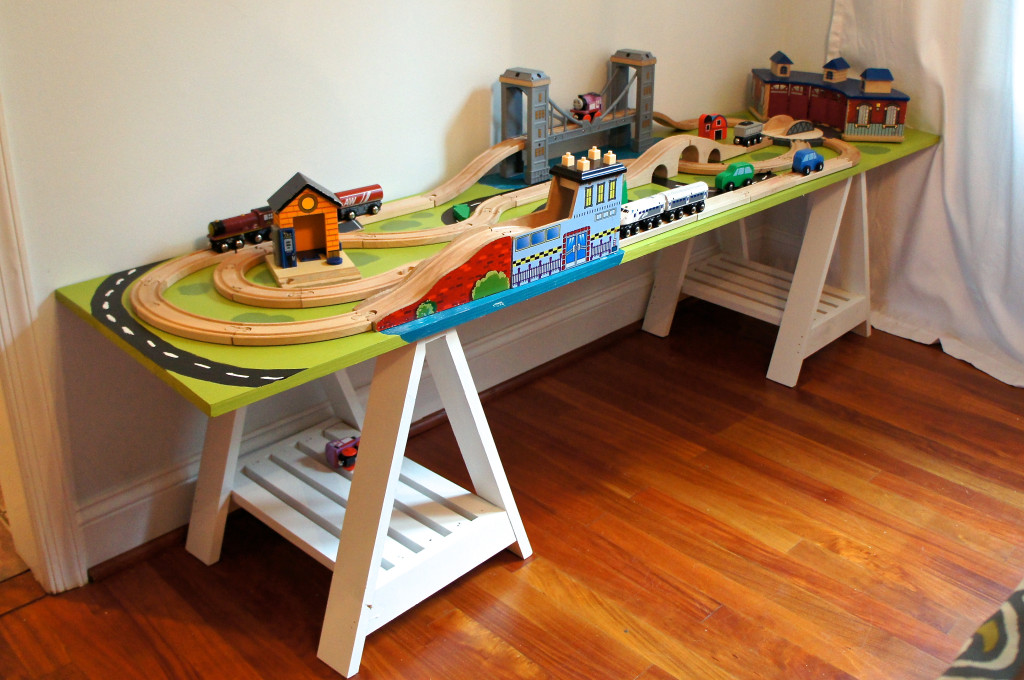 You know those parents who have tons of enriching and educational activities for their kids to do?  Like homemade play-dough and awesome crafts?  We are not those parents.  We're the parents whose child was in a cast before his first birthday.   It's not for lack of trying, but Jason is an only child and I'm the first in my family to have kids, so it kind of feels like we're stumbling around in the dark here.  Although, we now know a slide is not age appropriate for a 9 month old: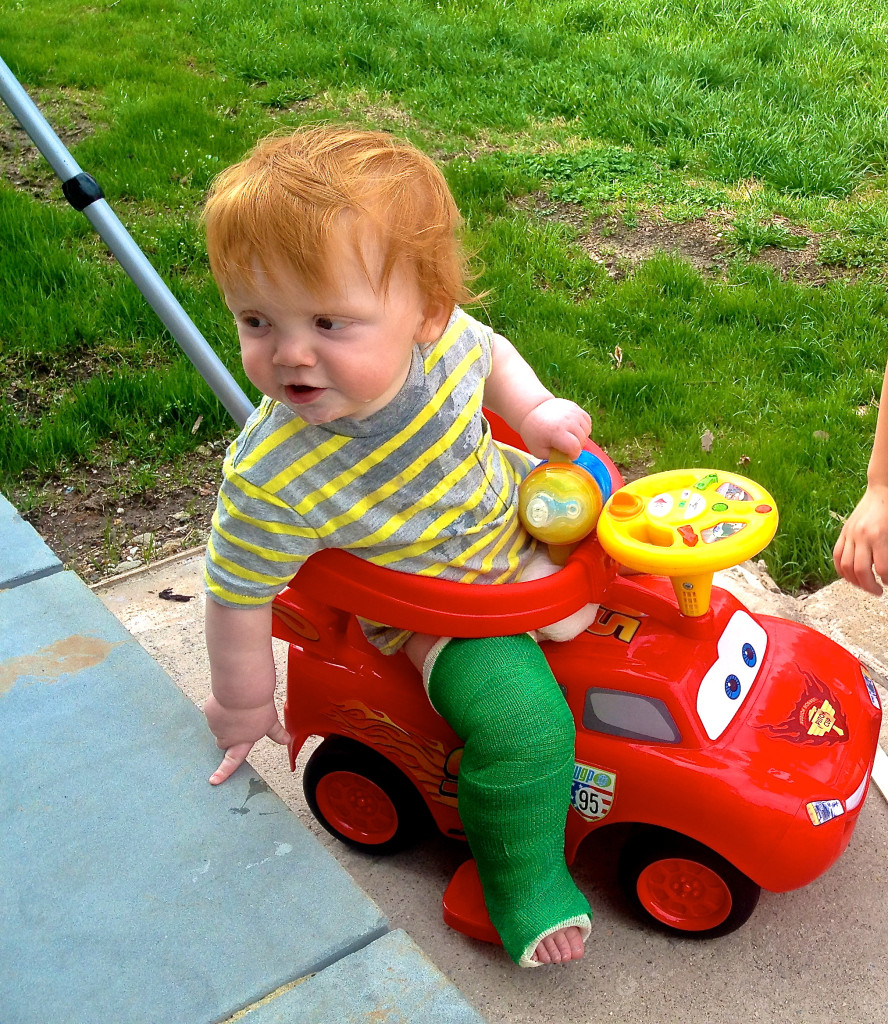 Grant is a big fan of the train table at Barnes and Noble, so a couple months ago I got on Craigslist to look for one.  Those little train parts can get expensive, people wanted $300 for their used sets.  There was only one listing in our price range, "train table and tracks-$10".  I almost thought it was a scam, but decided to e-mail the woman anyway.  Sure enough, she got back to me that night said she still had it if I could pick it up in Southern Maryland the next morning.  Grant and I were there bright and early.  It turned out that she had six kids and was in the middle of moving, so she just wanted to get rid of stuff fast.  We had hit the jackpot, this was not just a set of tracks.  It had a dozen different trains, a wheel house, tunnels, bridges, and motorized pieces that made noises.  It was easily $500 worth of stuff.  I tried to give her more money, but she said not having to move it was worth more than I knew.
This is how it looked after a month in our dining room: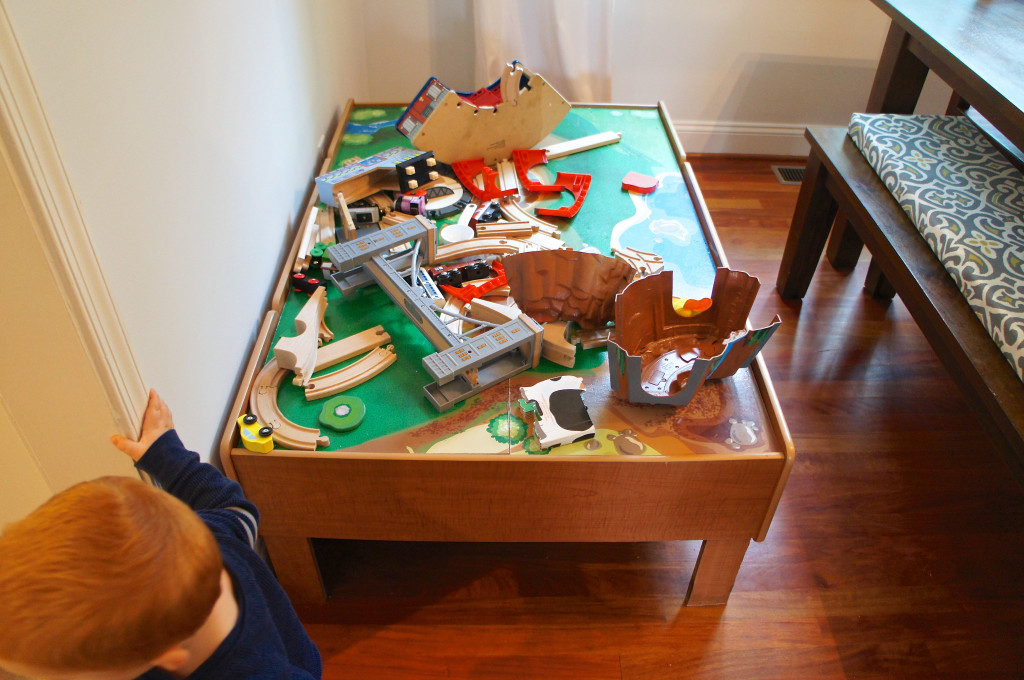 The table was awesome, but it just wasn't working in our tiny house, so I convinced Jason to help me build something to fit our limited space, and narrow enough for Grant to reach across.  For the base, Jason made two sawhorses out of dimensional lumber.  I didn't get any pictures during construction, but he had a hard time figuring out the mitre cuts so he just cut the legs at 90 degree angles and sanded them flat after screwing everything together.  If you're handy you can probably figure it out by looking at the pictures, or buy them at Ikea.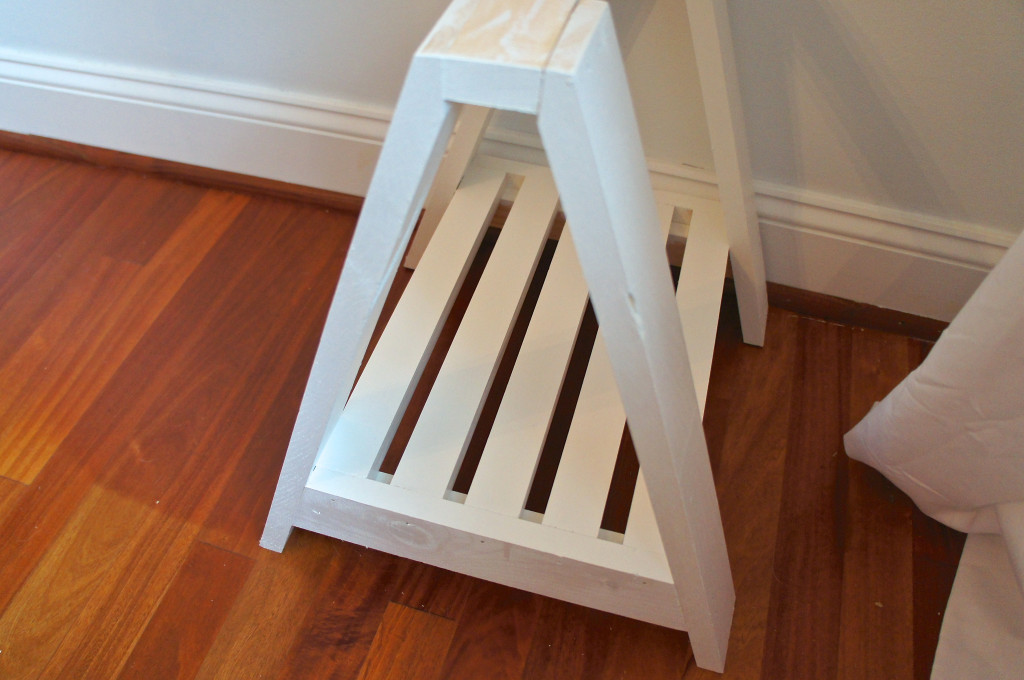 The nice thing about the sawhorses is that we can switch the tops as Grant gets older.  I'm thinking a Lego table will be a big hit in a couple years.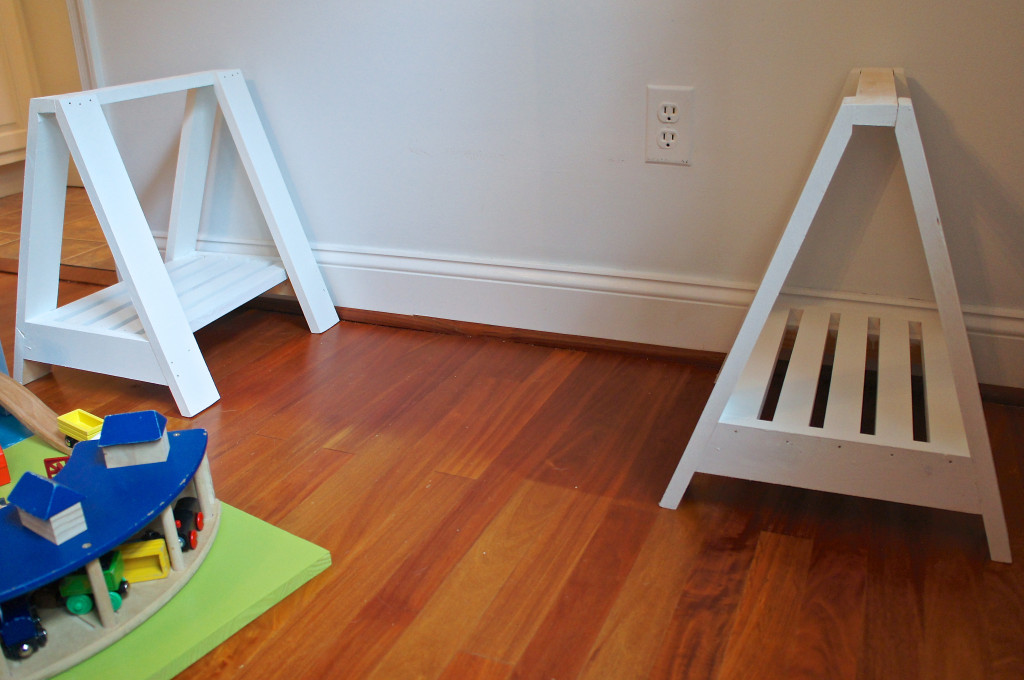 For the table top itself, we bought a 6′ x 18″ piece of lumber and sanded it down.  I laid out my track design and traced it with a pen, then drilled pilot holes through the table and each piece of track.  I also took a picture, which I used for reference on track placement after I removed everything and painted the top.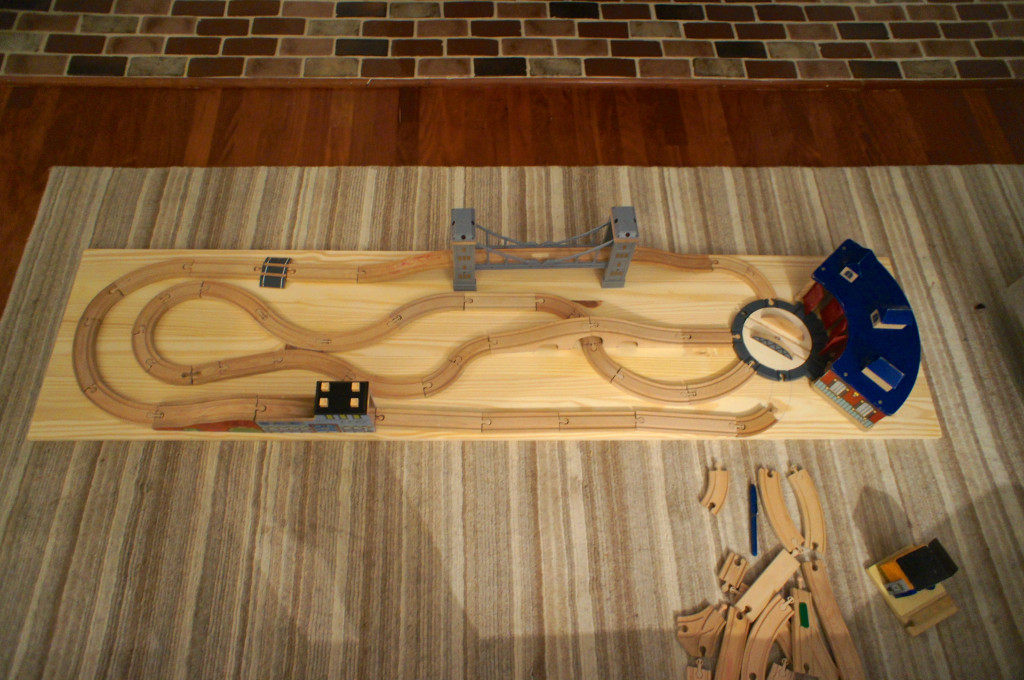 For paint colors I bought samples of Behr at Home Depot ($2.98) in green, blue, and black, and painted the design freehand.  Then we drilled the track in from underneath with 1″ screws.
The top is pretty heavy and stays in place on the sawhorses, so we didn't secure it to the base, although it could easily be done with a couple screws.  We will probably switch the top with something flat to use as a kids table at parties, so it's easier for us to leave it detached.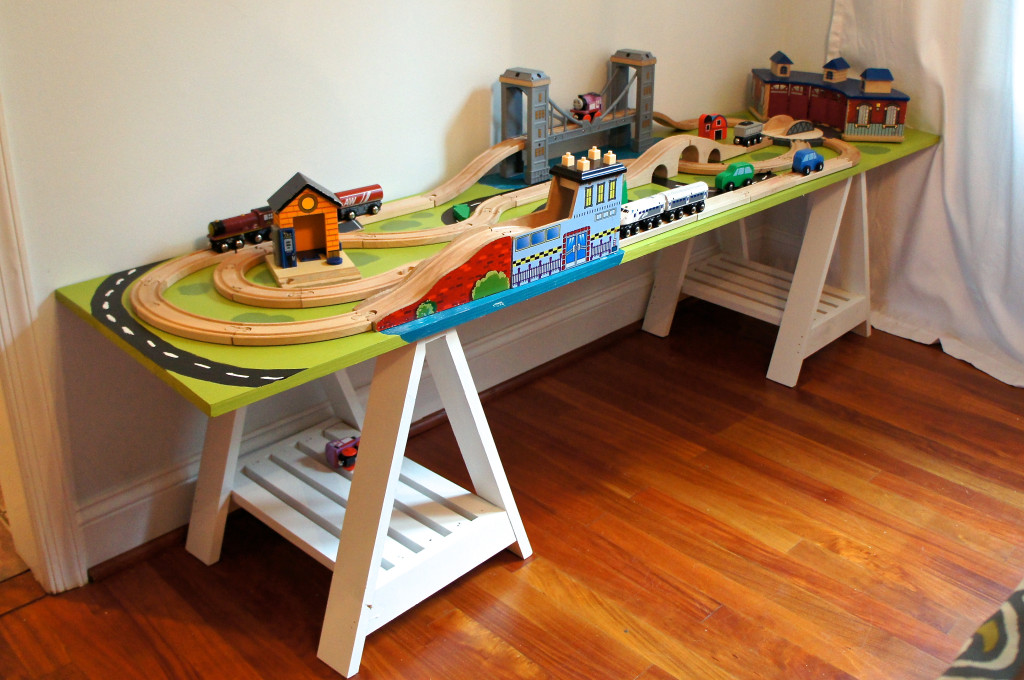 Now for the true test.  We stayed up until 2 AM building this and were really excited for Grant to wake up and see it, even if it required three shots of espresso to get myself in the shower.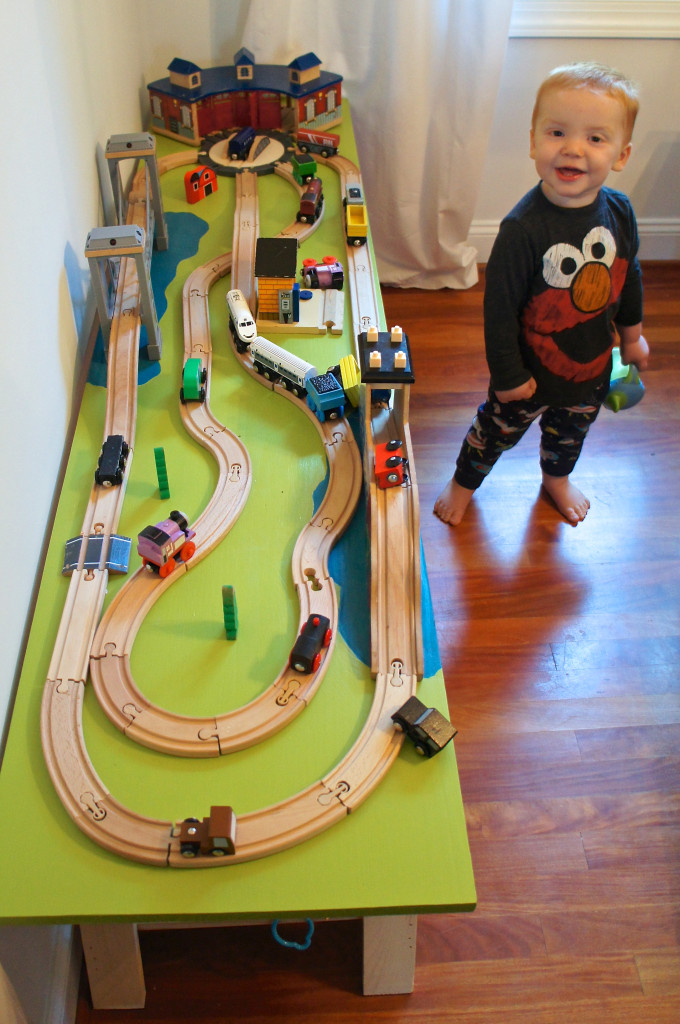 It was a huge success.  He can reach all the way across the 18″ table to the other track parts, but he likes it pulled away from the wall so that he can walk all the way around pushing the trains.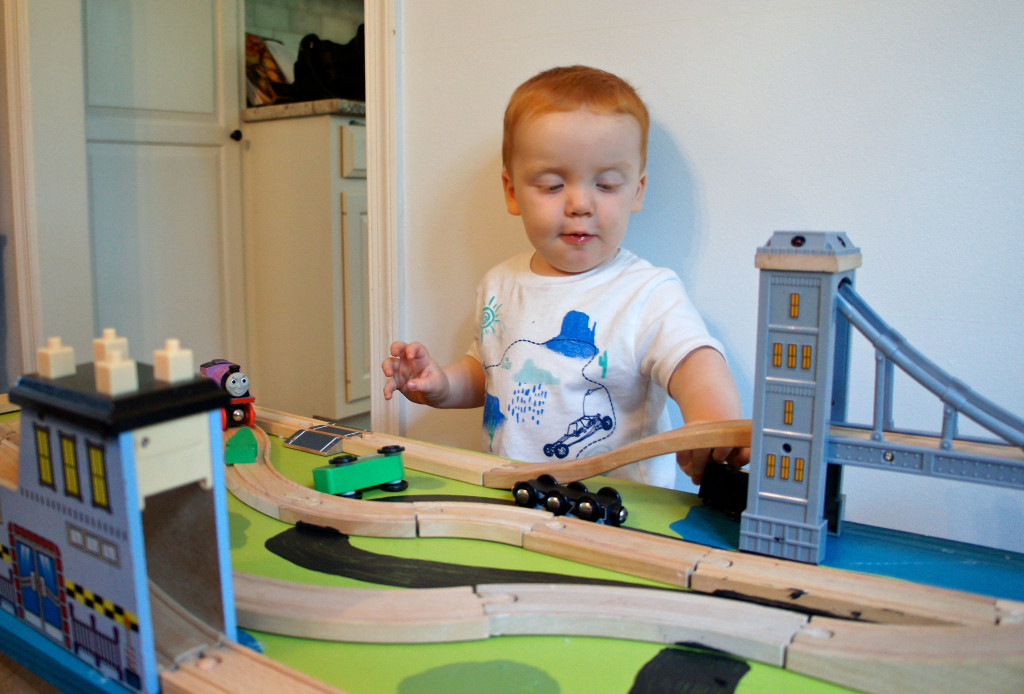 Having the tracks attached to the table top makes it a lot more fun for him.  He's running all around saying "t,t,t,t, ooh, ooh"-which I'm guessing translates to "Chugga, chugga, choo, choo".  The entire project ended up costing about $85 in materials, here's where our budget went:
18″ x 72″ premium pine lumber-$22
4 Behr Paint samples $12
Sanding pads-$6
Premium Pine Dimensional lumber for saw-horses-$25
1″ screws-$8
Craigslist Train Set-$10
The train table inspired us to knock a couple other items off the to-do list, including our collage wall and a little DIY stencil art .  Our dining room now has a fun, new look: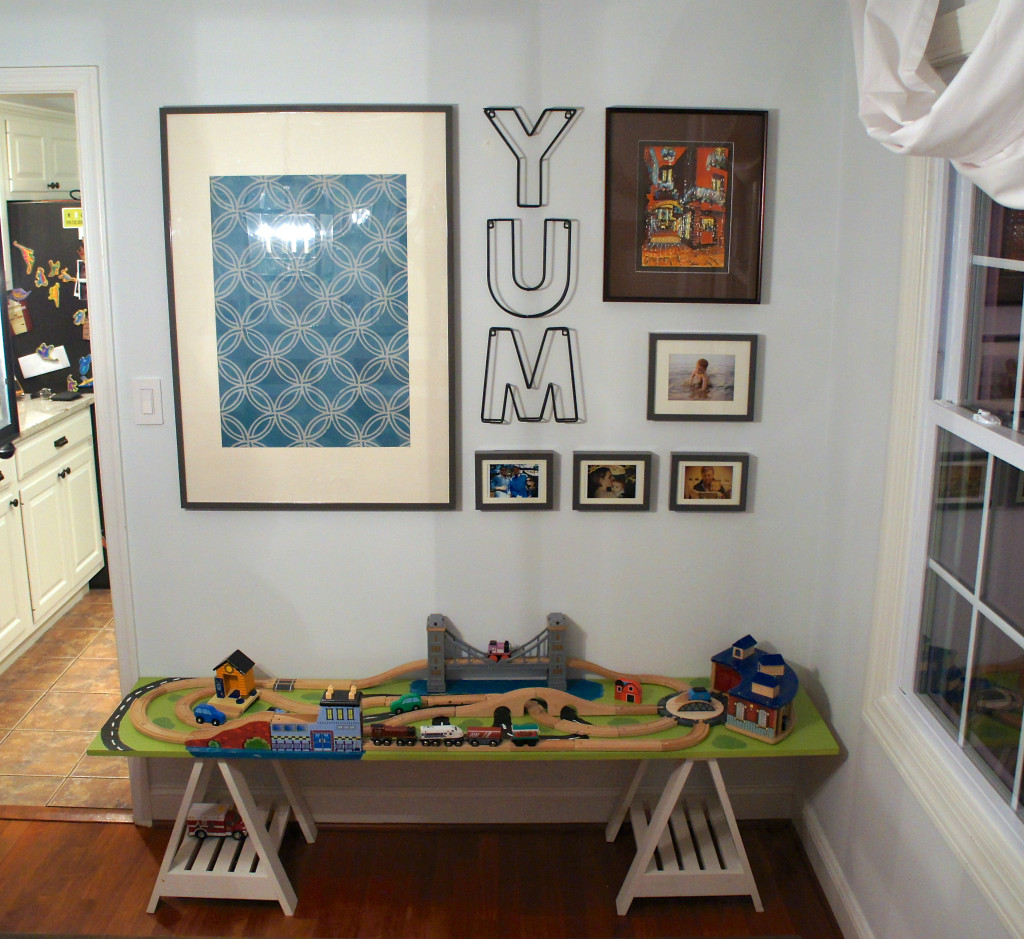 Grant plays with the train table every day, so we are really glad we did this.  If you have any suggestions for future kids toys, though, we would appreciate it.  Jason and I can use all the help we can get!
Tags : DIY train table, holidays and family