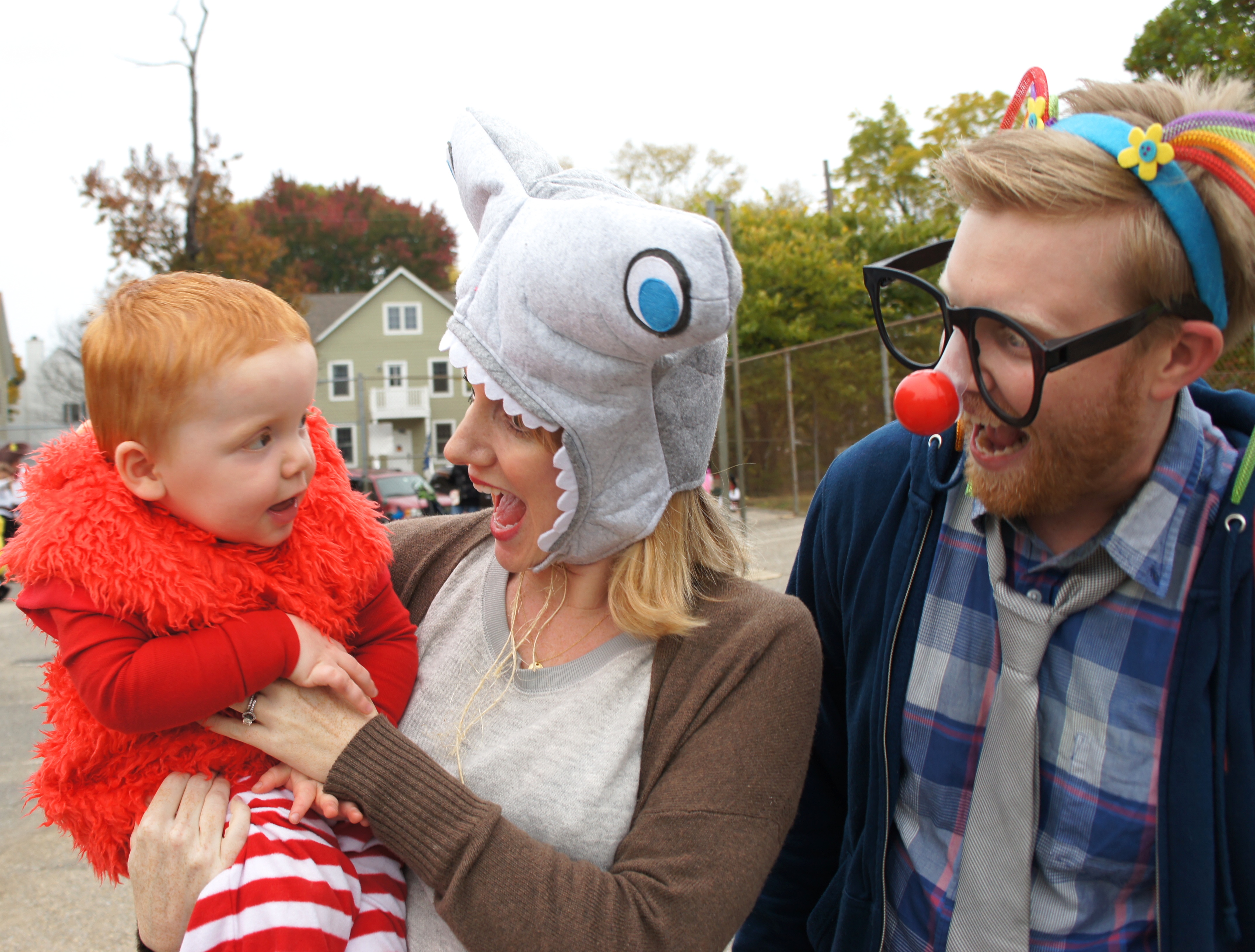 Our neighborhood kicked off trick or treating at the elementary school, so all the kids were running around in their costumes eating pizza and climbing on the playground.  Grant could not have had a better night, I think the look on his face says it all: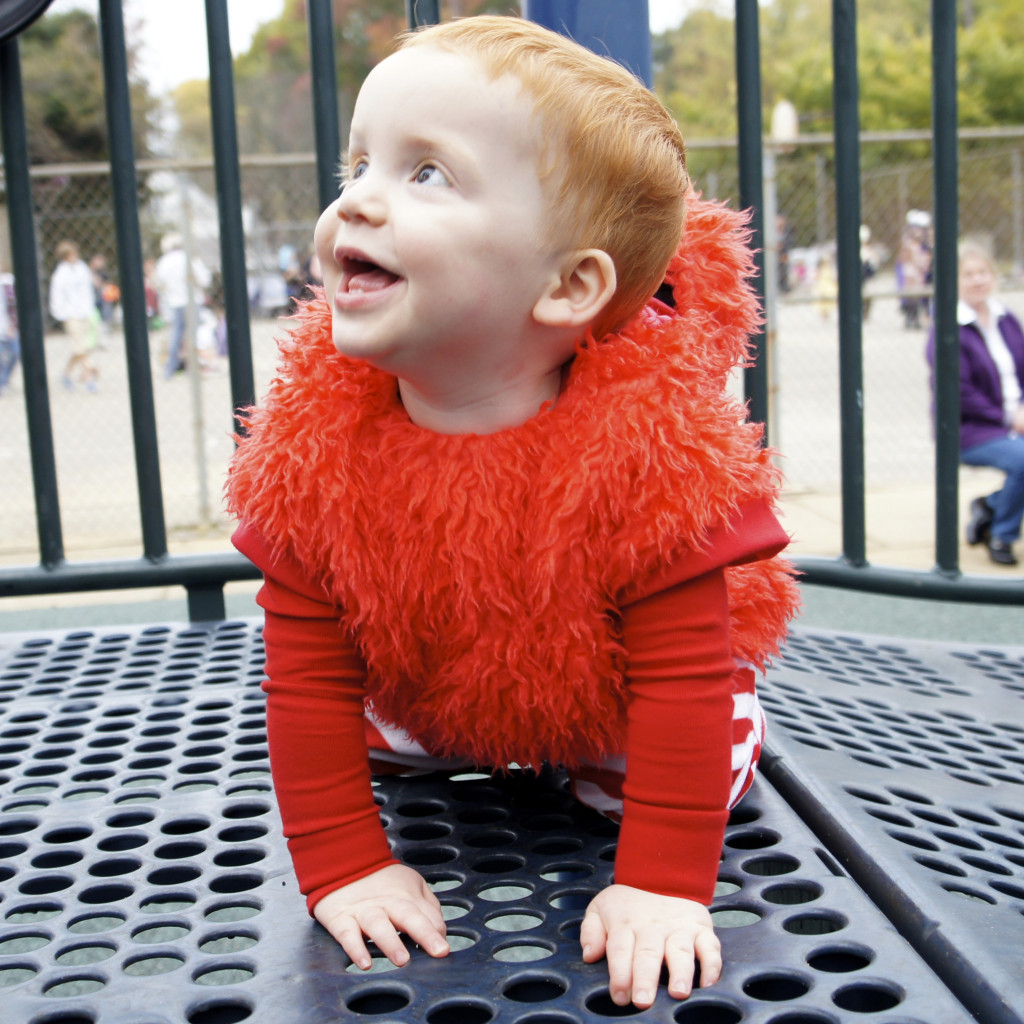 Grandma came up to see him in his costume, which is the only shot we were able to get with the Elmo hood up.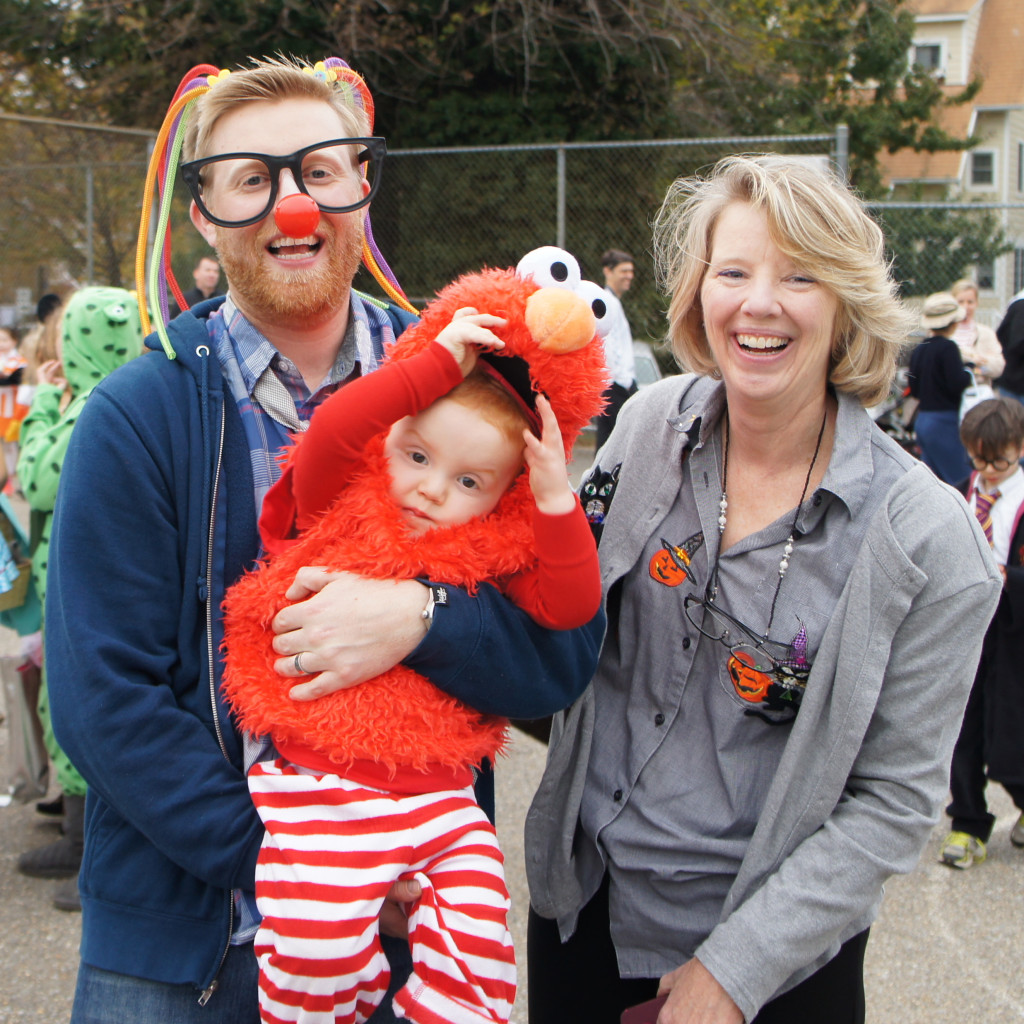 Jason's outfit is the result of a last minute Target run.  I found the glasses for sixty cents in the party aisle, along with the headband.  The original concept was clown, but if you've ever seen a Mexican game show (I grew up in a border town, so when the rest of America was hooked on "Desperate Housewives", we were sucked into "?Donde Esta, Elisa?") he could totally pass as a contestant.  All he needs is a giant inflatable hammer.  My hammerhead shark hat was intended for G, but when I ordered it the day after Halloween last year, I accidentally got the wrong size and Pottery Barn won't exchange clearance items.  I couldn't squeeze into the 3T body, but a few people figured out what I was.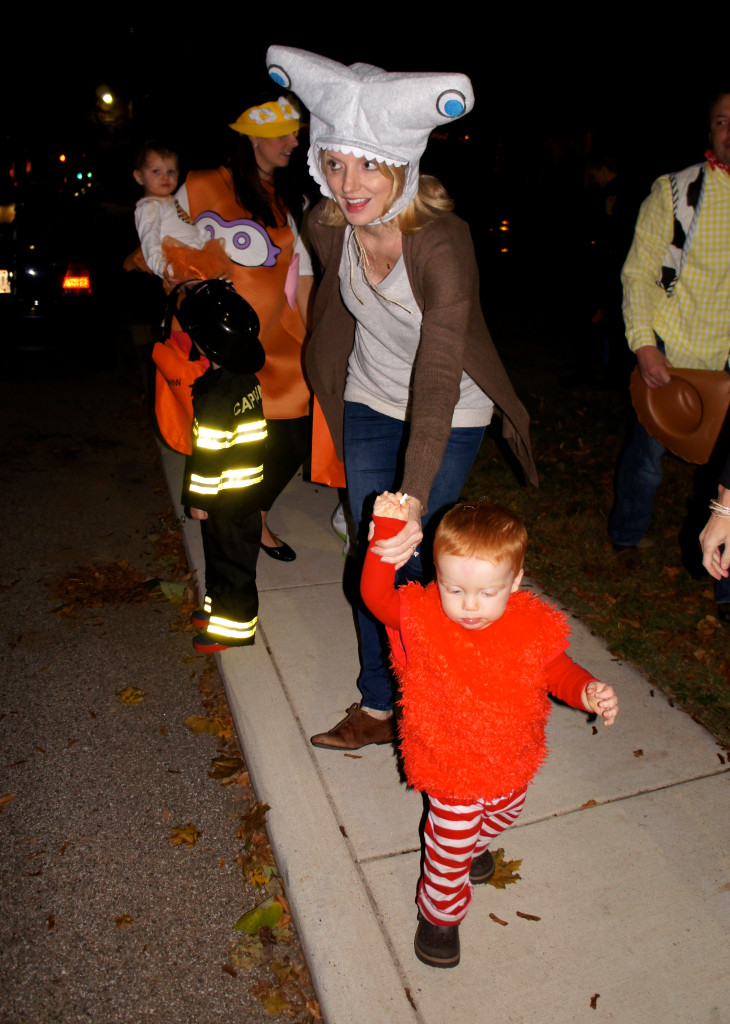 After the kick-off, we headed over to our friend's house for a first birthday party.  Grant filled up on chicken nuggets, and had some serious fun in their play-room. I was also very excited to find out that our neighbor is 13 weeks pregnant with her fourth, so Baby T-Rex is going to have a play-mate down the street.  Ok, it may be time to come up with a girl name.
Elmo saw a dog at the first house we went to.  From that point on he ran up to every door, turned the knob, and ran inside of stranger's houses shouting "woof, woof, woof!" as I apologized profusely and dragged him out of their living rooms.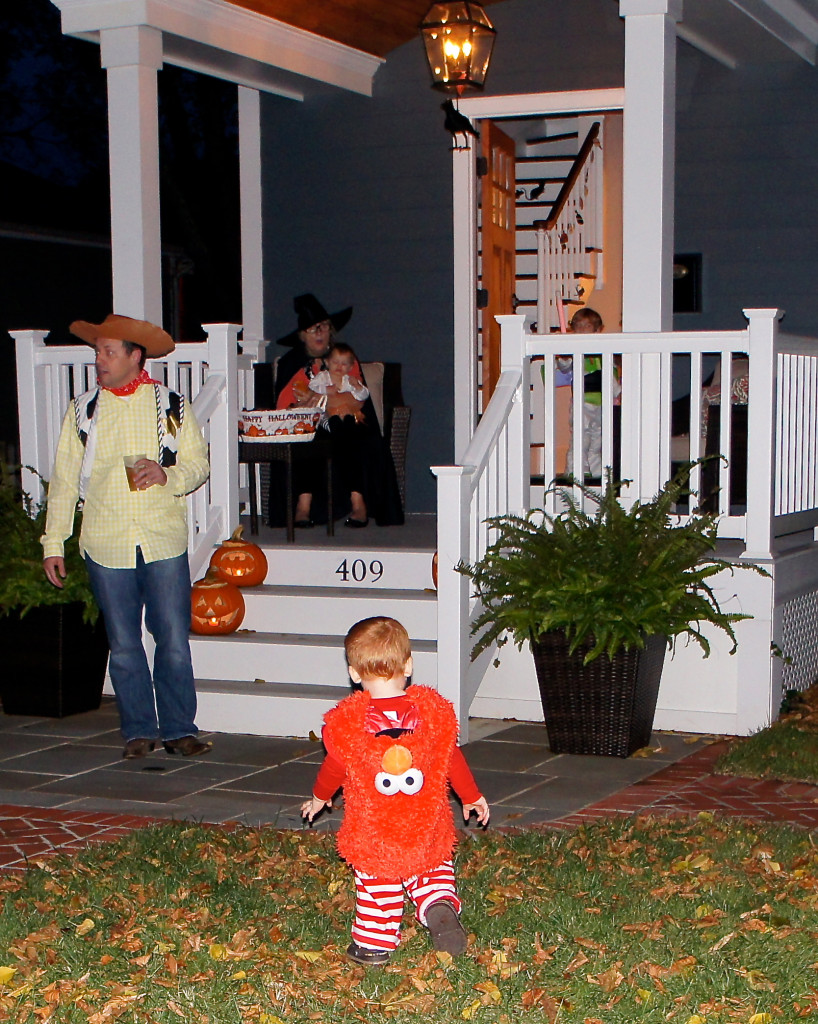 He didn't quite understand the candy, until he gnawed on a Milky Way and managed to chew through the package, at which point he realized their was some sort of deliciousness inside and proceeded to take each piece he was handed and shove it in his mouth, without removing the wrapper.  Apparently eating plastic is the price you pay for a Snicker's.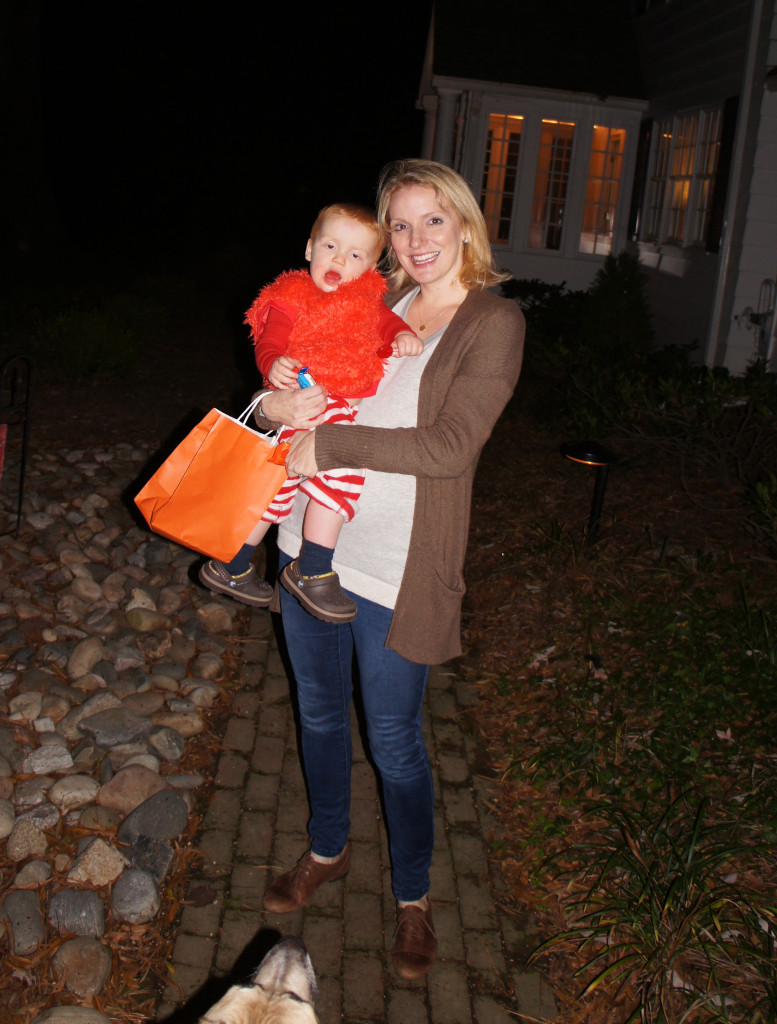 That was the last of the eight houses we went to, it was a pretty big night.  We got home to an empty bucket of candy on the front porch (didn't want to forget our trick or treaters) and thirty minutes of snuggle time while we watched Thomas the Tank Engine's Halloween (you do not know the meaning of love until you've suffered through a Thomas movie for the sake of your child).
This morning I immediately got on next year's costumes.  Grant should fit into the shark by then and Baby T-Rex-ina will hopefully be able to wear the lamb from G's first Halloween: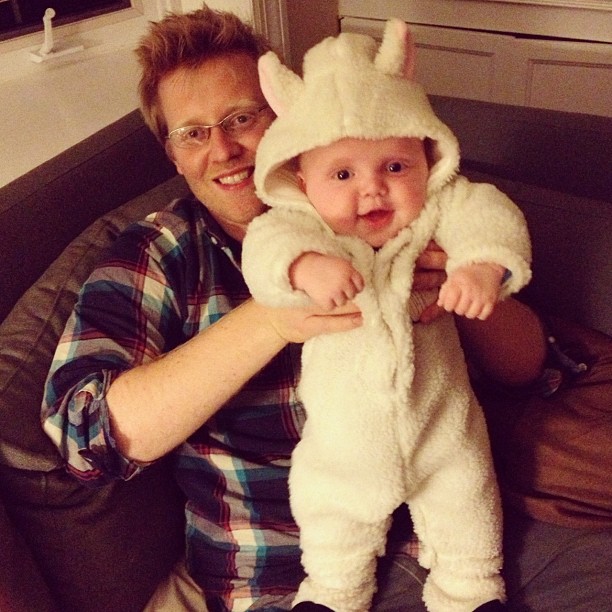 Izzy gets a free pass, so J and I were the only ones in need.  Pottery Barn kids has some pretty fancy costumes that are ridiculously expensive, but go on clearance Halloween night.  It's usually pretty picked through, but the nice part about that is that you're getting a costume no one else wanted, so it's original-which is 100 times better than wearing the same "cute" costume as five other people.  This year, basically all they had left for me was an owl or The Cat in The Hat: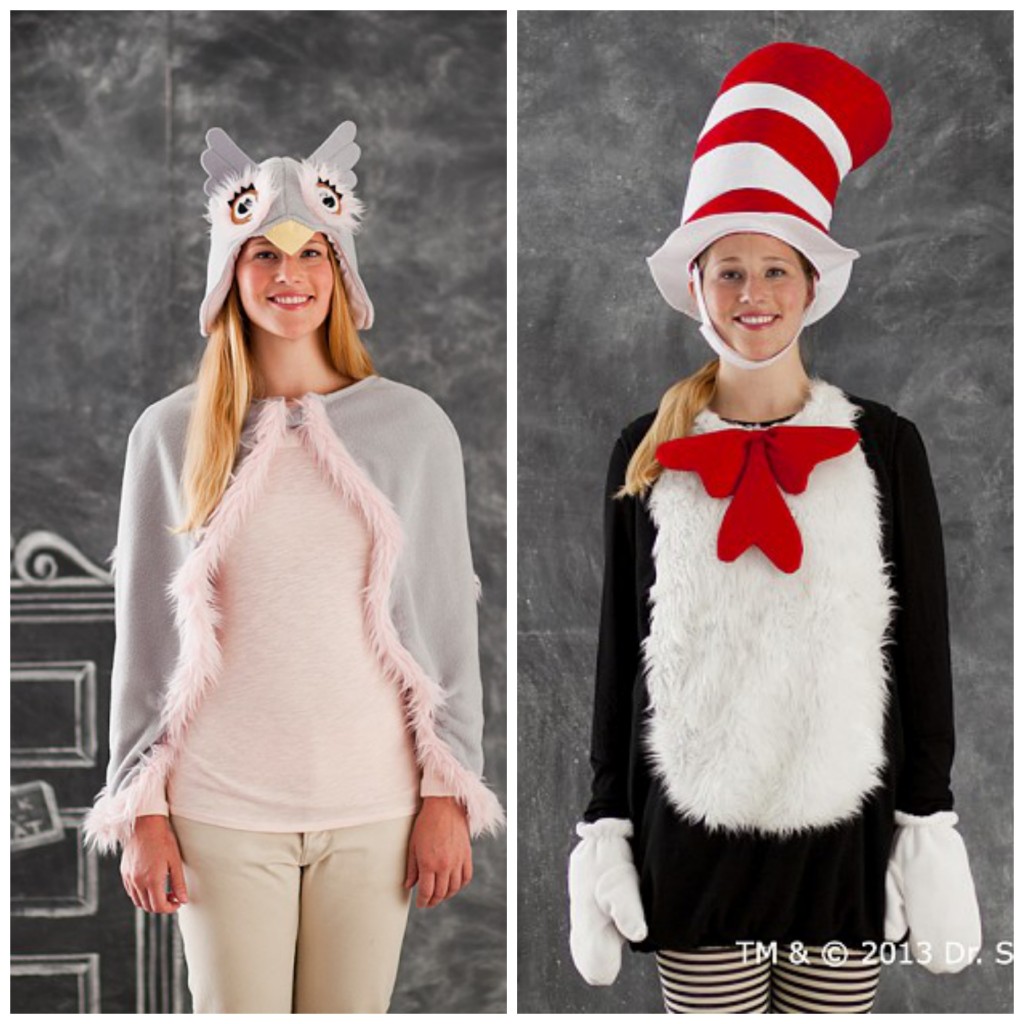 The cat in the hat didn't look very breast-feeding friendly, so owl it is.  Originally $69, I paid $26.99.
J was a little harder, the only adult male costumes they had left were Uncle Sam or Santa: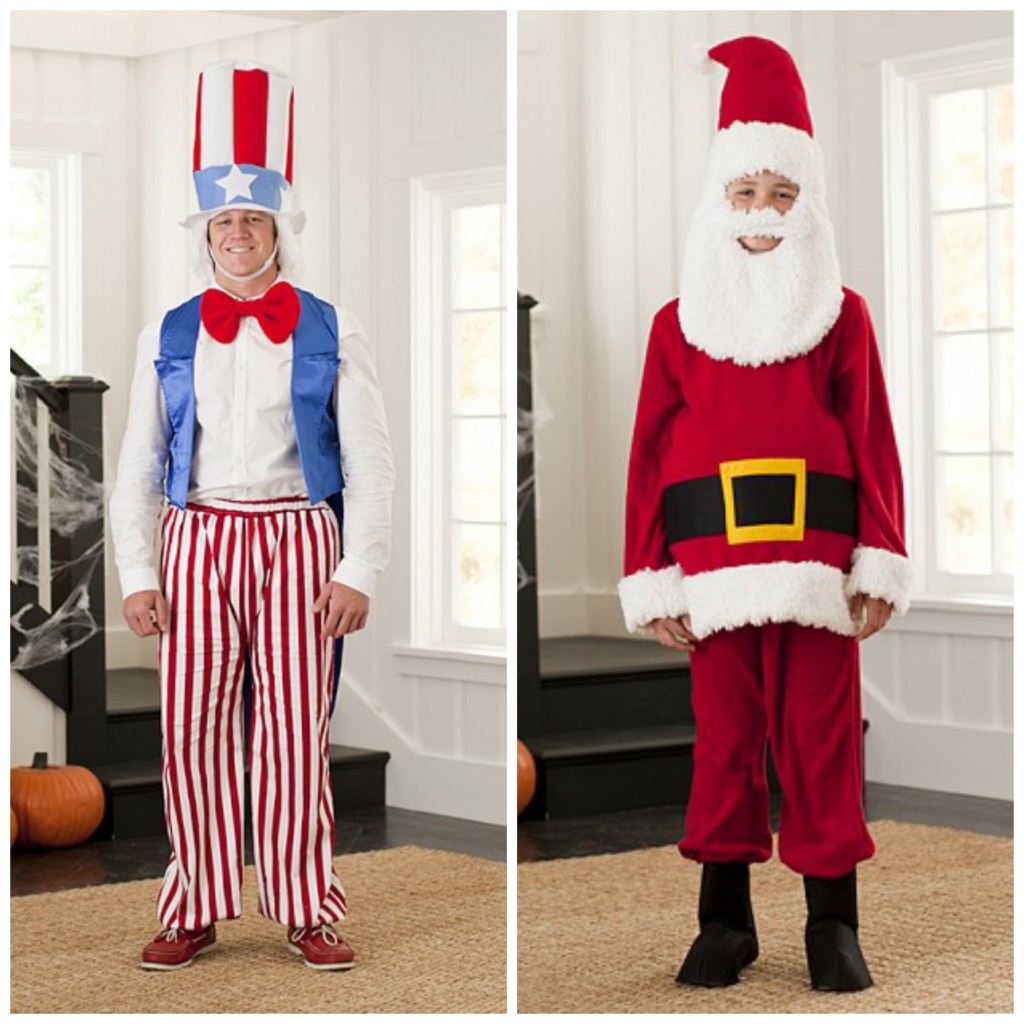 They were both about $50, so I ended up getting a helmet for a kids astronaut costume for $19.99 (the 3T shark hat fit my enormous head, so I think J will be able to squeeze into this thing):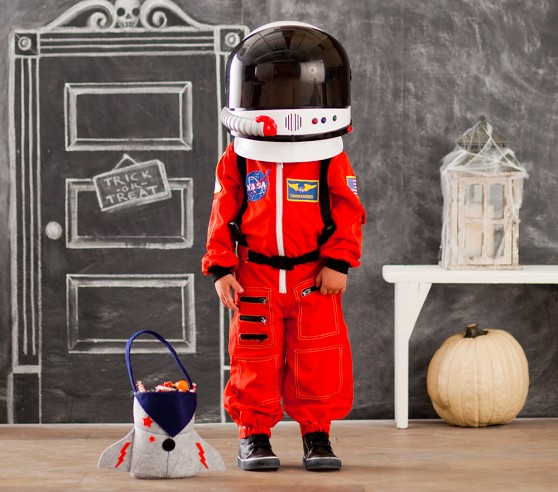 Maybe we can spray paint it black and he can be Daft Punk.  Here are a few of my favorite remaining kids costumes, all about $20-25, down from $60-70: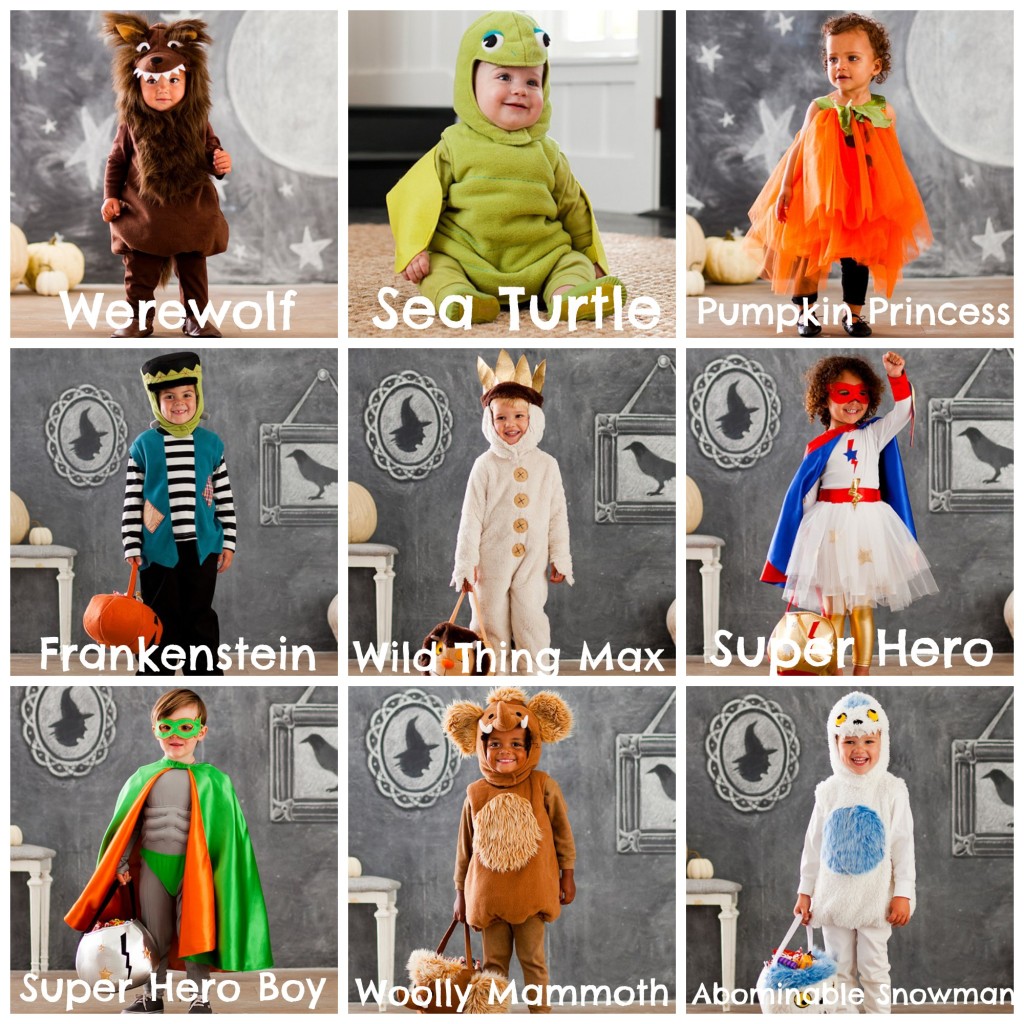 They had some adorable princess and mermaid costumes I didn't put up, that would make awesome Christmas presents for any girls who are into dress up.  Here's a link to the sale.  If it's anything like last year, things will go fast.  I hope everyone else had as much fun as we did this Halloween!