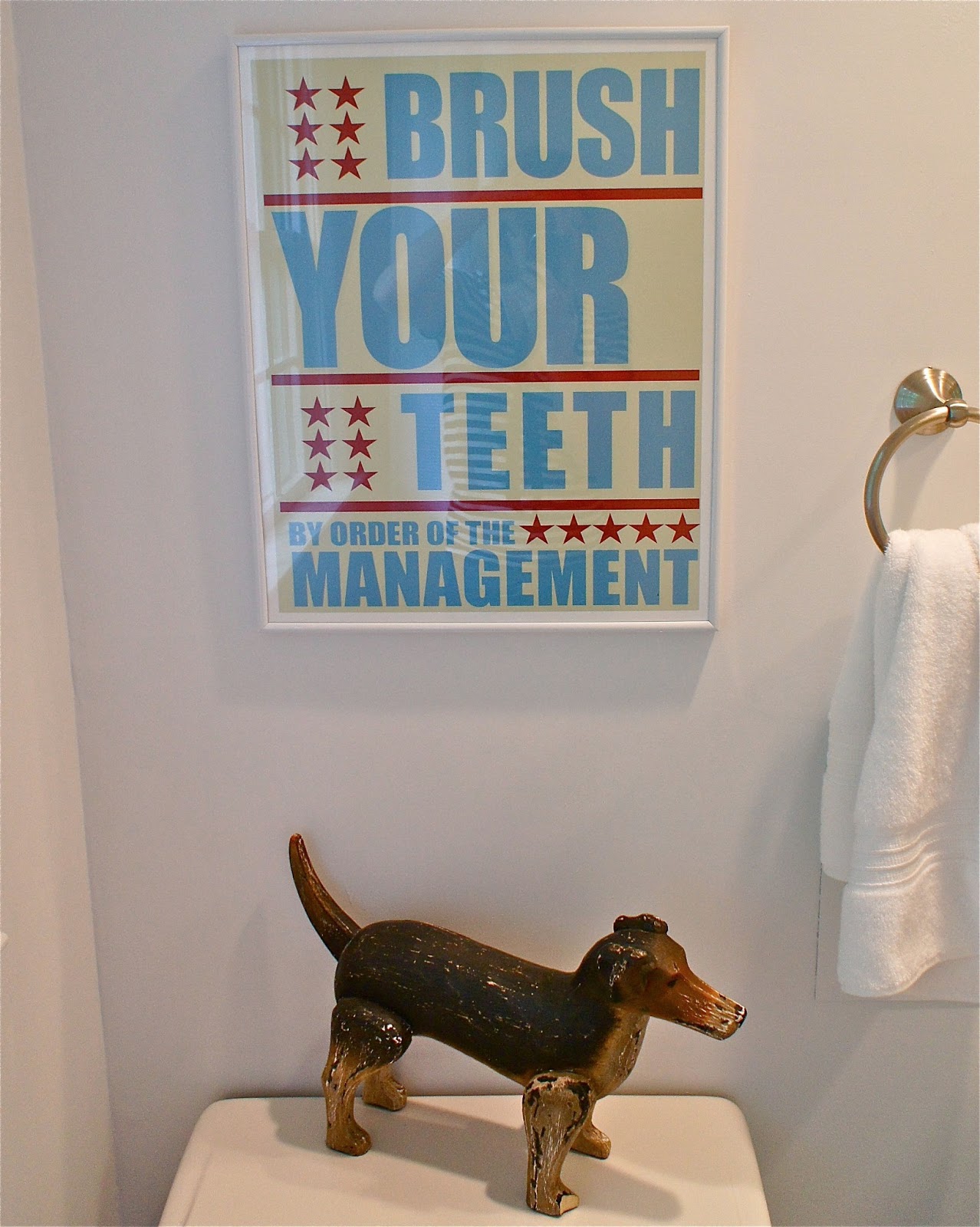 Our amazing friends, Dan and Jess, are driving up from Frederick to loan us their nail gun and give a brief tutorial on hardwood floor installation tonight.  We ripped up the hallway carpet last night and pulled the staples from the subfloor-prep work is always the worst part of flooring.
Jason is never eager to start any projects, last night included.  He does this thing where first he refuses, then pretends like he's trying to devise a plan of action, but he's really just trying to stall until it gets so late that I tell him it can wait until tomorrow.  Last night, he stood around stroking his beard for thirty minutes, saying, "Wait, wait, where do you think we should start here?"  It's flooring, we start on the floor.  Once he gets going he's great, but it's touch and go for that first hour.  Grant's bathroom is below:
Before
The first thing I bought after they accepted our offer on this house was a set of tub toys for Grant.  We all shared a bathroom in our last house, and this kid loves "tubby time", so I was really excited for him to get his own bathtub.  It was a bummer when his leg was in a cast a week later and he couldn't take a bath for the first three weeks we were here.  His bathroom got a mini update, for the time being.  
I replaced the wall mirror with an old mirror from our dining room.
Painted Mirror and Medicine Cabinet
Both of our houses have been under 1500 square feet, so maximizing storage is important, therefore medicine cabinets are essential. The Restoration Hardware Outlets are usually full of medicine cabinets, and if you're willing to refinish one you'll get something that's considerably higher quality and pay less than buying one from Home Depot or Lowe's.  I sanded this down really well, then used tape around the mirror before painting.  I pull the blue tape off about 5 minutes after I finish my coat of paint, because if I let it sit much longer the tape gets painted on and is pretty tough to remove. This was an espresso brown stain, so it took about 4 coats, and I retaped every time before coating.  To allow time to fully cure we didn't use this medicine cabinets for two weeks.
Elmer: Grant picked him up and immediately broke his right toe off, I think it gives him character.
My favorite thing in the bathroom is the "Brush Your Teeth" picture, I saw it on Land of Nod:
Jason made our version in Photoshop.  We make a lot of Photoshop art, I save it as a JPG and have it printed at Costco, they do mounted foam board prints starting at $10, a huge 20 x 30 print is only $20.  Whenever I upload these things on their web-site, I always get a warning saying the image is blurry and won't print correctly, but I've never picked one up that hasn't looked perfect.  
And there you have it, the little guy's bathroom-perfect timing on finishing this, I'm hearing "Mamamamamama"-someone just woke up from his nap.  🙂