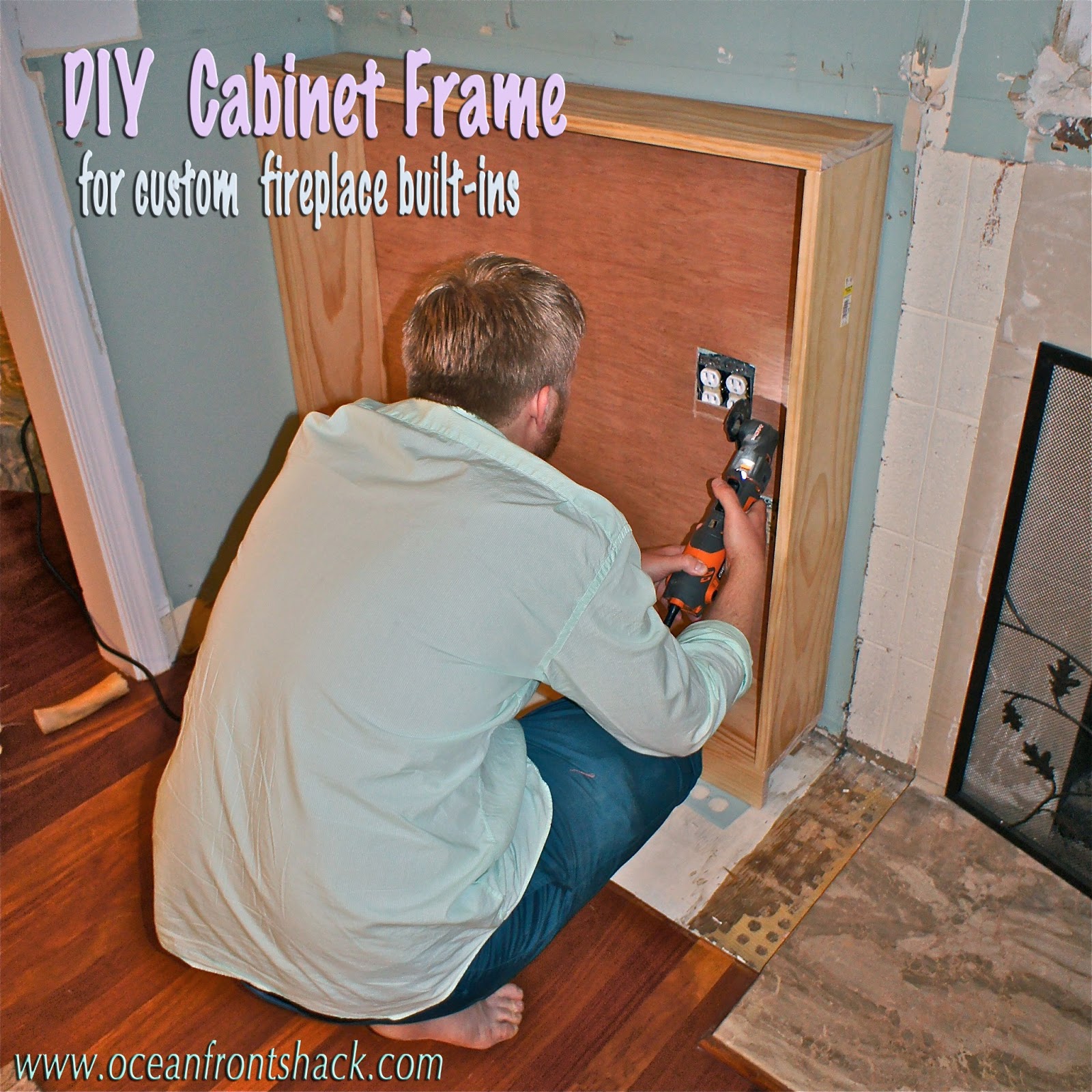 Jason was so happy when he got home that we actually got some stuff done around the house.  Big announcement here:
We nailed in our first piece of flooring!  Then we stopped.
Where we really made progress was the built-ins.  I have been scouring the internet trying to find some other blogs who have done built-ins, and there aren't many.  I found these cool built in Hemnes-bookshelves on Ikeahackers:
However, as much as I love a great Ikea hack, we can't use Ikea shelves, because what we need has to be custom to fit the space we have. I did come across amazing project on One Project Closer:
They have some good advice, but One Step Closer isn't a blog, it's more a collection of how-to's, so there isn't really anyone for me to e-mail with questions.  I'll keep looking.  For now, we are going at this alone.
Materials
1. 8 foot sections of premium pine 1 x 8 (5)
2. 8 foot section of premium pine 1 x 10 (1)
3. 48″ of premium pine 1 x 3
4. 8 foot sections of premium pine 1 x 2
5. Nail Gun with 1.5″  nails
6. Wood Glue (I use Loc-Tite trim and molding adhesive)
7. Caulk
8. Table Saw
9. 4 x 4 section of plywood
10. *for outlet cut-outs Circular saw/jig saw/we used our Oscillating Multi-Tool
Jason used the Oscillating Multi-Tool to cut the outlet boxes, then the table saw to trim down the wood. ,
I screwed together some 2×3's to make a small box that the cabinet sits on.  The 2×3's are drilled into the subfloor, for stability.  We wanted a little space between the cabinet door and the wall, so there is a 1×2 between the wall and the side of the cabinet.  This will all make sense in the pictures:
This is the cabinet sitting on it's side, the piece of wood on top is the 1×2 that goes between the cabinet and the wall.  We sat the cabinet on its side, laid the 1×2 flush to the front of the cabinet, and then used the nail gun to nail it in from underneath.  The piece coming off the end is 3″ longer than the cabinet frame, because the cabinet sits on top of some 2×3 boards that you can see in the lower left hand corner of the photo above. 
That's my cabinet sitting on top of the 2×3.  We put a piece of 1×3 finish wood in front of it, and nailed it in with the nail gun.  We chose to use the nail gun instead of screws because it's easier to fill the tiny nail holes and we are trying to get this as seemless as possible. 
The nice thing about the Oscillating Multi-Tool is that it's very compact, so when you realize that your wife marked the cuts for the outlet boxes incorrectly, you can just bring it up and cut them in place.  
Ready for some trim?  I am!
This was my inspiration photo, if you remember: 
We put wood and molding glue on top of the frame.  
Then placed two 1×8 boards on top.  They sat directly on top of each other, so they came flush with the front of the cabinet frame.  Each one was nailed and glued to the cabinet.  Then we added a 1×2 board in front to cover the gap between those boards and create a 1″ lip.  A single 1×10 board sat above that, to add another dimension.  The pictures explain much better:
See?  It makes a little more sense when you see it.  I know, not much to look at, but add some caulk and a little Benjamin Moore Aura in White Dove, and:
Voila!  Progress.  We are starting on the upper part this evening.  I'm still at a total loss for the flooring issue.  I'm leaning towards tiling the whole way across, but I haven't decided whether to go with light tile to match up more with the built ins, or dark tile to try to get closer to the floor color.  Any suggestions would be MUCH appreciated.  
Tags : Cabinet Making, Carpentry, DIY