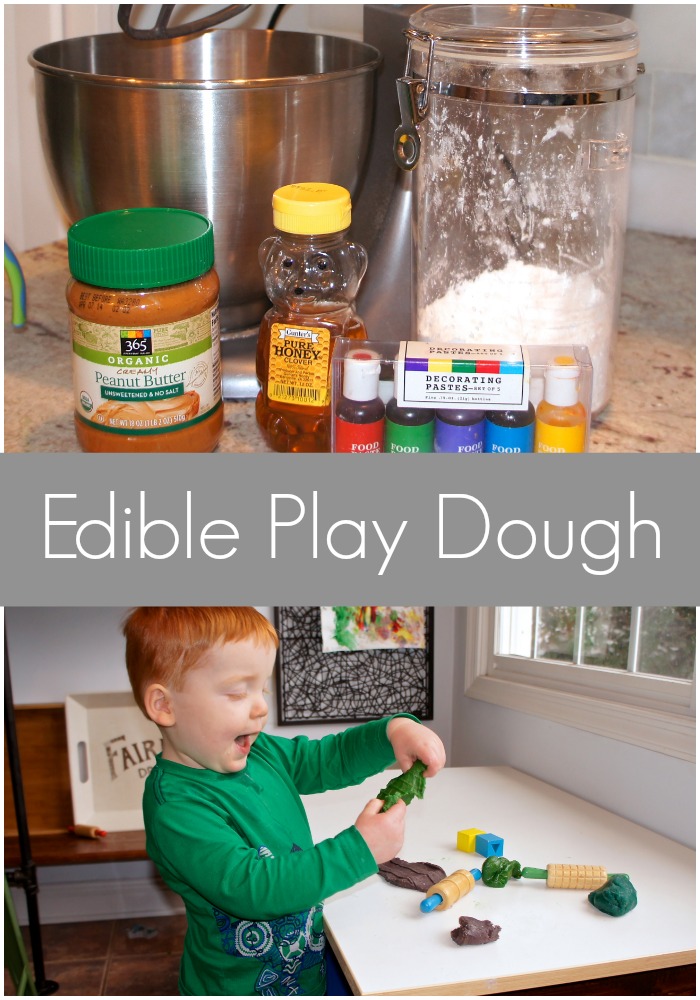 It's another glorious Polar Vortex day in Annapolis, which should amount to a lot of sledding fun this afternoon, but at the moment the snow is coming down and we are just trying to stay warm.  Grant is not a "stay indoors and watch tv" kind of kid.  He will hang off the front doorknob crying "outside, outside" if we haven't left by 10 AM, so it can take a lot to keep him happy on snow days.  Luckily, we have a nice selection of basement toys, finger paints, and play-doh, that I reserve for just this situation.  Play-Doh, though, has been an issue lately.  His new favorite game is to roll the "Pa-po" (as he calls it) into a ball, shout "cookie!"  and shove it into his mouth.  When I came across a recipe for edible Play-Doh, it seemed like the perfect solution to our problem.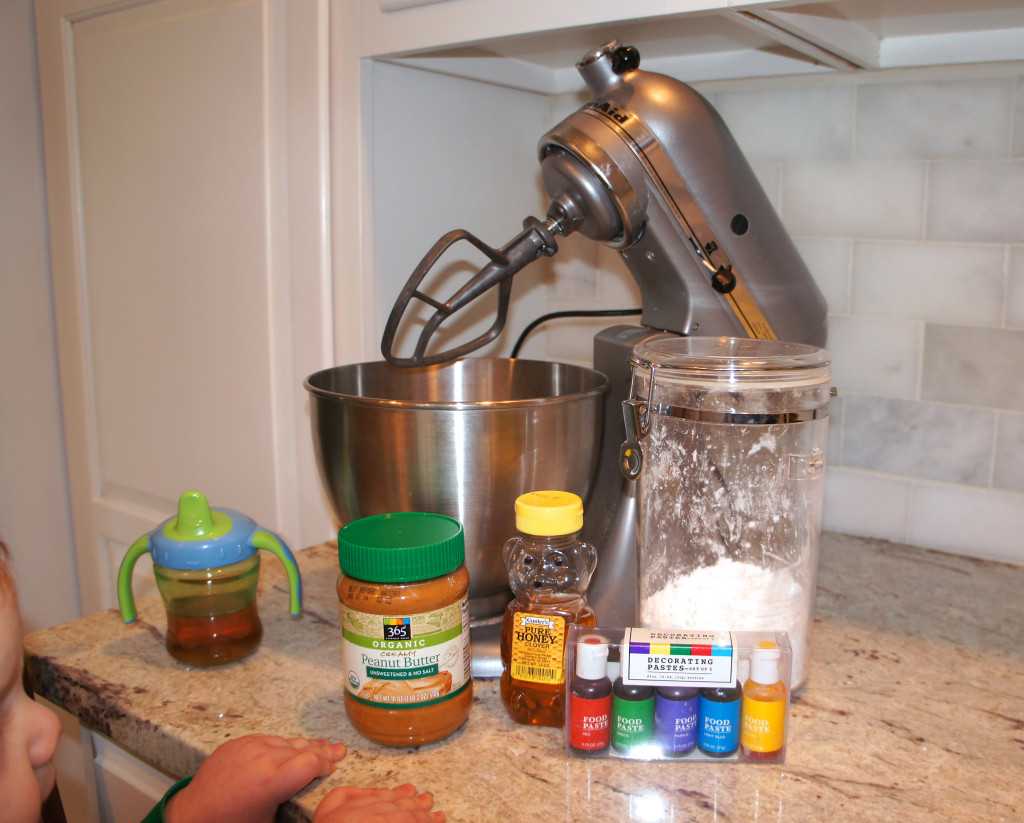 Ingredients
1 Cup Powdered Sugar
1/2 Cup creamy peanut butter
1/4 Cup Honey
Food Color Paste (optional)
The recipe is pretty thick, so I recommend using an electric mixer.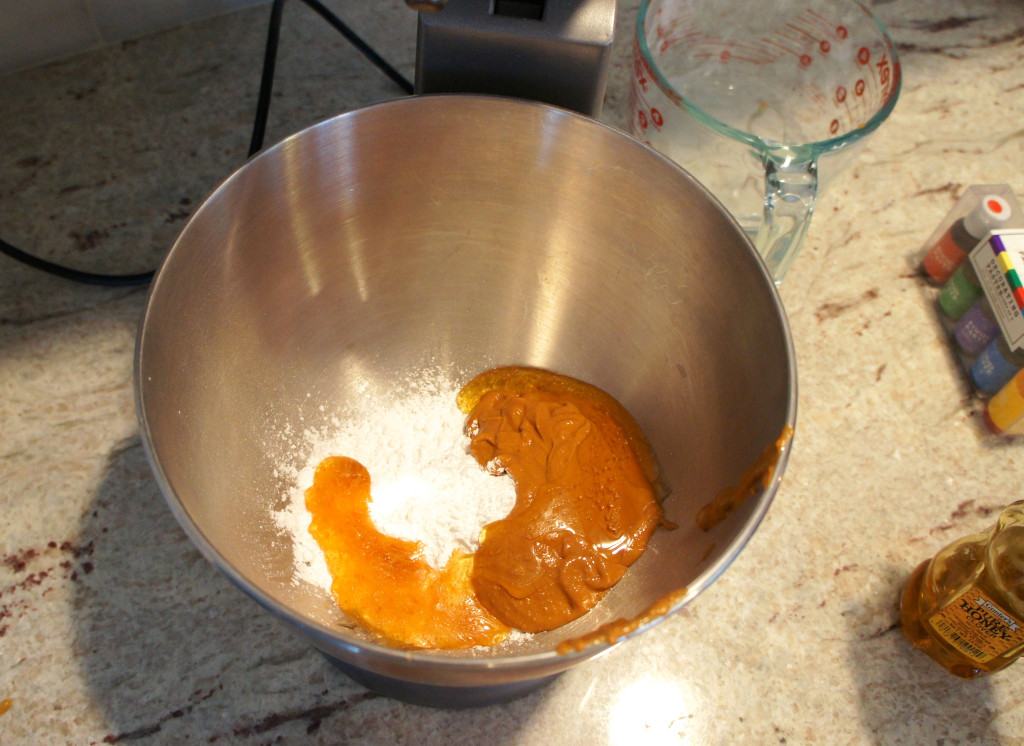 Mix all of the ingredients together, and you have dough!  It's really as easy as that.  I gave G a wooden spoon to "help".  It's surprisingly tasty, although definitely not a low-sugar or allergy safe food.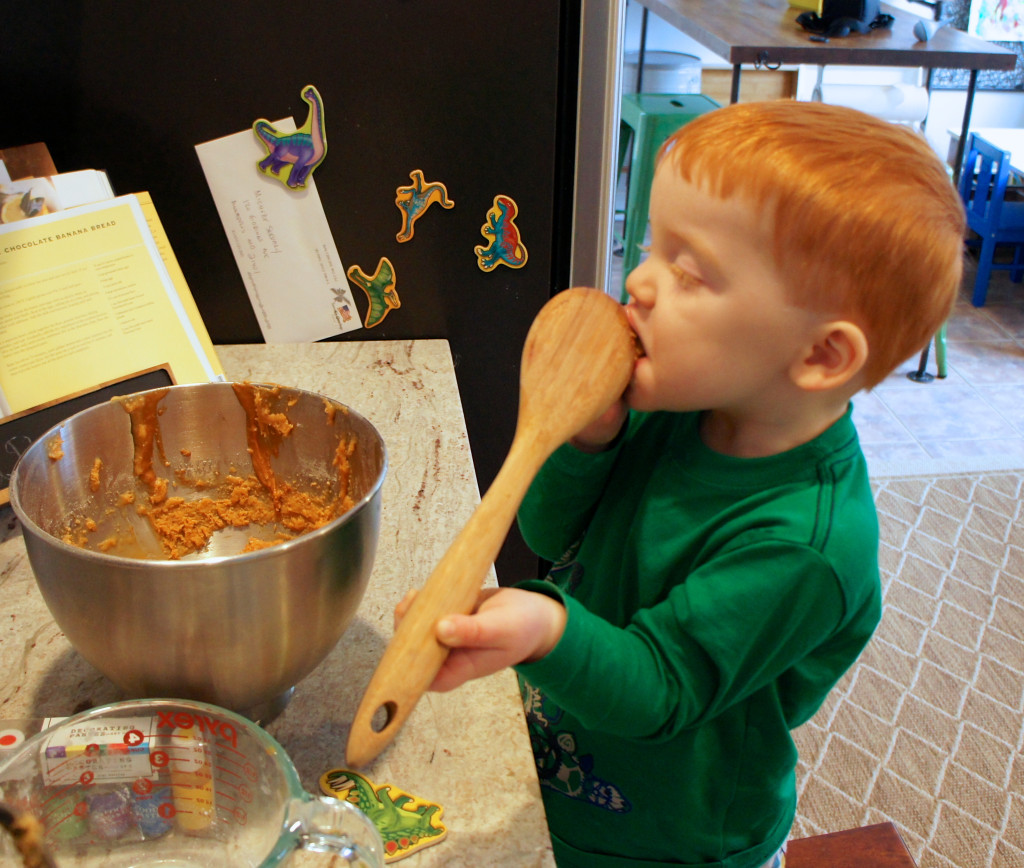 I use food pastes from Williams Sonoma whenever I need food coloring.  They're really thick, so one or two drops will color enough fondant to cover an entire cake.  The dough is about the same consistency as fondant, so I separated it into three bowls and added a drop of blue, green, and purple to each one.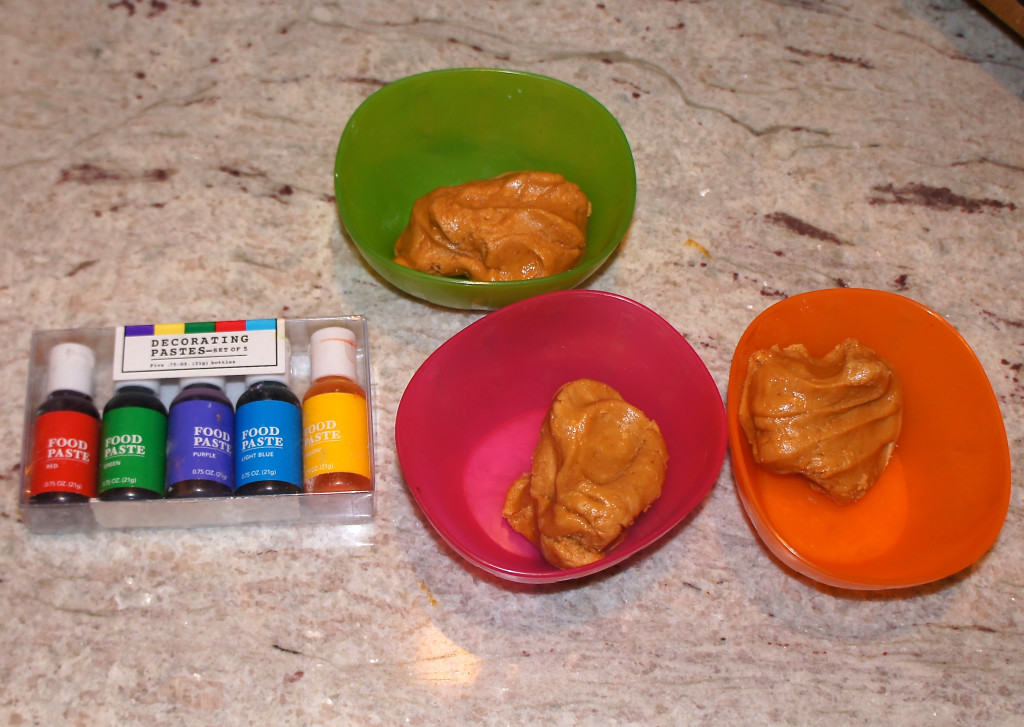 It looks greasy in the photo, but the dough wasn't sticky or messy at all.  I think the sheen is because all we have in our house is natural peanut butter, so the oil separates some.  After kneading the food paste in, we were ready to play.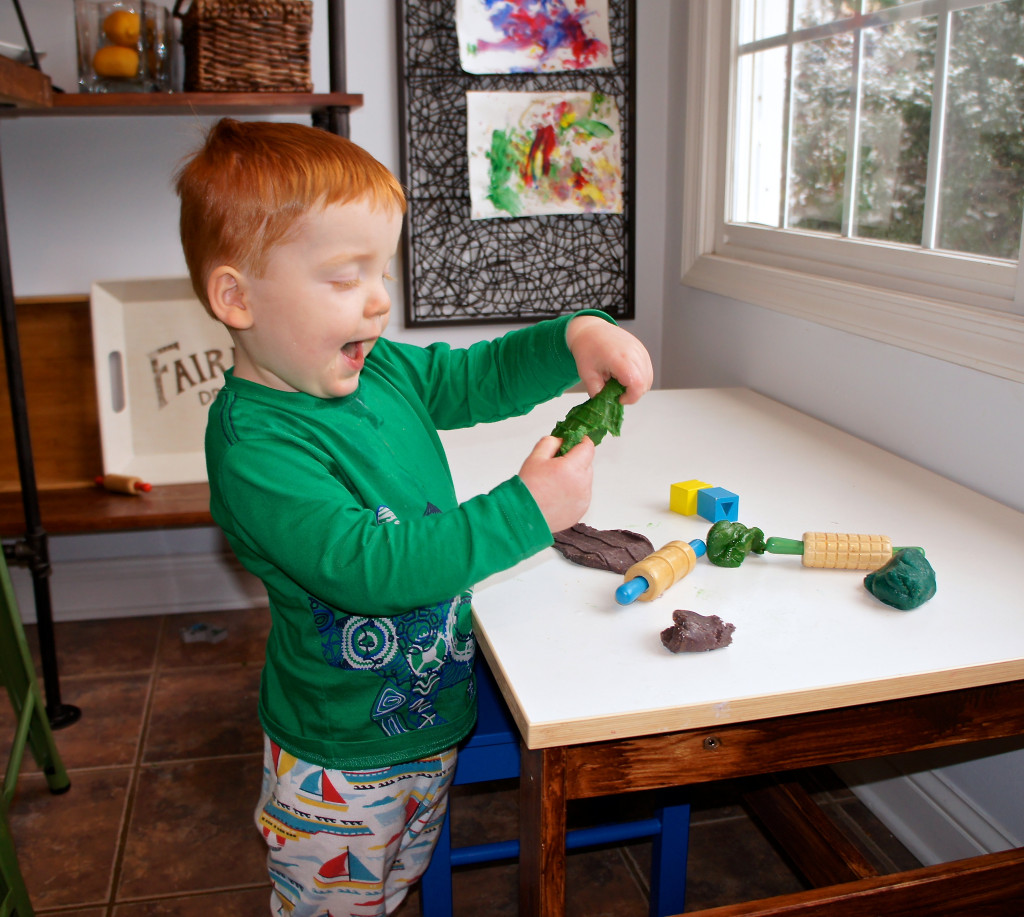 I wouldn't encourage Grant to eat this as a snack, but it's nice to know that it is entirely safe if (and when) he does.  The only issue we are having is keeping Izzy from gobbling it up.  The smell of peanut butter and honey is hard for her to resist.  If you use natural peanut butter be sure to store the dough in the refrigerator.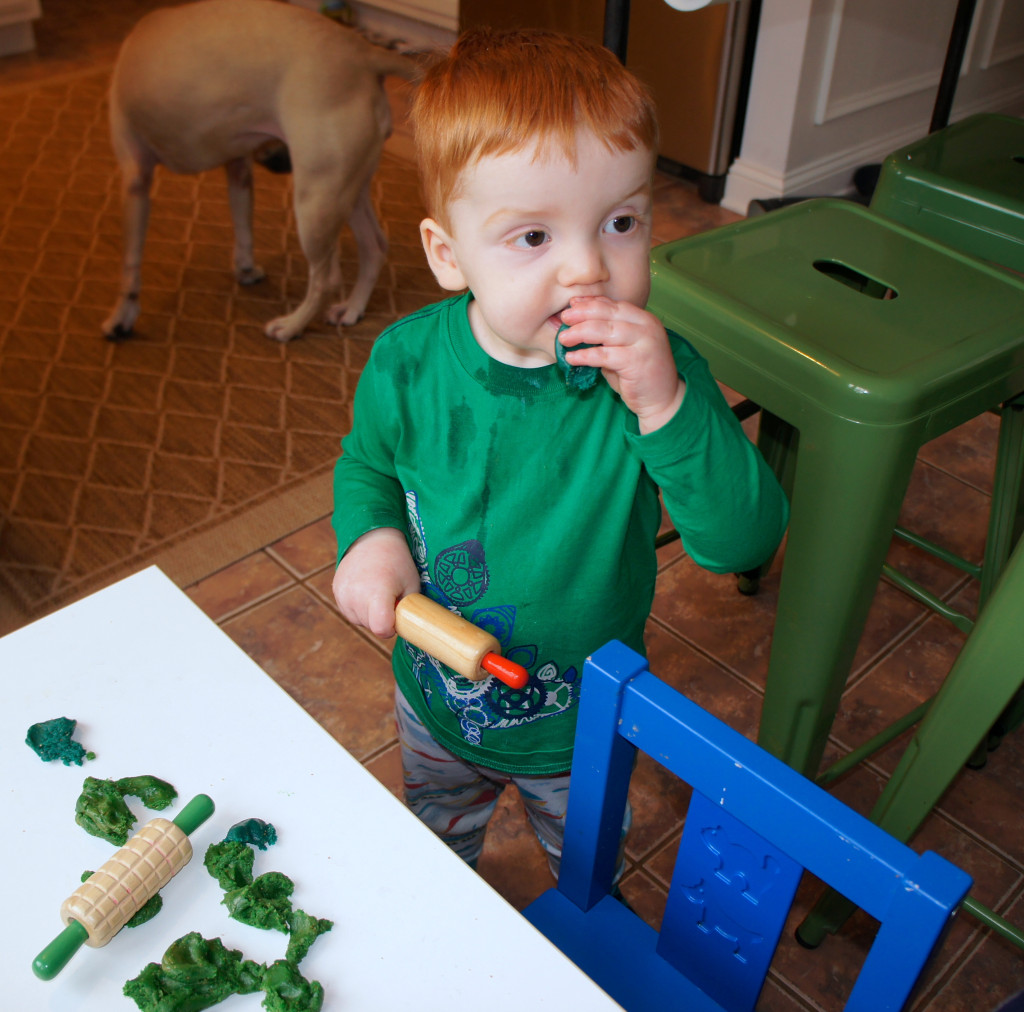 Happy snow day.  Stay warm and drive safely!