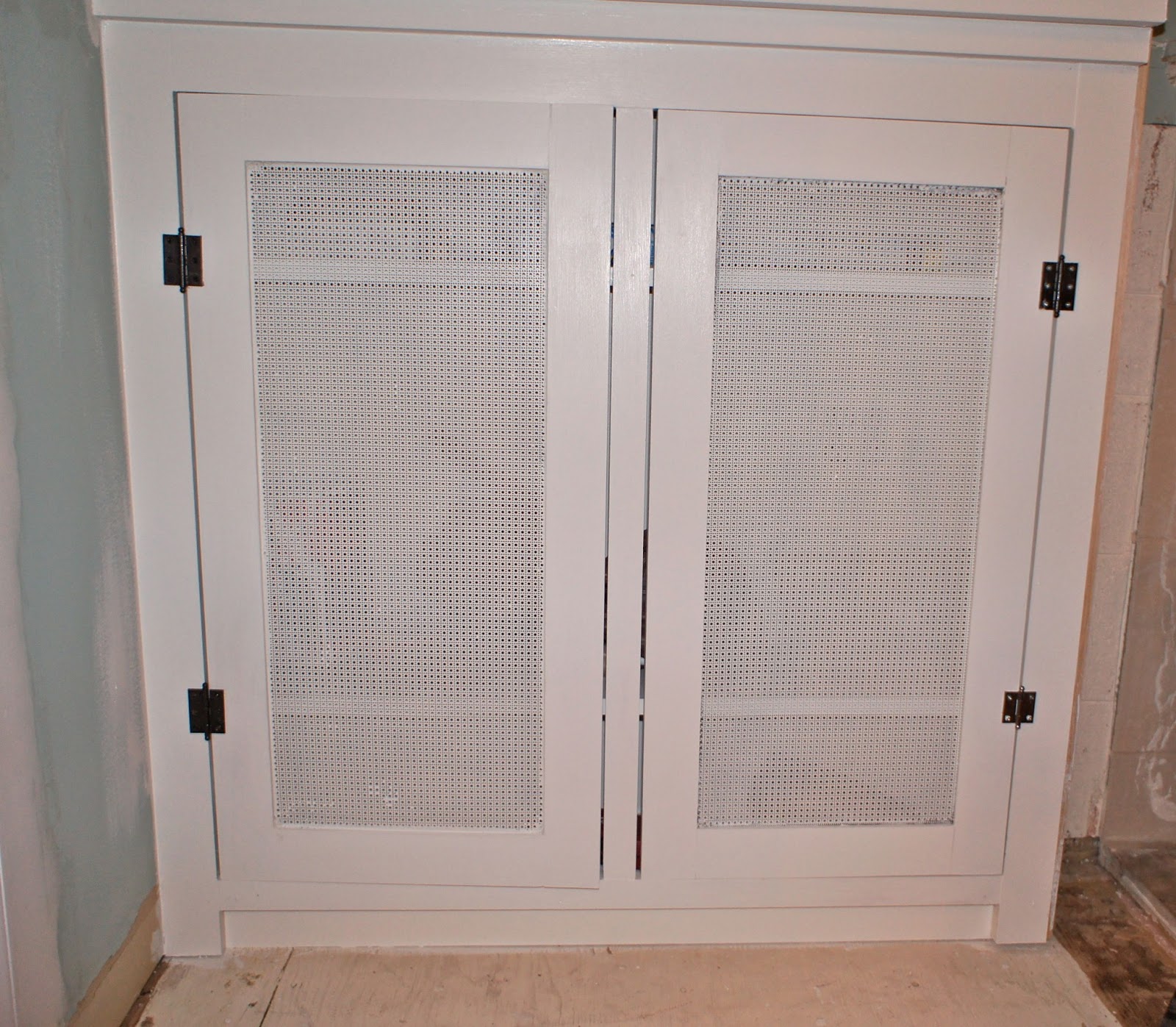 We've made some serious progress on our built-ins.  Jason can now add "cabinet door manufacturer" to his resume, because he did a pretty bang-up job here:
We are still waiting on two hinges to come in from Restoration Hardware, so the doors don't close all the way.  We weren't confident that we could install inset hinges without ruining Jason's handiwork, so we decided to use a face mount hinge.  The face mount makes the hinge a focal point, so after looking at Home Depot's "utility hinges", we decided that we needed to go a bit higher end on the hardware.  This is a comparison, the left is the Home Depot hinge, and on the right is the one we ended up using (both have one coat of spray paint on them):
Restoration Hardware had the best looking utility hinges we could find, but at $12.50 apiece they were adding up, so we drove to their outlet in Leesburg, VA, and were lucky enough to find six of the eight hinges we needed, for .99 cents apiece.  Three were 2″ long and three were 2.5″, and none of them were the same finish-we're talking, brass, satin nickel, and chrome.  We decided to put the 2″ on one cabinet and the 2.5″ on the other and hope it isn't noticeable.
I spray painted them with Rustoleum's Oil Rubbed Bronze spray paint (I spray paint all of my hardware with this, I use the oil rubbed bronze color as opposed to their satin nickel because I think it looks more authentic, and it's a really inexpensive way to freshen things up) and ordered the two more I need online. At the moment they only have one coat of spray paint, they look a little better after two.  Here's a close-up:
We're adding a bead of trim to the inner frame of the door, right now it looks messy from the caulk.  I found sheets of decorative metal at Home Depot, and thought they would be great because we have outlets in the cabinets, so I can put media components inside and the holes in the metal will allow us to use remotes and keep stuff from over-heating (in theory).
Our inspiration has evolved a little, things always change once we get started, based off the needs of the space and what we feel we can reasonably accomplish.  It's now probably going to look closer to this:
That's the idea, anyway.  The execution is the question.
The pictures above give some perspective on our motivations for this project.  On the left is the original. These built-ins were built before flat screen televisions, so the depth is made for the old tube tv's.  It just isn't necessary anymore. I think it will make the room feel substantially larger.  The new cabinet is only 8″ deep, that gives us 15 square feet more floor space in our living room.  That's a lot more room for yoga (or laying on the floor and eating peanut butter out of the jar, who am I kidding).
Our computer and tv are sitting on the window ledge at the moment, so until we finish Grant and I have to stay out of the house for most of the day if I'm going to keep him out of a full body cast.  Luckily the weather is nice, we are exploring Annapolis and hanging out at the little beach in our neighborhood:
Tags : Carpentry