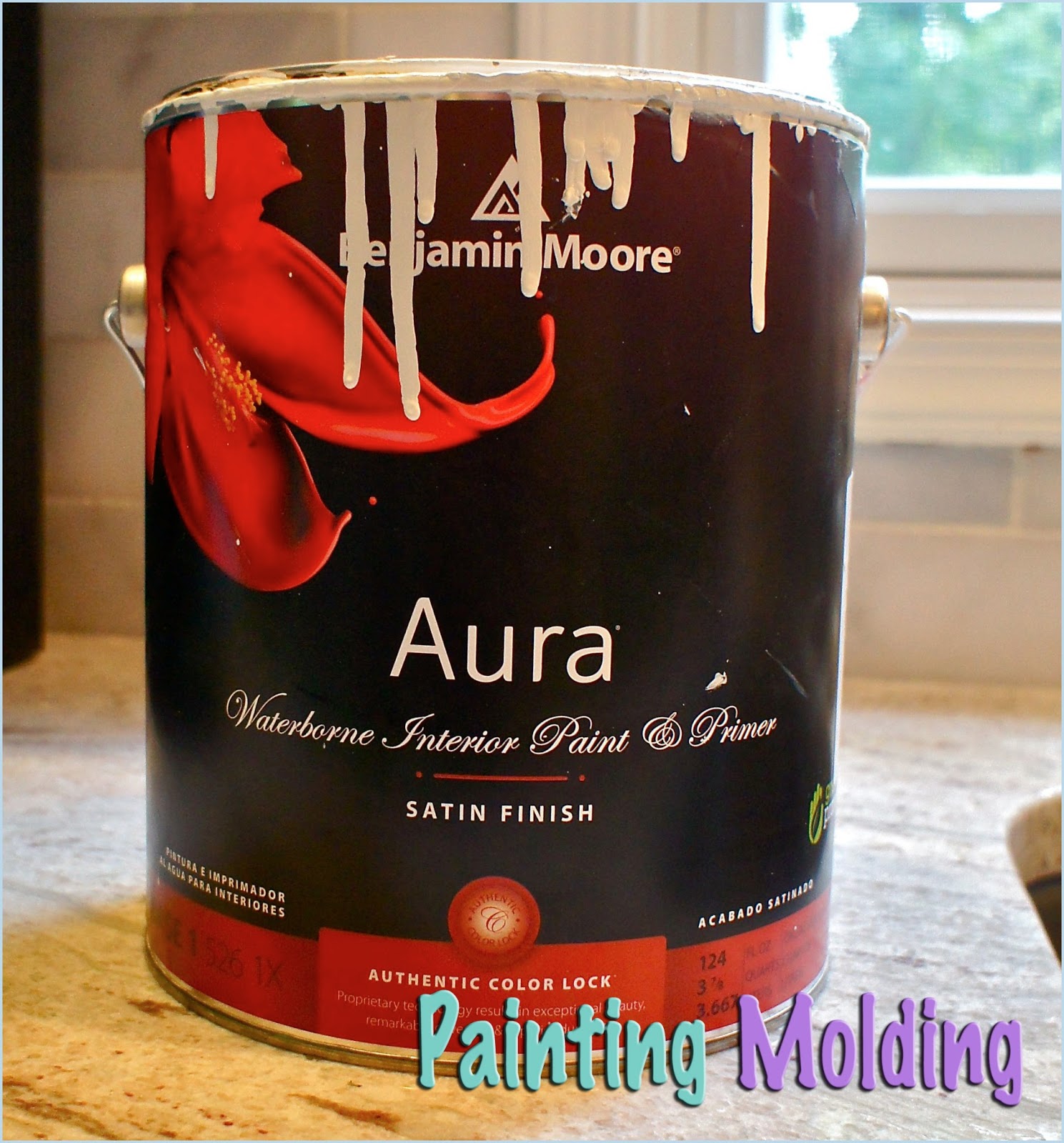 One of the things we loved about this house was the molding.  Where things were lacking, like old countertops and tired paint, we were thrilled, because those are easy fixes and items we would prefer to choose ourselves.  Crown molding is expensive, though, and a beast to mitre, and while I've probably said "that crown molding is really nice" when house shopping, I have never walked into a house and noticed if it didn't have crown, so it isn't something we would rush to install ourselves.  The picture frame molding was a bit much, though.  Our tastes are pretty contemporary and casual, and this look shouted formal.
My go to trim paint is Ben Moore Aura.  I've used a lot of paints, and Benjamin Moore is more expensive, but performs better than anything else I have tried.  I use satin Aura for trim in White Dove.  White Dove has a little bit of yellow to it, so it isn't a glaring white, it's their #1 selling paint color, so by popular opinion I chose it for our last house and really liked it.  Most people paint trim in Semi-Gloss of High-Gloss, but the Aura dries almost too fast, and cures to very washable hardness, making satin an option for trim.  Higher gloss paints show imperfections and dirt more, but are generally preferred because lower glosses are less washable.  That's why people typically use egg-shell or satin for walls and semi-gloss for trim.  With Ben Moore paints I can use matte on walls and satin on trim, and wipe off any berry apple-sauce or Trader Joe's Fig Bar fingerprints without leaving behind marks from the cleaner.  I don't know if you can tell, but I've done a weird amount of research on paint.
Materials
1. Drop cloths
2. Baby wipes
3. Trim paint brush (I use a Shur-Line 2″ edging brush or a Zibra square edging brush)
4. Benjamin Moore Satin Aura paint
5. Dish soap
6. Scrubbing brush
Before:
Before I paint anything I prep by cleaning with dish soap and water to remove any residue.  Dish soap is great because it cuts grease, and generally walls are dirty from hands touching them, so it gets the skin oil off.  
After: